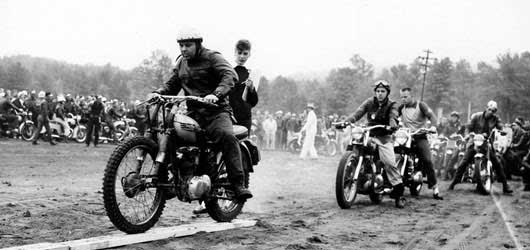 At Laconia – We Ride!
The origin of Laconia Motorcycle Week was a small group of motorcycle enthusiasts gathering for a "gypsy tour" to Laconia, over 98 years ago. Today, the spirit of Progressive Laconia Motorcycle Week® continues with rides and gypsy tours at the center of an already packed events schedule. Join us for at least one of our many Motorcycle Week rides, where you'll enjoy the spectacular NH scenery while also raising money for some worthy causes.
The 15th Annual Peter Makris Memorial Ride to NHMS kicks off the week on Saturday, June 12th at 11am. This NH police escorted ride around Lake Winnipesaukee starts and ends at Naswa Resort, where riders can enjoy lunch and entertainment. Proceeds benefit the Easter Seals NH Veterans Count Program, Laconia Fire Department's Emergency Response Teams (CERT) and "Building Dreams for Marines."
The AMA Gypsy Tour to NHMS for USCRA Vintage Races takes place on Sunday, June 13th. The tour leaves Rally Headquarters on Lakeside Avenue at 10:30 and ends at NH Motor Speedway for the USCRA Vintage Races. Tour includes a 50% discount on race tickets for the day and a lap around the track!
Monday "Life of Ridetime" ride to benefit families of fallen first-responders. Register at Laconia Harley 9am-9:55am, kickstands up at 10am. Join us for a scenic ride to Cigar Shenanigans in North Conway for an afternoon of live music, food, & fun! $20/rider, $15/passenger, lunch included. For more info: lifeofaridetime.org or call 732-210-6910.
Show your love for pets on Monday, June 14th by taking part in the Mae-West Memorial Pet Run Ride, leaving Rally Headquarters at 10:30am for a ride through scenic local towns and ending at Destination TBD. Participants receive a custom t-shirt for their donation. Proceeds to benefit local animal support shelters.
On Tuesday, June 15th, join the Ride to Bentley's Saloon! The Bentley's crew will lead this gypsy tour from Rally Headquarters at 10:30am for a 70+ mile scenic ride to Bentley's Saloon in Arundel, Maine.
Tuesday: Ride to the Racetrack! Help New England children in need by joining this motorcycle ride from Laconia Harley-Davidson to NH Motor Speedway for laps around the 1.6-mile full road course! Registration is $20 per rider or passenger & ALL proceeds benefit the NH Chapter of Speedway Children's Charities, the official charity of NHMS. Registration at 9am and Kickstands up at 10am! More information here.
Don't miss the Covered Bridge Gypsy Tour on Wednesday, June 16th, leaving Rally Headquarters at 10:30am. Route includes at least 6 covered bridges throughout New Hampshire and a stop for lunch along the way. A popular ride led by Dave and Deb!
This is just a sampling of the many organized tours and rides offered during the week. Check out our events page here for a complete list of rides and other events.
Don't forget, you can skip the traffic by parking the bike in Meredith and taking the Weirs Shuttle Train to the Weirs and back June 12 & 13 and June 18 & 19. A convenient (and scenic) way to visit ground zero of Progressive Laconia Motorcycle Week®.
Still time to WIN a Harley!
Enter to win a Harley-Davidson FLHX Street Glide (valued at over $23,000) by purchasing your raffle tickets now. Only 3,000 tickets will be sold and you don't have to be present to win.
We're just days away from #98! We can't wait to see you here June 12-20!
For more information on the catastrophic fire at our rally headquarters office on Christmas Day, please visit our GoFundMe page. Friends of Laconia Motorcycle Week
"Laconia – Where Rallies Were Invented"
#LaconiaMcWeek
#NHLakesRegion
#LaconiaBikeWeek