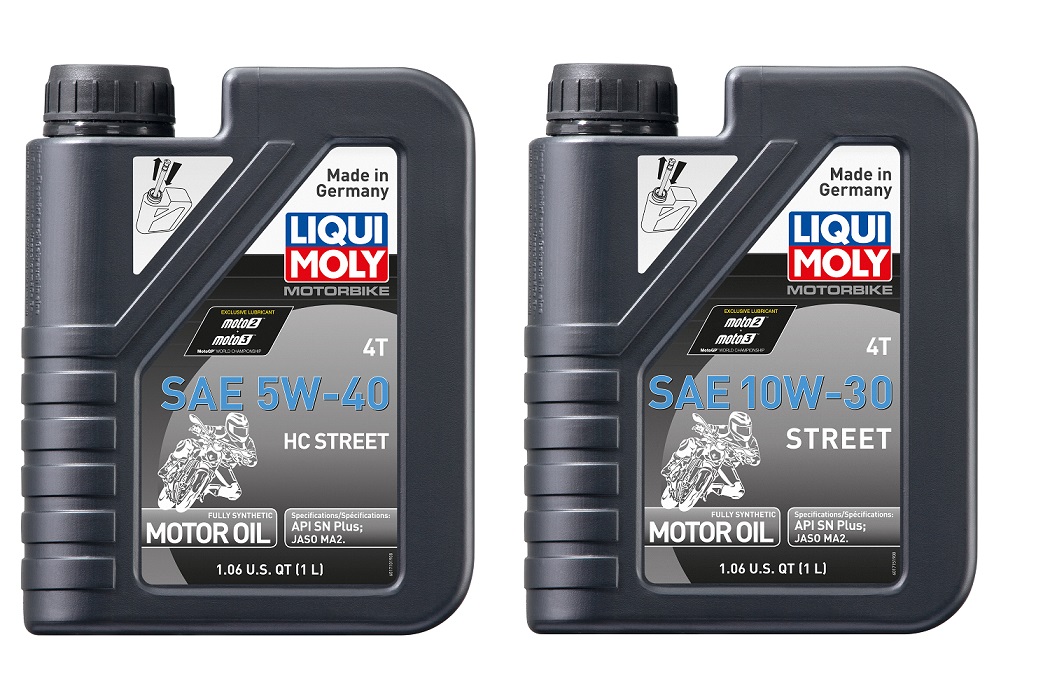 Oil manufacturer extends its range of fully synthetic oils
February 2020 – LIQUI MOLY is broadening its range of motor oils for motorcycles and launching two new grades: Motorbike 5W-40 HC Street and Motorbike 10W-30 Street. "With these two fully synthetic oils, we are expanding our offering for motorcyclists," says Sebastian Zelger, Director LIQUI MOLY USA.
Both oils meet the highest oil specification of API with SN plus and the highest oil specification of JASO with MA2. With the new 5W-40 HC Street, LIQUI MOLY has created an effective alternative to the Motorbike 5W-40 Street Race oil used by all teams in the intense Moto2 and Moto3 world championship series. While the 5W-40 Street Race oil remains a popular oil for riders in daily and high performance environments, 5W-40 HC Street will provide similar benefits in routine riding conditions.
The Motorbike 10W-30 Street follows the trend towards ever lower viscosity oils, which has been observed in the automotive sector for some time. "For motorcycles, 10W-30 is still an unusual viscosity with some early adopting Japanese manufacturers now using it," says Sebastian Zelger. A thinner oil means that the engine needs less effort to pump the oil. The result is lower fuel consumption and thus lower emissions – and more power that the engine can deliver to the wheels.
About LIQUI MOLY
With around 4,000 items, LIQUI MOLY offers a global, uniquely broad range of automotive chemicals: Motor oils and additives, greases and pastes, sprays and car care, glues and sealants. Founded in 1957, LIQUI MOLY develops and produces exclusively in Germany. There it is the undisputed market leader for additives and is repeatedly voted the best oil brand. The company sells its products in more than 120 countries and generated € 569 million in sales in 2019.