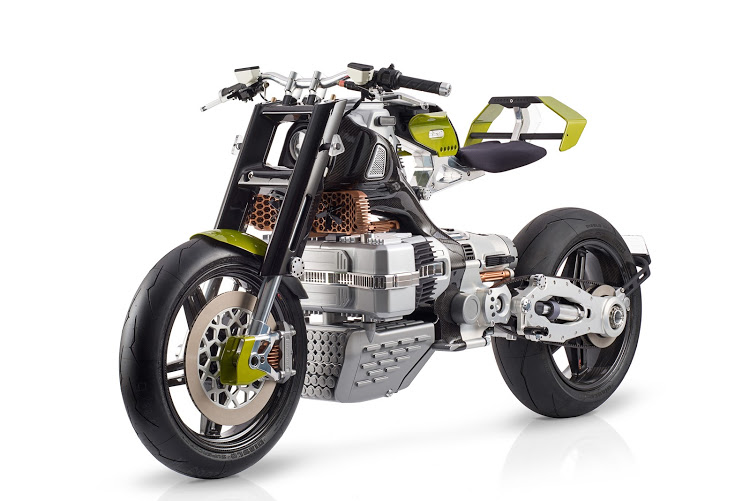 by Denis Droppa from https://www.businesslive.co.za
Unlike anything yet seen on two wheels, Pierre Terblanche's R1.1m Hypertek electric bike takes shape
A futuristic South African motorcycle that attracted interest at a recent international motorcycle show is to go into production in two years' time.
Looking like a prop from a Blade Runner movie, the prototype of the outlandish Hypertek electric bike was unveiled in November at the EICMA show in Milan, Italy, the motorcycle industry's premier annual showcase.
The Hypertek is a collaboration between SA's Blackstone Tek (BST), a Johannesburg-based company specialising in carbon-fibre automotive components, and well-known SA designer Pierre Terblanche who penned iconic motorcycles like the Ducati 749 and 999.
The striking Hypertek takes a bold sidestep from conventional motorcycle design. Looking like it was assembled from a giant Meccano set, it features no fairings and has all its mechanical elements on display, with the lithium-ion batteries housed in a finned, engine-like casing.
Is it pretty? You decide. Is it spectacular? Heck yes.
The bike is powered by an 80kW electric motor and has an estimated range of about 200km, taking as little as 30 minutes to fully charge on a DC quick charger.
BST's Terry Annecke says the $80,000 (R1.14m) bike is aimed at the high-end luxury market and will be hand-assembled in small volumes at BST's Joburg factory from early 2022.
She says the Hypetek has received 10 confirmed orders with at least 50 people "seriously interested" since the bike's appearance at EICMA. Annecke expects a mostly international clientele for the bike, although the first two orders were placed by local buyers.
"The Hypertek is aimed at people who appreciate it for its exceptional design and Pierre's reputation," she says, adding that the world-famous Barber motorcycle museum in Alabama, US, wants one for its collection.
Terblanche, the former director of design for Italian motorcycle company Ducati, says current battery-powered motorcycles are rather boring and that he created the Hypertek as a more emotional electric bike.
Apart from the flamboyant design, emotion is created by a built-in sound generator that makes the Hypertek roar like a conventional combustion-engined bike, or any sound of the customer's choosing. Unlike other electric bikes it also has a clutch that allows riders to perform wheelies and burnouts.
There is no instrument panel. Instead, data and infotainment is projected on a head-up display (HUD) inside the rider's helmet. Mirrors are absent too, and a camera projects the rear view onto the HUD.
It has some novel engineering solutions too, including the rear suspension being incorporated into the swingarm. That leaves the seat floating in an open space on a short tailpiece, well forward of the rear wheel.
Calling the Hypertek the best work he has ever done, Terblanche says he wanted to build an iconic electric motorcycle with excellent performance and beautiful styling.
"Motorcycles have become very formulaic and paint-by-numbers, and I wanted to create something that didn't carry over existing bike ideas."
Terblanche isn't a fan of the retro-styled trend sweeping the motorcycle industry, and a small plaque on the Hypertek's rear end reads: "Warning: for fans of curated replicas of 40s, 50s or 60s motorcycles, you are at the wrong stand".
With its estimated 200km range the Hypertek is a primarily urban machine, but Terblanche says battery and supercapacitor technology is constantly improving and later editions of the bike will be able to travel further out of city confines.
BST's Annecke says the Hypertek is a true South African story, including the fact that most of the prototype's bodywork was 3D printed by a Brakpan company.
BST manufactured the carbon fibre wheels and frame for the Hypertek. The Randburg-based engineering company also makes carbon fibre components for motorcycle companies such as Ducati, MV Agusta, and the Arch Motorcycle company co-founded by Hollywood actor Keanu Reeves.