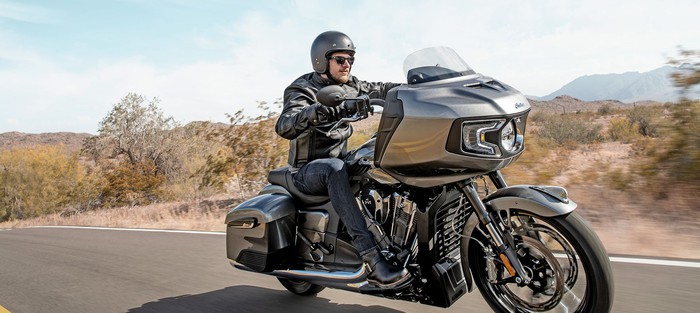 by Rich Duprey from https://www.fool.com/
Sales remained aloft longer than its rival, but now even its sales are falling.
As much as falling motorcycle sales at Harley-Davidson (NYSE:HOG) have been attributed to its core customer aging out of the market while the next generation of riders seems uninterested in buying the big bikes it produces, Indian Motorcycle sidestepped most of the same pitfalls even though it produces many of the same kinds of motorcycles as Harley does.
Since being resurrected from bankruptcy by Polaris Industries (NYSE:PII) and returned to the market in 2014, Indian has been a steady performer with retail sales often rising in the double-digit percentages. That has allowed it to steal market share from Harley, whose sales often contracted at similar percentages.
Yet with Polaris' third-quarter earnings report released last month, investors may have to accept that Indian Motorcycle now has its own Harley-Davidson problem.
A worsening sales decline
Polaris Industries is not transparent at all when it comes to telling you how its motorcycle business is performing. Where Harley breaks down sales and shipments by geographic region and type of motorcycle, Polaris provides vague percentage increases or declines, maybe calling out a model once in a while, but never giving investors any real insight into how Indian's various motorcycles are performing.
What we do know is that despite double- and even triple-digit sales growth early on, Indian Motorcycle sales are now quickly spiraling down. Even as Polaris obscures the actual numbers, a mid-teen-percentage decline in retail sales that far eclipses the contraction of the broader motorcycle market suggests that this is becoming a big problem for the bike maker.
Worse, the downdraft is accelerating. In the second quarter, Polaris said Indian retail sales were down by almost 10%, while in the first quarter they were down by high single-digit rates. In last year's fourth quarter they were down by low double-digit amounts, which was a big drop since they had been positive the quarter before.
That doesn't bode well for when Polaris reports results the next time around. Even though the bar has been lowered considerably on sales, there's no reason to think it will be able to rebound — precisely because Indian is still making the same kinds of heavy, big-bore bikes as Harley.
It just released its newest touring motorcycle, the 2020 Challenger, that houses its bigger, more muscular liquid-cooled PowerPlus engine that evokes images of Harley's Road Glide.
Looking to reverse direction
Certainly both bike makers are hoping to change the equation. Harley has gone all-in on electric motorcycles — a field Polaris rejects, saying they're unprofitable — along with two new styles it recently unveiled that represent a big change for the bike maker: the Bronx streetfighter and the Pan America adventure bike. They're smaller, lighter, and meant for a different kind of riding than typified by Harley's cruisers.
Polaris has also introduced a new bike, the FTR 1200, which was inspired by its racing team's success on the flat-track circuit. While many enthusiasts had hoped for a street version of the FTR 750 that was tearing up the track, Polaris came out with a somewhat bigger, more powerful bike that it also hopes changes the conversation about its products.
But the introduction of the FTR 1200 was flawed in several respects. Polaris was late to market with the bike, so it missed a good part of the sales season, and then misjudged demand for the different models, believing more buyers would want the base model when in reality there was higher demand for the race replica version.
The new model helped lift international sales in the quarter, but it may be a while before we see any impact here at home. Motorcycle sales typically dry up during the winter months, and it's still unknown what kind of demand will be there come the spring.
The outlook isn't bright for biking
Polaris Industries, unlike Harley, is more than just a motorcycle maker. It also makes side-by-side recreational vehicles, snowmobiles, utility vehicles, and more recently boats. They help the powersports vehicle maker smooth out sales over the year. And motorcycles only account for 9% of total revenue.
Yet with motorcycle sales deepening even further into the red, Indian is mimicking the worst aspects of its rival at just the wrong time, and its problem could only get worse.