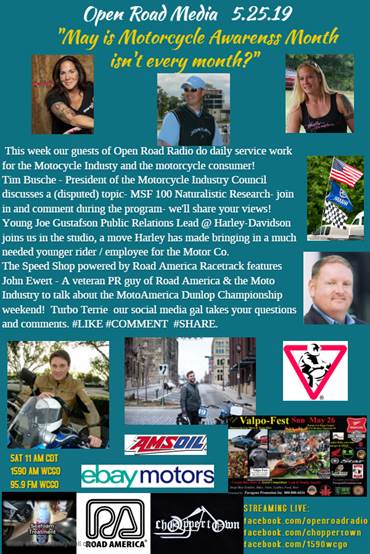 Looking forward to talking to all….there'll be lots of great talent on this show.
Co-hosted with Kenny Abbott – Kenny is a former racer, Michael Jordan's Crew Chief, Managed Fox Valley Honda, and all kinds of great stuff.
Terrie is out Social Media gal and will address people commenting into the LIVE show
Karel King is out producer and Andrew & Andy are on deck engineering the show!
Featuring Tim Buche, Joe Gustafson & John Ewert!
See attached Show Line-up and Show Flyer and share share share!
And THANK YOU for coming to the party- every Sat it's a party some just rock more than others!  –
Happy Memorial Weekend!