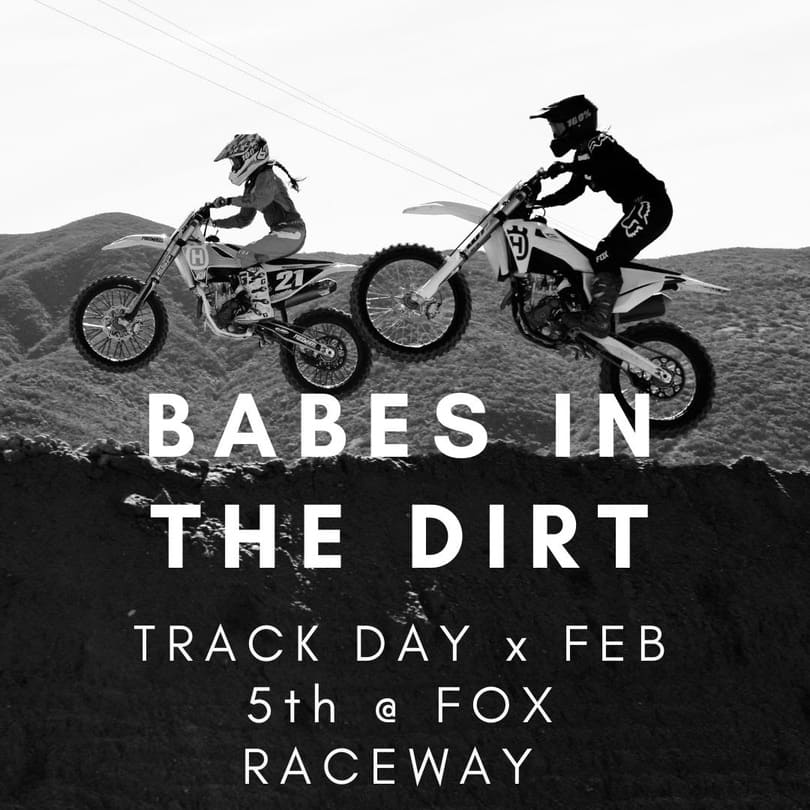 Track Day x February 5th @ Fox Raceway
We are so excited to finally bring back our annual track day at our home track, Fox Raceway in Pala, CA. This event is for the entire fam and there is no event sign up or extra cost to attend other than the track fee you pay upon arrival if riding. But hey.. we got so many deets, let's go ahead and dive into it
Want more info on the track and camping options? Tap HERE
Fox Raceway opens at 8AM and first ladies only moto starts at 9:00AM sharp on the vet track. At the top of the hour, ladies only (15+ up) will have 30 min motos on the vet track which will flow like this…
Regulated Ladies Only Moto Times on Vet Track
9AM-9:30AM
10:00AM-10:30AM
11:00AM-11:30AM
12PM-12:30PM
1PM-1:30PM
2PM-2:30PM
3PM-3:30PM
In between those times above, anyone can ride the track (including dads and dudes). Rider under 15 & true beginners who are learning the clutch and brake should stay on the kids track only.
Track Fees
Rider fee at gate $20 for 65cc and under & $30 for 85cc and bigger
Spectators are free
Fun Stuff
Free Husqvarna demos on the 2023 models (can you smell the 2 stroke?!) for the ladies on a private husky only track (85, 125, 250s)
AEO Powersports on site checking your sag and high fiving
Free Husqvarna x Stacyc demos for all kids (bring your own gear + helmet etc.) in a private secure area
Free USMCA coaching on site provided by Husqvarna for the ladies that are new to moto (perfect for ladies who have never ridden before or have had limited seat time)
Free USMCA coaching for the kids on the closed Stacyc area
Hospitality + snacks and coffee provided by Fox Racing crew
Free Motion boot demos from Fox Racing
805 hospitality area, come properly chill with us!
Babes in the Dirt hanging and riding along with you
Professional photos of you ripping
Bring the entire fam, we want everyone to enjoy a day ripping!
* * * * * * * * * * * * * * * * * * * * * * * * * * * *