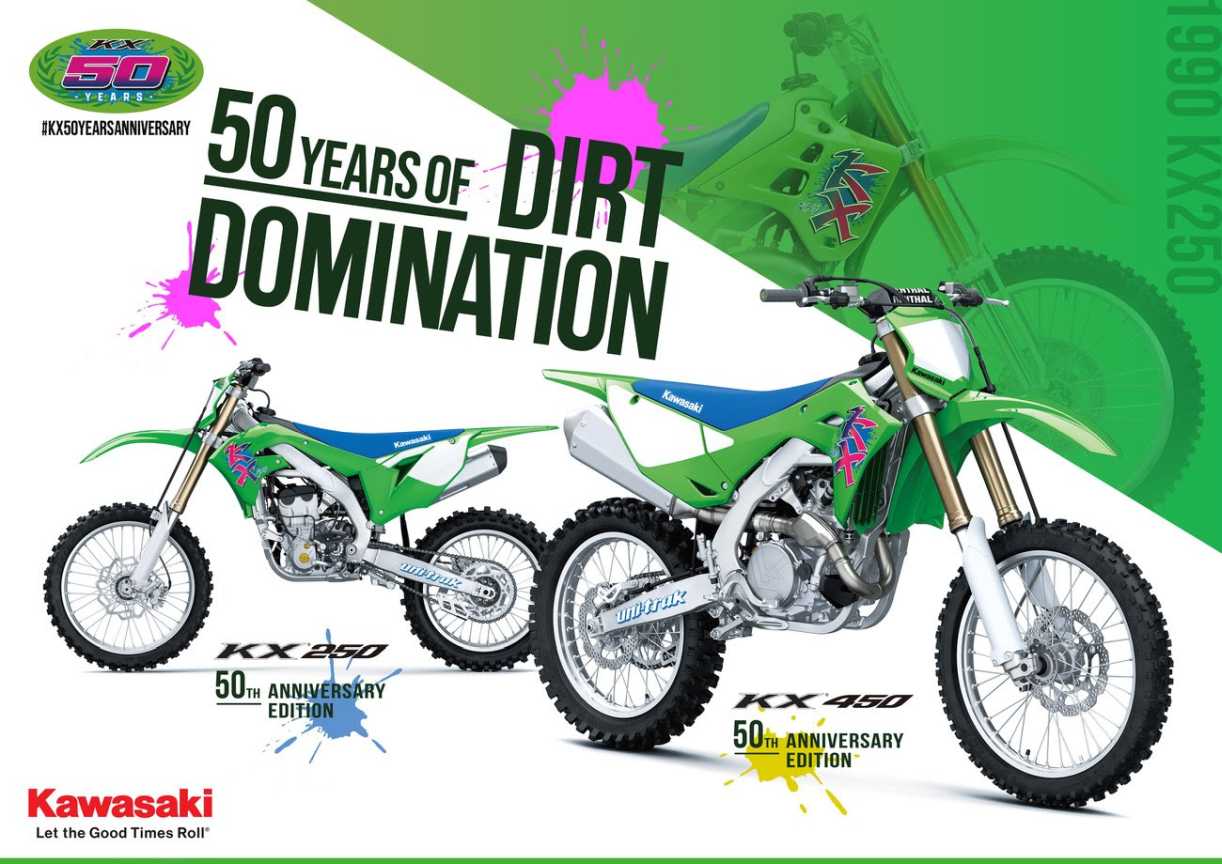 2024 KAWASAKI KX™450, KX™450X AND KX™ 50th ANNIVERSARY EDITION MOTORCYCLES
THE BIKE THAT BUILDS CHAMPIONS
Over the last 50 years, the Kawasaki KX™ brand of motorcycles has helped pave the path to championships for the some of the most popular motocross racers of all time. Today, the KX family remains one of the most dominant motocross and supercross brand of motorcycles available, with the all-new KX™450 once again raising the bar. With development cues taken from the Monster Energy® Kawasaki factory racing team, the all-new 2024 KX450 is one of the strongest and race-ready machines on the dirt. To commemorate the celebration and success of 50 years of the KX brand, Kawasaki is pleased to announce the release of 50th Anniversary Edition motorcycles. Equipped with a limited retro-inspired KX shroud graphic, a Uni-Trak swingarm graphic, blue seat, silver wheels and white fork guards, the 2024 KX250 50th Anniversary Edition and the KX450 50th Anniversary Edition motorcycles will spark nostalgia and tug at the heartstrings of motocross enthusiasts across the globe.
ALL-NEW 2024 KAWASAKI KX™450 HIGHLIGHTS:
• NEW Engine tuning
• NEW Cylinder head
• NEW Straight exhaust port and center exhaust
• NEW Smartphone connectivity via RIDEOLOGY THE APP KX*
• NEW Handlebar-mounted traction control switch
• NEW Brembo brake system
• NEW Lightweight aluminum perimeter frame
• NEW ODI Lock-On grips
• NEW Easy-to-remove side cover
• NEW Slim ergonomic bodywork
• NEW Kawasaki TRaction Control and riding modes
* * * * * * * * * * * *
Stay updated, stay ahead of the curve…with Bikernet Free Weekly Newsletter, click to get going!