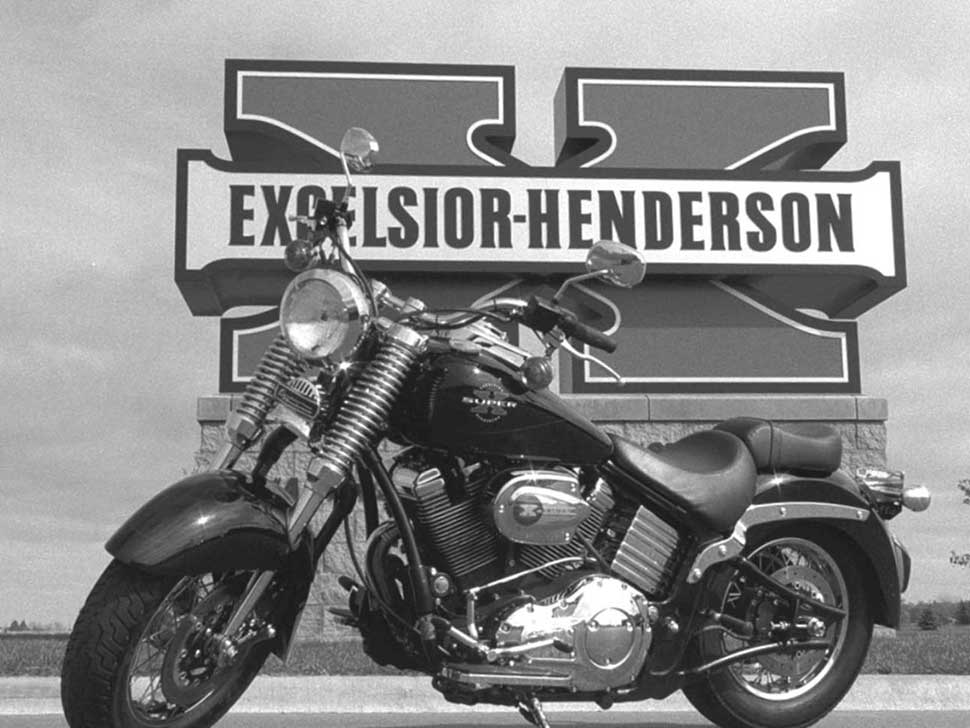 by Ben Purvis from https://www.cycleworld.com
Indian firm Bajaj may be bringing back the classic American marque.
For a brief moment in the late 1990s the name Excelsior-Henderson was one of the hottest stories in motorcycling – a brand that was resurrected as a high-tech rival to Harley-Davidson after decades in the grave. Even if you don't remember the furor over Excelsior in 1997, you already know how the story ends. The fact that those Excelsiors remain vanishingly rare more than two decades later reveals that the plan didn't quite come together as envisioned. Just two years after unveiling the first bike since 1931 to wear that storied badge, Excelsior-Henderson 2.0 ended up closing its doors as well. But now it seems that the brand might be set to rise from the grave once more, this time courtesy of Indian manufacturing giant Bajaj.
Bajaj might not be a name that registers on your radar like Honda or Harley-Davidson, but it's a behemoth of a company with a 75-year history of its own and a string of subsidiaries. It's India's second-largest bike company, after Hero, with the production capacity to manufacture 6,330,000 vehicles per year, most of them motorcycles. On top of that, Bajaj owns 48% of KTM, building KTMs and Husqvarnas in its plants in India, and it has a deal with Triumph to jointly develop and manufacture a new range of small to mid-sized machines in the near future. In short, Bajaj is one of the biggest players in the worldwide motorcycle market, and now it's planning to relaunch the classic Excelsior-Henderson marque.
The news has yet to be officially announced, but Bajaj has already applied for trademark rights in various countries to use the Excelsior-Henderson name and logo on motorcycles, parts and clothing. It's understood to have bought the brand name from Daniel Hanlon, who was one of the chief drivers behind the 1990s revival of the American brand that came so close to success. Bajaj's interest in Excelsior is likely to stem from the fact that rival Indian manufacturers have been on a spending spree recently, snapping up famous motorcycle companies or the rights to their names. TVS, for instance, bought the remains of Norton earlier this year, and Mahindra owns the BSA brand and intends to bring it back into production in the near future. Meanwhile, Hero – the world's largest manufacturer of motorcycles by volume – has recently struck a deal to develop and manufacture bikes wearing the Harley-Davidson brand name in its home market.
All of this is likely to be a response to the rapid growth of Royal Enfield, which has been Indian-owned for decades but has seen remarkable sales increases in recent years, leaving other Indian brands, which traditionally focus on smaller bikes, looking for a way to compete in the classic space.
In case you're not familiar with Excelsior-Henderson, it started life as a merger of two bike companies (as the name suggests) back in the pioneering days of the early 20th century. Both were high-end brands with a reputation for quality, with Excelsior building 61 cubic inch V-twins from as early as 1910 and later developing the famous 45 cubic inch Super X in 1925. Henderson, meanwhile, started life in 1911 and focussed on inline four-cylinder machines. Both companies were bought by bicycle firm Schwinn – Excelsior in 1912 and Henderson in 1917 – and merged into Excelsior-Henderson, although their products remained separate. In 1931, Schwinn closed Excelsior-Henderson, refocusing on pedal-powered bikes in the face of the Great Depression.
That might have been the end of the story if it wasn't for Daniel Hanlon's Minnesota-based Hanlon Manufacturing Company. He saw a gap in the market for a high-spec V-twin cruiser in the 1990s and embarked on the development of what would become the Excelsior-Henderson Super X of 1998. Featuring a 1386cc (85 cu in) DOHC, four-valve V-twin with fuel injection, based on a design from British engineering firm Weslake (famous for the V12 powering Dan Gurney's Eagle F1 cars in the 1960s, and later the Gurney-Weslake engines for Ford's GT40s), the Super X also used unusual front suspension with massive, exposed springs. A 140-strong dealer network was established and around 1950 of the $18,500 Super X machines found buyers before Excelsior-Henderson filed for Chapter 11 in late 1999.
Although production never restarted, the Excelsior-Henderson company has remained in existence since then. An attempt was made to sell the brand and rights to its use and patents at a Mecum auction in 2018, but no buyer was found. Now it seems Bajaj has bought at least some of those rights. No doubt there will be an official announcement to confirm more details of the arrangement, but it seems that a new Excelsior-Henderson could be on the way within the next few years.