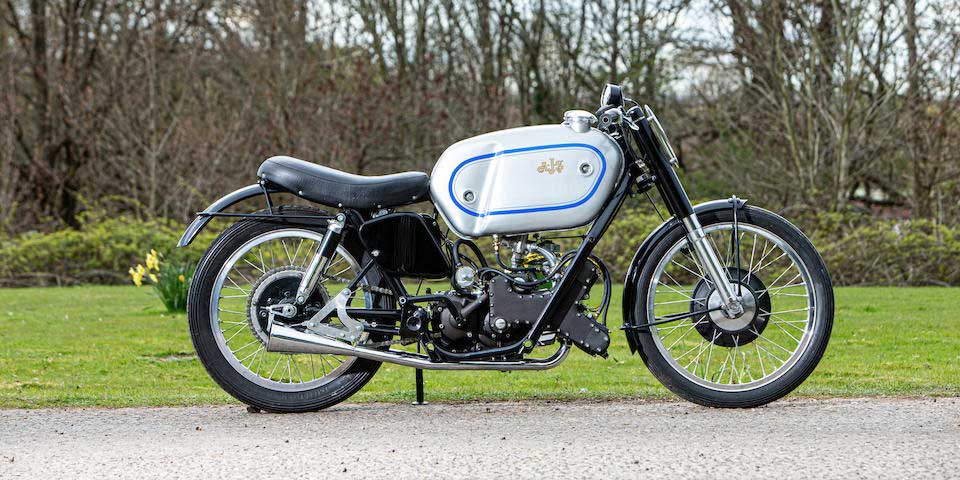 The Summer Sale
The International Classic MotorCycle Show (Three-Day Auction)
2 – 4 Jul 2021
Stafford, Staffordshire County Showground
1940S RACING MOTORCYCLE LEADS SUMMER STAFFORD SALE
An ultra-rare example of arguably the 'Holy Grail' of classic racing motorcycles – a 1940s AJS 497cc E90 'Porcupine' Grand Prix racing motorcycle, previously owned by post-war AJS works rider Ted Frend, is being offered for the first time at auction in the Bonhams Summer Stafford Sale on 2 July. It has an estimate of £250,000 – 300,000.
The E90's reputation was made as the first motorcycle to win the 500cc World Championship in the series' debut year of 1949, carrying Frend's fellow works rider Les Graham to his (and AJS's) first and only world title. Dubbed the Porcupine by the era's motorcycle press due to its distinctive spiked 'head' finning, the E90 remains the sole twin-cylinder machine to have won world motorcycling's flagship series.
Just a handful of E90s were built by the British firm, purely for its works team. Ted Frend who had tasted earlier success earning a gold star at Brooklands having lapped its outer circuit at over 100mph on his Vincent-HRD Rapide, was signed up by AJS in 1947, thanks to a 4th place finish in that year's Isle of Man TT. He was the first rider to win on the Porcupine at the 1947 Hutchinson 100 race.
Development on the E90 continued over the next couple of years, while the motorcycle picked up 18 world speed records and a number of podium finishes before reaching its 1949 zenith. Graham won two of the six championship races, the Swiss and Ulster Grand Prix, securing the rider's trophy, while teammate Bill Doran rode to victory in Belgium to ensure AJS' manufacturer's title.
Despite its successes, the E90 was plagued by various problems concerning carburetion and its magneto – a magneto shaft failure caused Graham to retire from the 1949 Isle of Man Senior TT, which he was leading, two minutes from the finish. In 1952, its successor, the E95, was introduced, with a revised engine and new frame. Although the spikes disappeared the Porcupine name stuck. The E95 had a dream debut, with a one-two finish in the season-opening Swiss Grand Prix.
Between 1949 and 1954, the Porcupine, in E90 and E95 guise, finished 24 races, securing five wins, seven 2nd places and one World Championship. Ted commented that 'for its day, the Porcupine had lots of potential, but its development did not keep pace with the opposition.' In total, only four complete E90 and four E95 motorcycles were produced, along with an unknown number of spare engines.
Ted Frend, who left the AJS team in 1950, also finished his racing career in 1954 to concentrate on his sheet metal business. He maintained that the Porcupine's glory year was 1949, not just for its World Championship win, but also for holding its own against the more powerful rival Gileras and early MV motorcycles. He said: "At Spa, I managed third place, splitting the Gileras. Masetti, Pagani [Gilera riders] and I were the first to average over 100mph for a full Grand Prix."
The motorcycle offered was found as a collection of parts in the estate of Ted Frend when he died in 2006. It was his friend and neighbour Ken Senior who acquired the Porcupine and other motorcycle-related possessions from the executors, including Ted's TT trophies, also offered in the Summer Stafford Sale. Senior oversaw the Porcupine's rebuild, with missing parts custom made.
Ben Walker, International Department Director, Bonhams Collectors' Motorcycles, said: "We have only seen two other examples offered for sale publicly, both of which Bonhams sold for world record prices at the time. With the few known examples being in the world-famous Barber Vintage Motorsports Museum, the Sammy Miller Motorcycle Museum or in the possession of private collectors, this is an extremely exciting, once in a generation opportunity to buy a much coveted and sought-after machine."
The Porcupine leads the Ken Senior Collection of 90 plus motorcycles to be offered on Friday 2 July, at the three-day Summer Stafford Sale. This just a quarter of the near 400-strong collection of 'everyman' classics that Ken Senior amassed in his lifetime.
The Bonhams Summer Stafford Sale makes a welcome return to the International Classic MotorCycle Show, and will offer in excess of 650 lots, comprising important collectors' motorcycles, important early bicycles, spares and memorabilia over three days from 2 to 4 July.
Sale Days
Friday 2 July The Ken Senior Collection and other important one owner collections
Saturday 3 July Bicycles, Spares and Memorabilia
Sunday 4 July Collectors' Motorcycles
Viewing Times
09:00 – 1700 Friday through Sunday
Other highlights include:
1940 Brough Superior 1,096cc 11-50HP, estimate £60,000 – 75,000
The very last Brough Superior 11-50HP to have left the Nottingham factory, offered from long term ownership (having been repatriated with its original owner from new), the 1940 Brough Superior 1,096cc 11-50HP is to be sold Without Reserve.
The Ron Cody Collection
Well-known in MV Agusta club circles, the late Ron Cody, a former sports car racer and engineer, turned to his passion for building up and restoring his collection of Italian machines as a retirement hobby. This collection offers 48 motorcycles, including many examples of MV Agustas, as well as other Italian marques.
A Significant Norton Collection
More than 10 pre-War marvels are offered from the stable of a lifelong Norton dedicated collector. The collection also includes more than 150 lots of mostly Norton pre-war spares: from engines and gearboxes to pie-crust tanks.
The sale will be a traditional live auction, welcoming bidders back into the saleroom in addition to enhanced online bidding features rolled out throughout 2020, a record year for attracting £7.6 million in motorcycle sales alone.
The sale will also be streamed and available on the Bonhams App, which provides registered bidders the opportunity to bid in real time online via Bonhams.com while watching the auctioneer and videos of motorcycles on offer. Absentee and telephone bids are also encouraged.
Visit www.bonhams.com/summersale to preview the lots on offer. The full lot listing will be published in early June.
To register to bid, contact: bids@bonhams.com and to discuss selling or buying collectors' motorcycles at auction, contact: ukmotorcycles@bonhams.com.