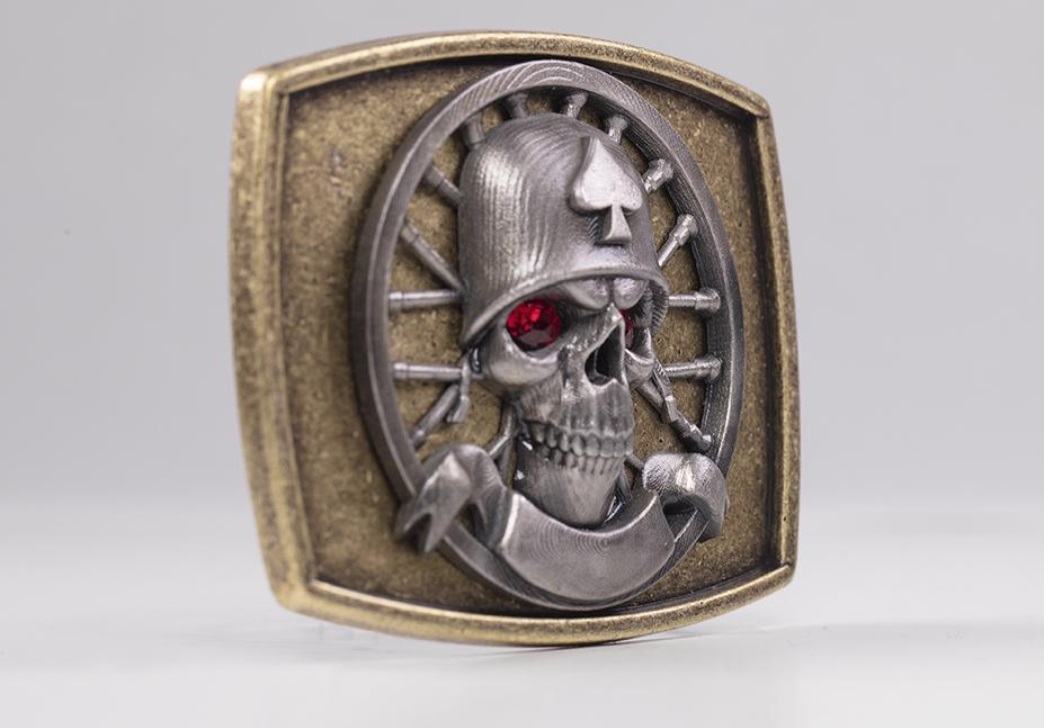 Style and Substance Rendered in Stainless Steel
Pittsburg, PA (May 16, 2019) – Three-dimensional printing technology has advanced quite a bit in the last few years, but one company is uniquely applying the tech and concepts to stainless steel for the motorcycling community. Using exclusively licensed technology developed at M.I.T., Varoom is producing stainless steel designs and logos on belt buckles that cater to the outlaw in all of us.
"We wanted to create something tough but alluring," said Fritz Keck, President of Varoom. "The resulting mixture of craftsmanship, iconography and aesthetic purity in the products is exactly what we had in mind."
Varoom offers an intricacy of design unavailable from any other 3-D printing outfits. Their heavy-duty metal belt buckles are available in two finishes: antique nickel and antique bronze ox. They offer varying designs—skulls, knights, crosses, wheels, wings, swords, crests, you name it—and many feature custom engraving options for personal and motorcycle club names.
Multiple designs are adorned with crystals from Swarovski® Crystals, the world's leader in elegant crystals. Available colors include Aquamarine, Crystal, Emerald, Sapphire, and Siam—as skull's eyes, on sword hilts, in wheel spokes, these beautiful stones catch the eye and take a design to a new level.
"The thing about these belt buckles is they're not just sharp—they're utilitarian," said Keck. "We're providing an accessory as durable and attractive as the bike you ride."
Using a perfect symbiosis of imagination and technology, each 3-D item is custom-made and hand-finished in the United States. Varoom's products have a lifetime warranty and are guaranteed against rusting and adverse weather conditions. Varoom's belt buckle product line features over 20 original designs, with more in the works, and the company also has the capacity to manufacture customer-provided designs. Take a look for yourself at https://varoom3d.com. E-mail info@varoom3d.com or call (724) 351-0461 to find out more.