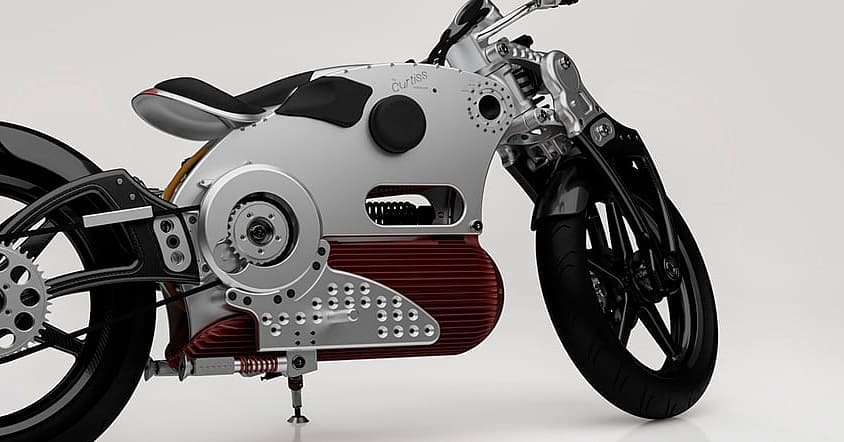 by Mihnea Radu from https://www.autoevolution.com
We hate regular concept art sometimes – here's a nice rendering we did and a press release, now give us some money. However, Curtiss Motorcycle Co. has just built a prototype for its electric bike and it's even more amazing than its sketches.
Seriously, just look at this thing! Look at it, and then scroll to the end of the photo gallery to see the 3D model. The final destination is obviously building a bike that hasn't existed before, purely electric and looking cool.
Curtiss used to be known as Confederate Motorcycles but in 2017 decided to go all-electric and re-brand itself. Since then, they've basically just shown prototypes and concepts.
The Hades promises to be different. It's being introduced with some amazing specs. The electric motor is supposed to produce something like 215 horsepower and 147 lb-ft of torque (200 Nm). It's mounted coaxially with the rear swingarm and drives the rear wheel via a belt.
The battery itself is mounted in that weird rocket-like enclosure under the frame. The rose gold coating is what really sets this apart from other bikes.
The battery is a 399 VDC pack with capacity having been quoted at 16.8 kWh, which would give it a higher capacity than the largest standard battery offering in the Harley-Davidson's LiveWire (15.5 kWh).
The "prototype" part of what we see here is probably the frame. Based on the concept, it's probably going to get a carbon fiber chassis for lightness. Sounds exotic, but then this is supposed to be a $75,000+ bike. That sounds like a lot of money compared to the LiveWire, but plenty of people are willing to pay extra for custom fabrication. To their credit, Curtis are reportedly also working on a cheaper version.
If it were our money, we'd skip that funky front end, just have some normal forks and save a few bucks.