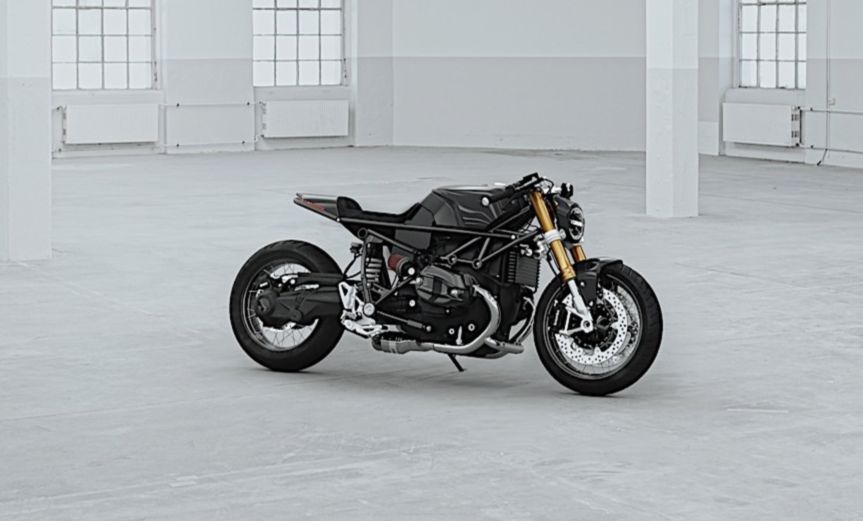 by Daniel Patrascu from https://www.autoevolution.com
When it introduced the retro styled roadster called R nineT back in 2014, German bike maker BMW said it is the embodiment of "customization possibilities." There are now a wide range of extras that can be added right from the start, but none of the modifications that can be specified from new are so extreme as the ones seen on this build here.
Named Cobra, the bike is the result of serious work done by Dresden-based Hookie Co, a garage that specializes in providing motorcycles made by BMW, Yamaha or Honda with that special flavor factories are unable to provide.
To date, Hookie has designed parts and a scrambler kit for the R nineT, but this time they went in full throttle and came up with the Cobra, the bike with a "bionic primeval shape."
Based on the 2020 model year R nineT, the bike packs the same 1,170 cm3 engine that powers all the other of its kind, with no technical modifications that we know of. However, it sits inside a body that looks significantly different from stock.
First off, the stance of the bike is way different. Whereas the standard R nineT looks like, well, a standard motorcycle, the Cobra seems to be running for its life even when standing still. That is due to the new frame rail it is fitted on, which is much straighter than what BMW usually has to offer.
Then, there's the rigid shape of the fuel tank that no longer comes as a rounded piece of hardware, but as a straight-lined build wrapped in special paint.
Lastly, there are the sportbike front fender that ends in a LED headlight, and the slightly raised rear end that gives the Cobra the road-hungry appearance we mentioned earlier.
The Cobra R nineT will be a very rare sight on the world's roads. Only ten of them will ever be made – five are completed, of which one sold, and the other five are coming this fall – each in a different color scheme. The price of each Cobra is €34,900.