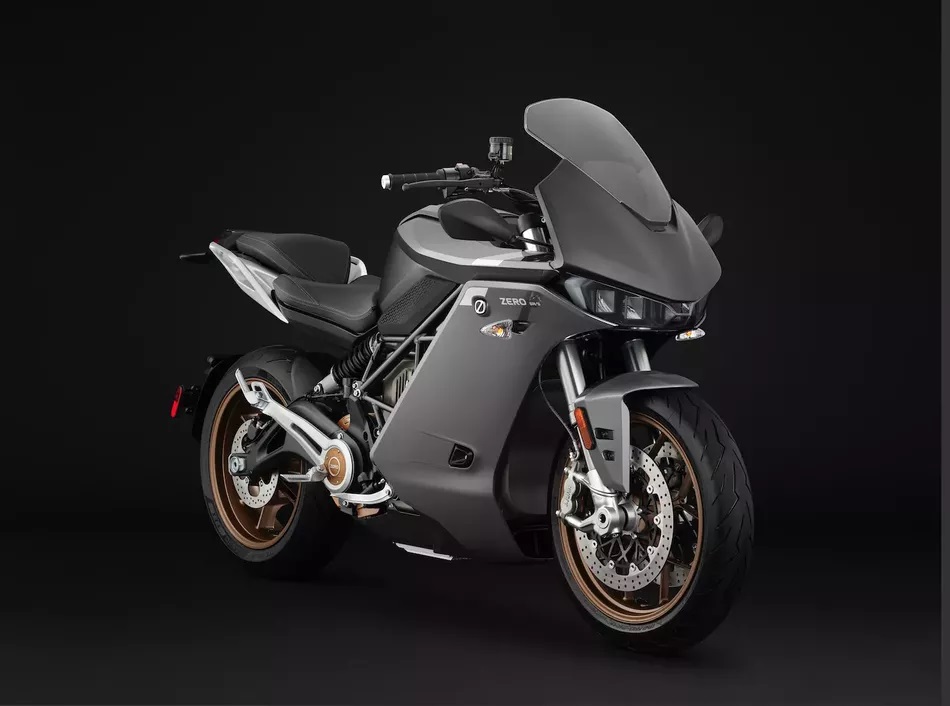 by Steve Dent from https://www.engadget.com
by Alex Perry from https://mashable.com
You can also charge the premium model in under an hour.
Like EV owners, electric motorcycle riders suffer from range anxiety. Zero Motorcycles is trying to alleviate that a bit with a new model, the SR/S. It can go up to 201 miles in the city and 103 miles on highways — better numbers than the last SR/F model all around. Best of all, Zero managed to keep the price just above the SR/F by keeping the same platform and introducing a full fairing to improve aerodynamics.
On top of the full fairing, the SR/S has a more relaxed riding position, but otherwise uses the same battery pack and engine as the last model. As more of a sport touring-type bike, it also weighs about 20 pounds more than the 485-pound SR/F. However, it still goes like heck thanks to a 100 horsepower, 140 foot pound motor, hitting speeds up to 124 mph.
The base SR/S can go 161 miles on a charge or 82 miles on the highway, so to get the extra range you'll need to add the Power Tank option. It takes four hours to charge the base model with a regular charger, or 1.3 hours with the 6 KW rapid charge option. However, you can speed that up to two hours (regular charge) and one hour (fast charge) with the premium bike.
Other features include the Cypher III operating system that can handles traction control, braking and charging, along with connected capabilities that lets the owner monitor bike status, alerts, system upgrades and more. The SR/S is now available starting at $19,995 (compared to $19,495 for the SR/F), or $21,995 for the premium model. The 3.6 kWh Power Tank option runs an additional $2,895 and will be available starting March 1st.
Zero's new SR/S electric motorcycle has a new design and increased range
If you want to roam cities and highways in style without relying on a single drop of gasoline, Zero's newest electric motorcycle might be up your alley.
Zero invited members of the press to an unveiling of its new SR/S e-bike on Wednesday. It has a sleek new design compared to its SR/F counterpart, and was designed with aerodynamics in mind, according to Zero. This should allow 13 percent more range at highway speeds once riders are fully leaned in, the company says.
As far as more detailed specs are concerned, the SR/S boasts 140 ft-lbs of torque, 110 horsepower, and a top speed of 124 mph. Its city range by default is 161 miles, while its highway range is 82 miles. Those numbers are bumped up to 201 miles and 103 miles, respectively, with an optional power tank add-on.
The SR/S comes in both standard and premium configurations. The first, with a 3 kW charger, is $19,995, the second, with a 6 kW charger, is $21,995. That power tank we mentioned earlier is an additional $2,895, so expect to spend a good deal more money than the starting price if you want all the bells and whistles.
Oh, and there are two colors: Cerulean Blue and Skyline Silver. We saw the blue version at the press briefing and it looked, well, blue. One last thing to note is that the Zero SR/S is using level 2 electric charging. It seems level 3 charging is still just a little too prohibitive for Zero's liking. The standard model takes four hours to go from zero to 95 percent battery, while the premium takes two hours. You can cut that down to merely an hour with the 6 kW charger.
It may cost somewhere in the neighborhood of $25,000 to get the SR/S with everything that makes it cool, but it seems like it might be cool nonetheless. Zero said it ships to dealers immediately, so anyone who wants one should look into their local options.