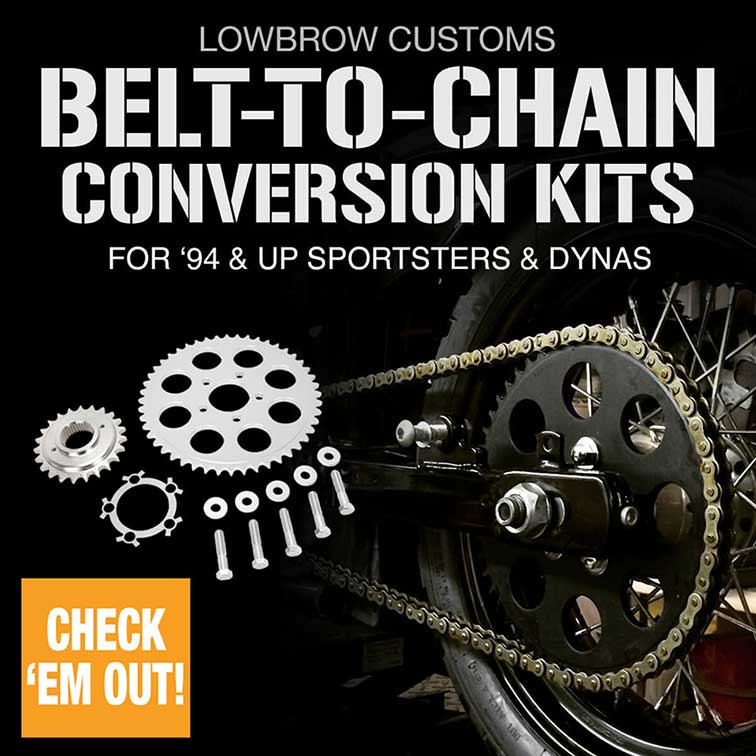 Belts are for pants!
Check Out Lowbrow Customs motorcycle parts and accessories at https://www.lowbrowcustoms.com/
We have been making chain conversion kits to replace the rear drive belt on '94 & later Sportsters and Dynas for many years.
Since then, other companies have started making kits as well…
But not all chain conversion kits are created equal!
Check out the reviews to see what customers think.
Oh, did we mention our chain conversions are 100% USA-made?
Check out our 1994-2003 Sportster chain conversion how-to (Click Here) or Rusty Butcher's Lowbrow chain conversion install video (Click Here) and follow along at home!
The process is straight-forward and pretty much the same across Sportster or Dyna and various year ranges.
Never fear, if you have any questions, we are always here to offer motorcycle technical support!
PS – In addition to chain conversion kits, we have a wide array of top-quality rear chains for your motorcycle! (Click Here) Spring has freakin' sprung, get your bike dialed in and hit the road!