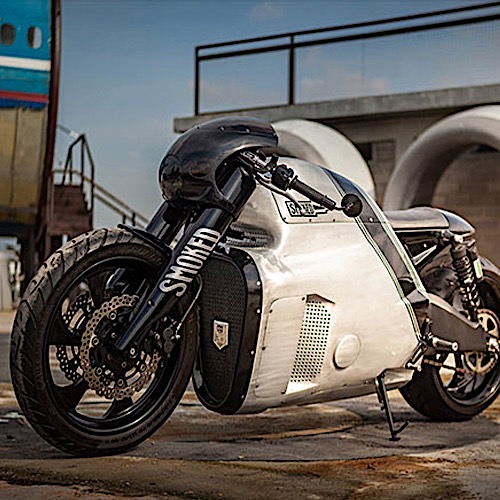 by Daniel Patrascu from https://www.autoevolution.com
Back in 2014, a German motorcycle racing team known back then as Kodewa introduced the Lotus C-01 concept, a "menacingly retro-futuristic" two-wheeler with 200 hp coming from the engine of a KTM Superbike. Some time later, the concept inspired a custom build in the most unlikely of places.
Penned by Daniel Simon, the man behind vehicular designs in movies like Tron: Legacy, Oblivion or Captain America, and more recently the autonomous racing car that goes by the name Robocar, the C-01 was supposed to sell for around for €100,000 (roughly $110,000), but never managed to get into a serious production run.
It did inspire others into coming up with their own versions of the C-01. Somewhere in the Indonesian city of Bali there's a custom bike garage that goes by the name of Smoked. The Lotus concept served as inspiration for one of the group's builds, one they call Bronco Racer.
The starting point for the new machine was a naked 2006 Kawasaki Ninja 650R, more precisely the ER-6n variety. Around its frame, Smoked designed a new body and several other custom elements that make the Bronco the finished product you can see in the gallery above.
The metal shell of the build was constructed in such a way as to mimic that of the 2014 Lotus concept. It includes elements like fenders, panels, headlight housing and even the fuel tank.
The Ninja was perched on top of custom wheels, a new saddle has been fitted on it, and the paint choice was made in such a way as to mimic that of the inspiration bike. Some work had to be done to the rear frame, which has been cut and rebuilt as well.
No change was made to the engine, though. The motorcycle is powered by the stock 649cc (39.6ci) liquid-cooled engine that develops a little over 70 hp and 48.7 lb-ft of torque.