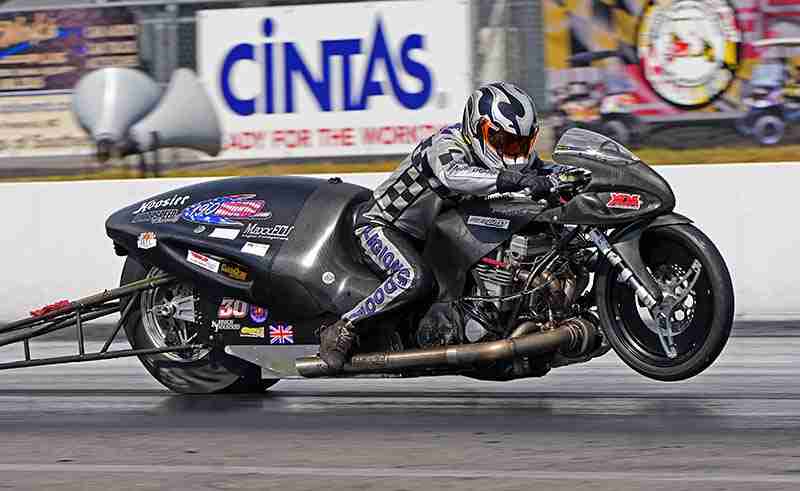 The 30th annual DME Racing Fall Nationals concluded the 2022 motorcycle drag racing season at Maryland International Raceway. XDA's fifth season crowned thirteen champions as the MIROCK-IDBL-XDA legacy continues to evolve and grow.
This season featured the best showing of motorcycle drag racing action in fifteen different classes, with over $500,000 paid out in cash purse and $131,000 in contingency offerings.
Despite another season finale having rain forecasted for the weekend, the XDA staff did the job they are known for as they hustled to complete the race. "It's never a great feeling when you see the chance of rain on top of your event, but it never deters the race because we have learned how to quickly adapt and push harder to get the job done," said Jason Miller. "When you come to XDA we are always going to do what's best for the racers and the event."
XDA has released its 2023 motorcycle drag racing schedule featuring five events. XDA continues to adapt to the changing markets by reducing the season by one event and spreading them out, giving racers five weeks between events to recharge, rebuild, spend time with their families, and attend other events. Get these dates on your calendar now because 2023 will be bigger and better.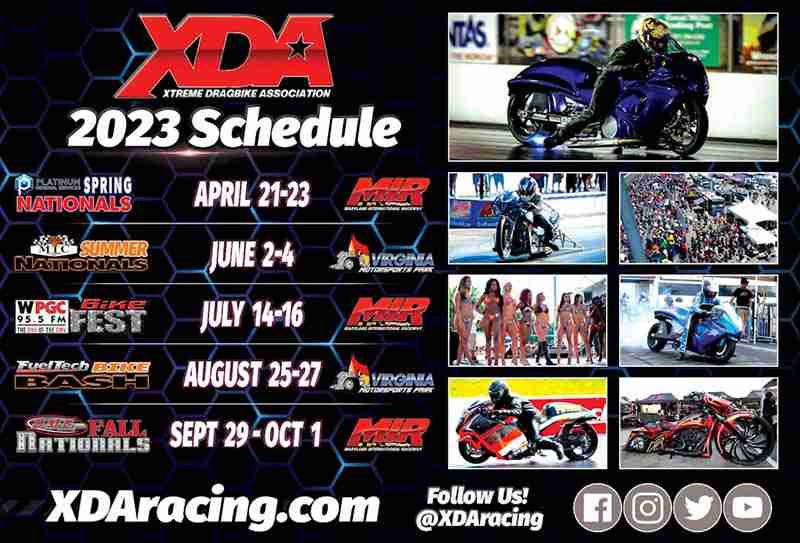 April 21-23 / Platinum General Services Spring Nationals / MIR
June 2-4 / MTC Summer Nationals / VMP
July 14-16 / WPGC Bike Fest / MIR
August 25-27 / FuelTech Bike Bash / VMP
Sept 29 – Oct 1 / DME Racing Fall Nationals / MIR
Orient Express Racing Pro Street
Winner – Rodney Williford
Runner-up – Greg Wallace
Champion – Rodney Williford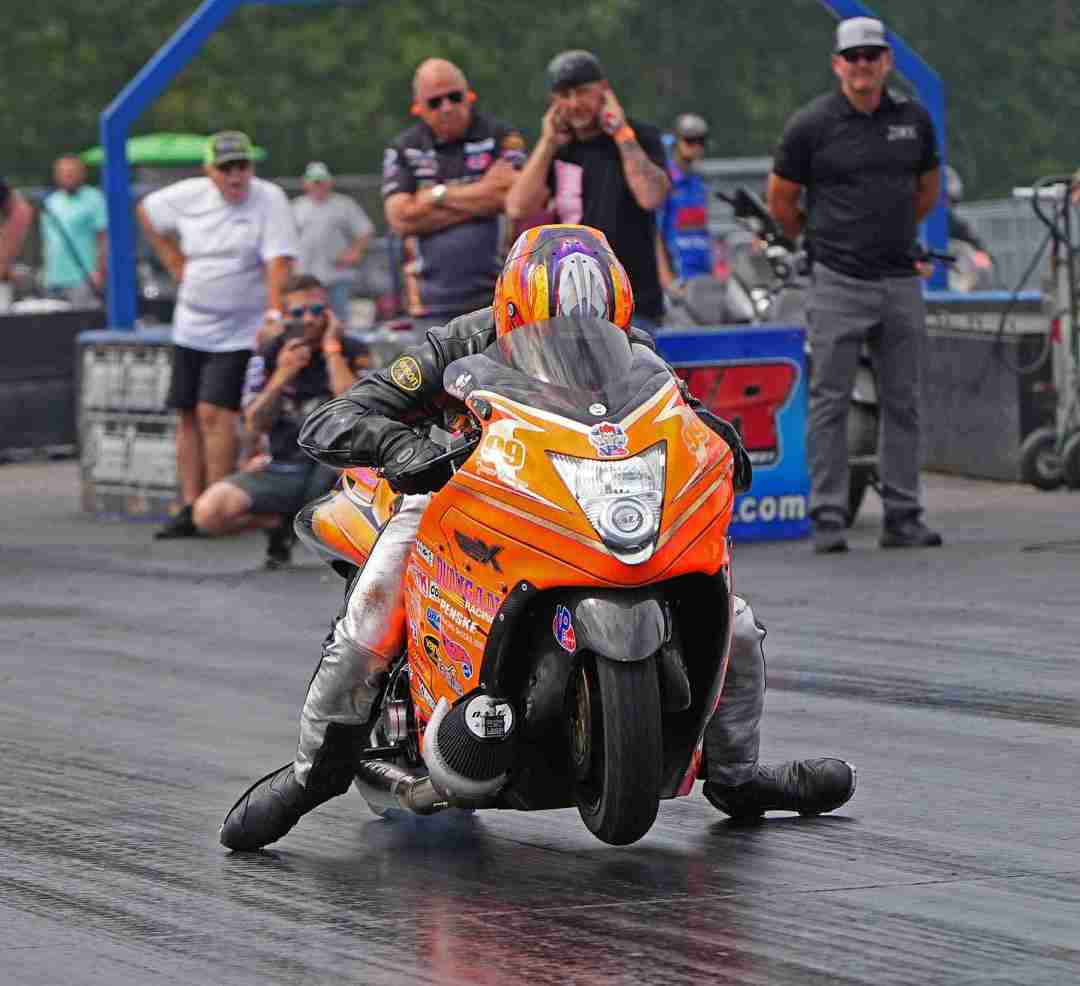 For the first time this season Rodney Williford was not the number one qualifier of the Orient Express Racing Pro Street class. Jason Dunigan came out of the shadows and blasted a 6.395 at 233.40 in the last round of qualifying, taking the number one qualifying spot. Jamie Lopes improved on his personal best in qualifying with a 6.491 and Ricky Wood with a 6.657. Kenny Brewer returned to racing action after taking a few races off to attend to family matters. Unfortunately, his return was dashed by mechanical failures that took him out of competition on Friday night.
In round one, Rudy Sanzottera, Jamie Lopes, Jason Dunigan, Greg Wallace, Rodney Williford, Darion Payne, Jordan Haase, and Curtis Brown all took wins. Since Williford already clinched the championship before the season finale, racers focused on making the top ten to qualify for the 26th annual Haltech World Cup Finals presented by Wiseco on November 2-6, 2022.
In round two Dunigan, Wallace, Williford, and Lopes all turned on win lights. Lopes ran a personal best of 6.455 at 228 mph, however, when Lopes rolled over the scales in tech, he was too light, and his run was DQ'd to reinstate Sanzottera back into the race.
In the semi-final, Wallace took out Dunigan while Williford took out Sanzottera. Wallace is no stranger to a final round, and he was looking for his first win of the season. Williford cut a .032 reaction time and blasted straight down the track; Wallace cut a slower .067 and was unable to catch Williford as they approached the finish line. Williford took his fifth win this season and the 2022 championship.
With the season complete, the top ten racers will look towards the November Pro Street Shootout sponsored by Platinum General Services where they will compete for $5,000 in cash purse at the 26th annual Haltech World Cup Finals presented by Wiseco on November 2-6, 2022. Racer qualified are: Rodney Williford, Jason Dunigan, Greg Wallace, Justin Shakir, Darion Payne, Gaige Herrera, James Waugh, Curtis Brown, Jordan Haase, and Ricky Wood.
DME Racing Real Street
Winner – David Stewart
Runner-up – Ralphie Navarro
Champion – David Stewart
The DME Racing Real Street class delivered the drama this past weekend as we watched all top three championship contenders struggle at some point. Rickey Gadson started out the weekend breaking the beams in qualifying because his motor was hurt, and he didn't want to take the chance of not getting on the ladder if rain ended qualifying early. They worked all night and into Saturday to get ready for eliminations on Saturday night. Stewart also had mechanical struggles working through Friday night until the early hours of Saturday to get his bike ready for Saturday qualifying. Class champion Mark Hylton who sat third in points took the number one qualifying position with a 7.496 giving him the best footing going into eliminations.
Gadson, Stewart, and Hylton all took wins in round one and continued to battle in round two. Unfortunately for Gadson, he cut a -.005 red light against Drae Taylor, ending his season. Stewart took a win over Caleb Holt and Hylton took a win over Brittany Bohne. But at this point it was mathematically impossible for Hylton to take the championship and Stewart locked up the 2022 DME Racing Real Street championship before heading to the semi-final.
In the semi-final Hylton had mechanical troubles giving an easy win to Ralphie Navarro. On the other side of the ladder Stewart faced Drae Taylor who he was able to defeat with a 7.551 to a 7.641.
In the final Stewart would get the starting line advantage cutting a .091 light to Navarro's .116, as they raced to the finish Stewart pulled ahead of Navarro to win the final event of the XDA season with a 7.607 to his 7.713.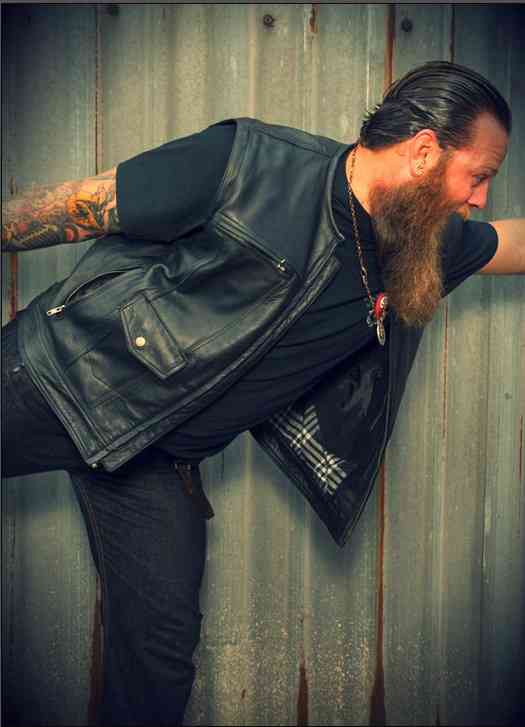 MaxxECU Pro Xtreme
Winner – Ronald Procopio
Runner-up – Tommy Saxton
Champion – Ronald Procopio
Ronald Procopio's reign in MaxxECU Pro Xtreme continued at the season finale, but the competition didn't make it easy. Tommy Saxon took the number one qualifying spot with a 3.905 for the only three-second run of qualifying. In round one of eliminations, the crowd witnessed three 3 second passes for wins to Saxon 3.915, Procopio 3.898, and Collins a 3.988. Procopio came into the event with only a three-point lead over John Collins. Collins and Procopio met in the semi-final where the winner of the round would be crowned the champion. Collins cut a -.008 red light against Procopio who ran a 3.886 to solidify his championship. Chris Cutsinger also red-lit in the semi-final to Tommy Saxton. And then Procopio was announced as the 2022 Champion before heading to the final. Procopio's win makes four different champions in the last four years that Pro Xtreme has been contested at XDA.
Onto the final Procopio cut a .043 light on Saxon's .054, but the starting line advantage would not come into play as Procopio's rocket lit the board up with a 3.875 for a record run in the class! Procopio end the year with a record and championship to take into the off-season.
MaxxECU Pro Xtreme is presented by Billy Vose Racing, Fast by Gast, Dunigan Racing, DME Racing, Grothus Dragbikes, Harley Haul, Rob Bush Motorsports, Robinson Industries, Schnitz Racing, Timblin Chassis, and Worldwide Bearings.
HTP Performance Super Stock
Winner – Richard Gadson
Runner-up – Marquise Blake
Champion – Curtis McDougald
Curtis McDougald is your new 2022 HTP Performance Super Stock Championship. McDougald was leading the points coming into the event and officially clinched the championship when Darion Payne, who was right behind him in points, lost in round two. McDougald qualified number one with an 8.818 and looked to be on the path to another win, that was until he met Richard Gadson in round three. On a holeshot, Gadson took the win over McDougald, and then went on to win against Caleb Holt in the semi-final before going to the final. Gadson would meet Marquise Blake in the final, and it was both riders first final round appearance of the year in HTP Performance Super Stock. With close reaction times, both riders left side-by-side, but Gadson's ZX-14 would pull away from Blake to take the stripe first and win with an 8.872 to Blake's slower 9.027.
Boosted Bulls
Winner – Craig Elliot / Cotton Mouth
Runner-up – Geoff Godfrey / Minion
Champion – Frankie Stotz / Reddi-Wip
Malcolm Phillips came into the DME Racing Fall Nationals leading the Boosted Bulls class with a two point lead over Frankie Stotz. When Phillips failed to enter the class, he handed the championship to Reddi-Wip's pilot.
In event eliminations Geoff Godfrey on 'Minion' drew a first-round bye that would put him in the final against Craig Elliot on 'Cotton Mouth'. They both had a good start to the round, but there wasn't enough minion power to keep up with Elliot as his win light lit up the boards.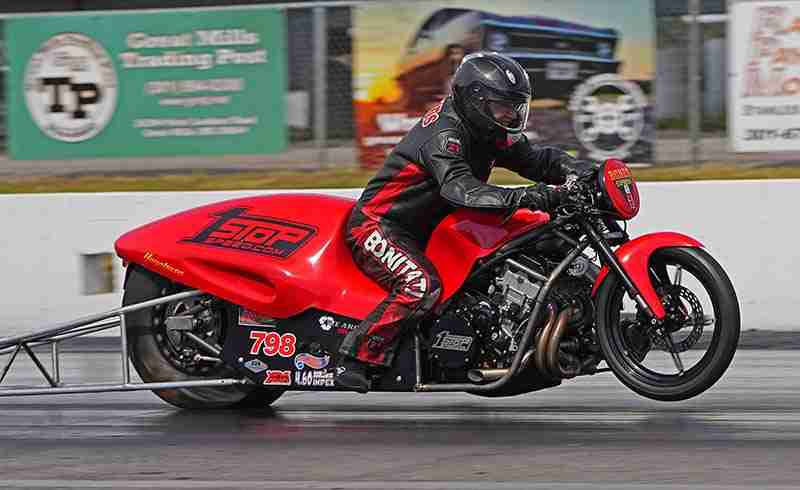 APE Nitrous Bulls
Winner – Malcolm Phillips / Striptease
Runner-up – Lavar Delee / High Roller
Champion – Desmond Spalding
Desmond Spalding started the 2022 XDA season with a win in APE Nitrous Bulls and continued to win enough rounds to clinch the championship before the season finale. Spalding aboard 'Show Nuff' took a loss in round two to Lavar Delee on 'High Roller'. Delee went on to win in the semi-final over Ken Grate on 'In Too Deep' to earn a spot in the finals against Malcolm Phillips.
Phillips aboard 'Strip Tease' knocked out Antonio Patton/FTW, Caleb Holt/Apocalypse, and Garnell Claudle/Mama Lia on his way to Saturday's final round under the lights. Delee was blowing on the dice off the starting line, but his numbers would not hold as Phillips took it all off to turn that win light on for the win of the night.
3 Sixty 5 Monster Bulls
Winner – Josh Eubanks / Belmont
Runner-up – Antonio Williams / Flawless Victory
Champion – Spencer Claycomb
Spencer Claycomb held a twenty-four-point lead over Antonio Williams coming into the final event for the 3 Sixty 5 Monster Bulls class. Williams aboard 'Flawless Victory' was on a mission to take the championship from Claycomb as he won every round on his way to the finals, including taking out Claycomb in the semi-finals. Josh Eubanks on 'Belmont' was doing his job on the other side of the ladder, taking wins over Howard Gerken/Son of Sam and John James/Dope Sick to meet Williams in the final.
If Williams could win the final round he would also win the championship. But we aren't writing fairy tale endings, and 'Belmont' blasted down the eighth-mile taking the win and crushing Williams hopes for a championship. Claycomb on 'Under the influence' held the points lead by eleven points for his first 3 Sixty 5 Monster Bulls championship.
Tommie's Motorsports DMV Bulls
Winner – Malcolm Phillips / No Cap
Runner-up – Brysen Bender / Dime Piece
Champion – Malcolm Phillips / No Cap
Malcolm Phillips may have lost the championship in Boosted Bulls, but he took a win in APE Nitrous Bulls and then snatched the DMV Bulls championship for himself Saturday night. Going into the DME Racing Fall Nationals Aubrey Valentine led the points with John Carter and Malcom Phillips right behind him.
While Valentine was focused on staying in front of Carter, and Carter was focused on beating Valentine, Phillips Tip-Toe-Burglared his way to the championship. Valentine and Carter took losses in rounds one and two while Phillips on 'No Cap' kept winning to a fourth-round final. There Phillips faced Brycen Bender on 'Dime Piece.' Phillips was tucked and rolling and there was no way for Bender to overtake his performance as Phillips made a straight hard pull pass to the finish line for the event win and the championship.
Tommie's Motorsports All Motor Bulls
Winner – David Fondon / Bad Bitch
Runner-up – Deshaun Jones / Dr Jekyll Mr Hyde
The Friday night Tommie's Motorsports All Motor Bulls class was once again dominated by David Fondon on 'Bad Bitch.' Edward Thomas on 'Da Setup' won the first two events of the season, and Fondon has won the last four. Deshaun Jones on 'Dr Jekyll Mr Hyde' was Fondon's latest victim as he easily turned the win light on for his fourth straight win this season.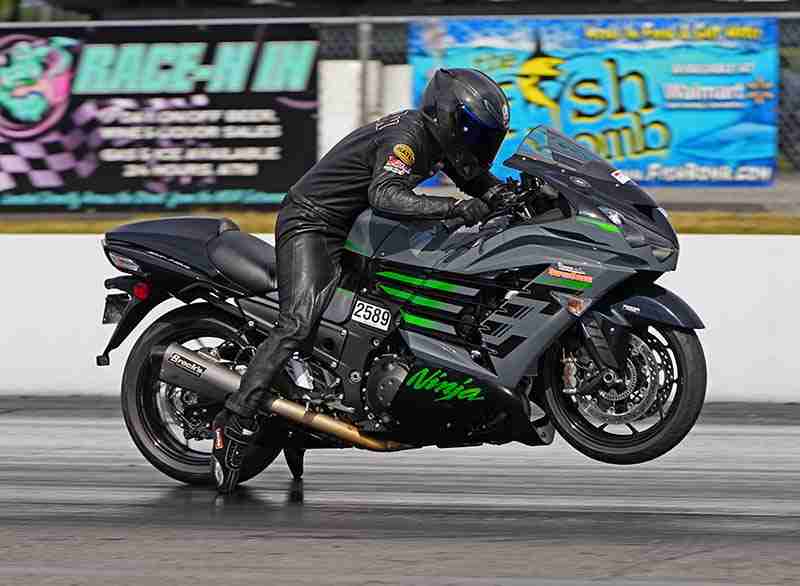 Vance & Hines 4.60
Winner – Wes Hawkins
Runner-up – Ron Bonitatis
Champion – Ronald Procopio
Going into the final event of the 2022 season, Ronald Procopio clinched the Vance & Hines 4.60 championship and could not be dethroned. So, when Procopio lost in round four, while disappointing, he was still smiling as the class champion three years running. We have a feeling we will see bounties placed on him next season.
On Saturday, Steven Shriver Sr secured the number one qualifying spot with the only perfect 4.600 pass over forty-six other competitors. Shriver didn't make it past round three when he broke out, taking a loss to Rick Bunting. Wes Hawkins and Ron Bonitatis were both on their 'A-Games' as they rolled into the beams for the season's final round. Hawkins cut a .007 reaction time that would give him a big advantage over Bonitatis's slower .074. As they both raced to the eighth-mile finish, Bonitatis would be run a quicker 4.627 over Hawkins 4.631, however, Hawkins better reaction allowed him to get to the finish first and turned on his win light.
1 Stop Speed 5.60
Winner – Mike Sweeney
Runner-up – Dustin Lee
Champion – Dustin Lee
In 1 Stop Speed 5.60 Nick Noble held on to the points lead all season and went into the final with a thirty-one points over Dustin Lee. In round one of eliminations, Noble opened the door for Lee to overtake the lead when he lost to Mike Schulz. Lee didn't let the opportunity pass him by as he went on to win all his rounds to make it to the final. And with a final round appearance, he sealed the championship despite what the final round would produce.
With the championship secured, Lee had looked to end the weekend with a winner circle finish, but first, he would have to take down Mike Sweeney. Unfortunately for Lee, Sweeney wasn't prepared to let him have his way. Lee did cut the better light with a .054 to Sweeney's .067. But when it came to passing that eighth-mile flag, Sweeney would get there quicker running a 5.637 to Lee's slower 5.638 and taking the event win.
Mickey Thompson Tires Top Sportsman
Winner – Kevin Adams
Runner-up – Boo Brown
Champion – Jimmie Miller
Jimmie Miller went into Mickey Thompson Tires Top Sportsman with a nineteen point lead over Robin Procopio and George Shriver. Both Shriver and Procopio lost the first round making Miller's only focus now on Dustin Lee, who was forty points behind him. Miller took a loss in round three, and lucky for him, so did Dustin Lee. With Lee losing the same round Miller's championship status was announced over the PA for him to start celebrating.
Only thirty-two riders can qualify for the quickest bracket class in XDA. Ben Knight would take the top qualifying spot with a 7.532, while Delaware racer James Farmer would round out the field in the thirty-second position with an 8.167 ET. Farmer would take out Knight in round one when Knight went red on the tree. In round two Boo Brown would put Farmer on the trailer as he made his way to the final round to take on Kevin Adams. Brown would create his own demise as he went -.001 red to give Adams the event win at the starting line.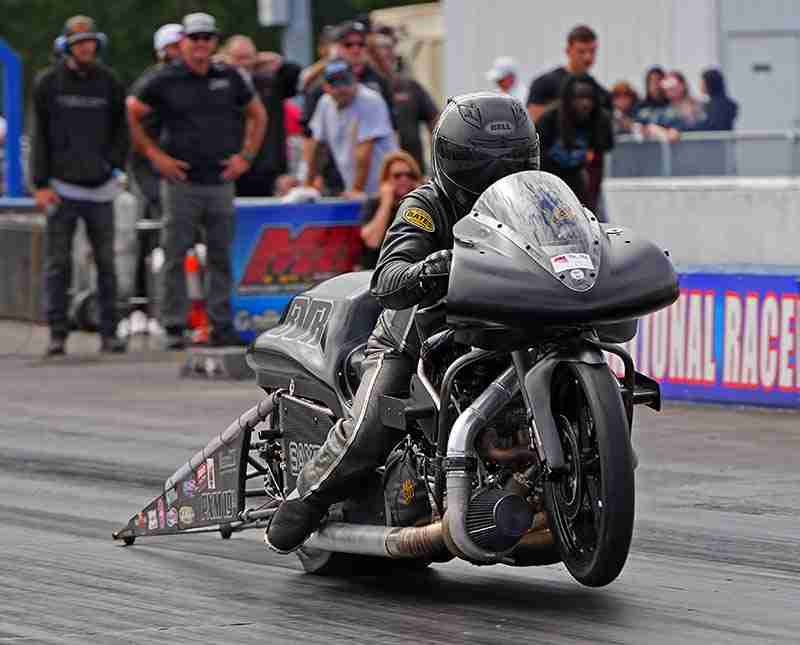 MPS Racing Pro ET
Winner – Louis Green
Runner-up – Derrick Milbourne
Champion – Dustin Lee
Going into the DME Racing Fall Nationals Dustin Lee had a forty-point lead in MPS Racing Pro ET, with Jimmie Miller hot on his trail. On Sunday Lee took a fourth-round loss, and luckily for Lee, Miller lost that same round and secured his position for another Pro ET championship.
Louis Green Jr and Derrick Milbourne made it past the fourth round and landed themselves in the eighth round final after defeating the other 118 competitors in the class. Green was running deadly close to his dial-in round after round, but he was going up against champion racer Derrick Milbourne and there could be no room for errors. Green dialed a 9.11, Milbourne a 8.82. Green with a slower dial-in left the tree first and cut a better light, .018 to Milbourne's slower but still capable .032 reaction. When they got down to the finish line Milbourne gave up the stripe running an 8.875 while Green ran a closer 9.133 to take the win.
Brock's Performance Street ET
Winner – Ashawn Hopkins
Runner-up – Donta Yates
Champion – Mark Blake
In Brock's Performance Street ET, over 150 racers have entered the class this year making it another tough season. Mark Blake was winning many rounds this season, and with one event win he kept himself out in front of the competition to earn himself the 2022 Championship.
In weekend racing Ashawn Hopkins and Donta Yates didn't let the weather affect their mindset as they stayed focused to turn on six-win lights before they met in the finals. Hopkins dialed a 9.41 and Yates a 9.14. They raced their Suzukis to the quarter-mile finish line with virtually identical reaction times. Hopkins turned on his win light with a closer 9.434 ET to Yates's 9.178.
The 2023 will begin XDA season will begin on April 21-23 at MIR, mark your 2023 calendar now and don't miss a weekend of racing with the quickest and fastest sanction in the country.
Visit xdaracing.com for event information, class rules, payouts, entry fees, schedule, and more.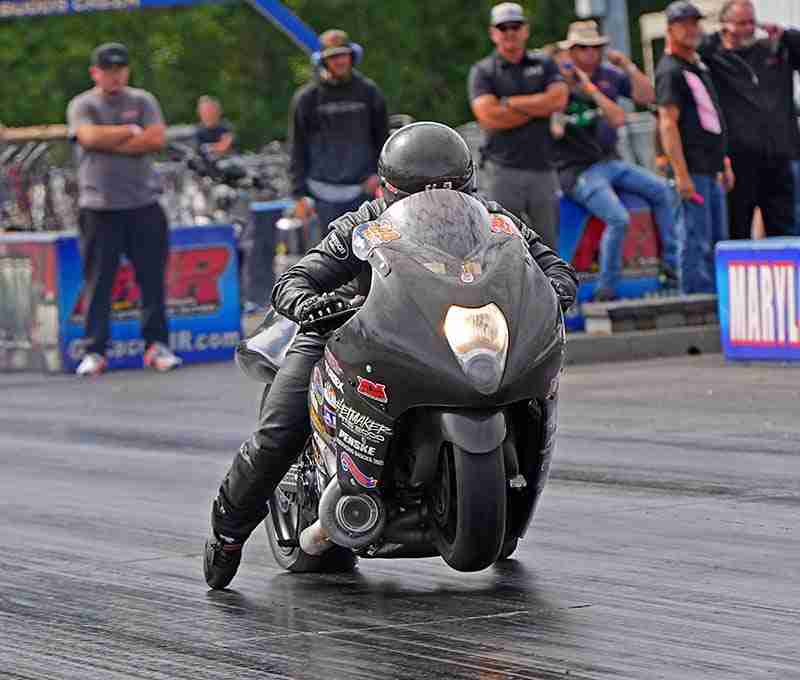 About XDA Racing : The Xtreme Dragbike Association (XDA) is an east coast motorcycle drag racing series with 700+ motorcycle racers competing at each event. Every XDA event hosts professional classes, sportsman classes, grudge racing and a vendor midway. Lifestyle activities such as bike shows, bikini contests, DJ and live bands are also held at select events. For more information on the XDA, please visit xdaracing.com or connect with us on Facebook, Instagram, Twitter and YouTube @xdaracing
BIKERNET.COM FACEBOOK PAGE
Did you know Bikernet.com Facebook Page has over 10,000 Followers. Check us out by Clicking HERE. Your Feed in Your Control – on our Bikernet.com Official Facebook Page. Stay updated on our Bonneville Racing Project as well !!!