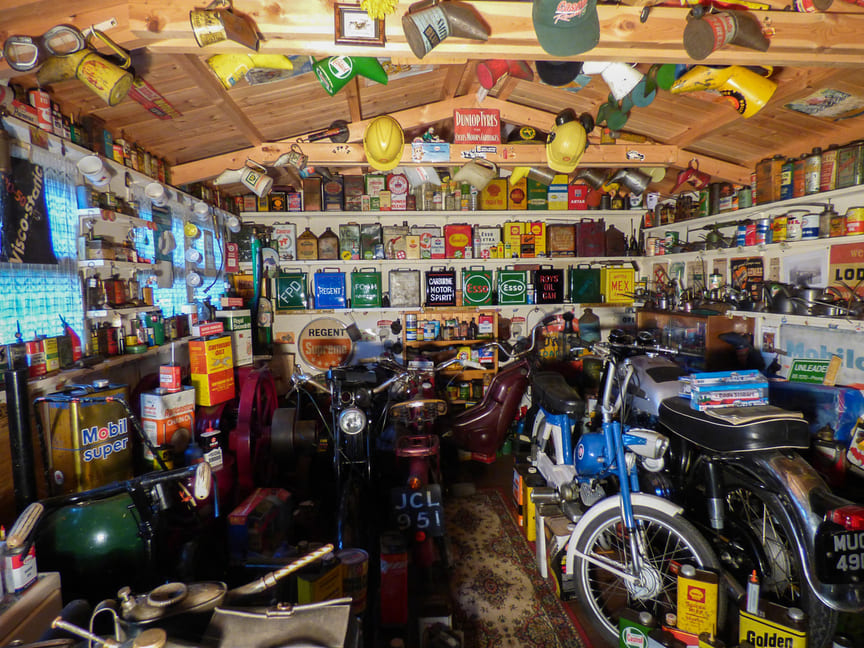 from https://www.hagerty.com by Charlotte Vowden
A shedload of surprises: Discovery of huge fuel-can stash reveals 500 rare artifacts
Editor's note: In the interests of preserving the authentic whiff of petrol that pervades this remarkable story from our U.K. colleagues, we have made only slight concessions to an American lexicon. All quotations remain untouched.
Alan Pooley's pursuit of petroliana was purely sentimental, but the collection of more than 500 automotive artifacts that he amassed during three decades of buying for love not money is so remarkable that it could fetch up to £65,000 (roughly $88,600) at auction. Including over 250 oil cans, 60 two-gallon fuel canisters, and dozens of enamel signs, oilers, and pourers, it is set to go under the hammer later this year.
"The important thing about this collection is that it is completely fresh to the market, but the exciting bit about it is that no one really knew about it," says Tom Godsmark, an associate and vintage specialist at Cheffins auction house, the agency managing the sale.
"It's a big collection in terms of scale, but it's the extensiveness that's so interesting because it ranges from little items such as lapel badges, old match boxes, and advertising pencils for Rudge bicycles to a fully restored petrol pump."
Among the pieces which the late Mr. Pooley carefully stored, restored, and displayed in sheds at his home in Norfolk is a two-gallon fuel can that, to the untrained eye, stands out because of the large lightning bolt and bold lettering embossed on its side. Those in the know will recognize it as one of the few surviving examples of a limited-edition run of Shell Racing cans that were produced in the 1930s. With an estimated value of £400 to £600 (approximately $545–$818), it's one of the rarest pieces of memorabilia to have been discovered in its original condition.
An automotive body finisher by profession, Alan, who passed away in 2020, was equipped with the skills and patience to rejuvenate items in a state of distress and spent a great deal of his spare time doing so. "It could be quite a long process, but he was a master of the art and was able to bring them back up to a really good standard, it gave him a huge buzz," explains Alan's partner, Karin Burleigh.
His penchant for rescuing fuel canisters from ruin (originally known as "motor spirit" cans) extended to vessels produced by the Scottish Oil Agency, Mobiloil, Alexander Duckham & Co Ltd, and Anglos Taxibus Spirit. "If it wasn't for him, some of those cans wouldn't be in existence anymore, they would have just rusted into a little heap on the floor," says Burleigh, who considers the "best" of the three sheds Mr. Pooley used to house his automotive memorabilia is the one in which he arranged his favorite pieces—on every available surface.
From to floor to ceiling—where oil pourers, Shell-branded hard hats, and Castrol Racing baseballs caps hung on hooks that he had fastened into the timber beams supporting the roof—Alan had curated his own at-home exhibition that showcased the containers, canisters, tins, tools, and signs that he treasured the most. "You name it, it was all there," says Godsmark. "My first thought was Crikey! I imagine he liked going in there and just admiring it. I suspect it was a bit of a sanctuary for him."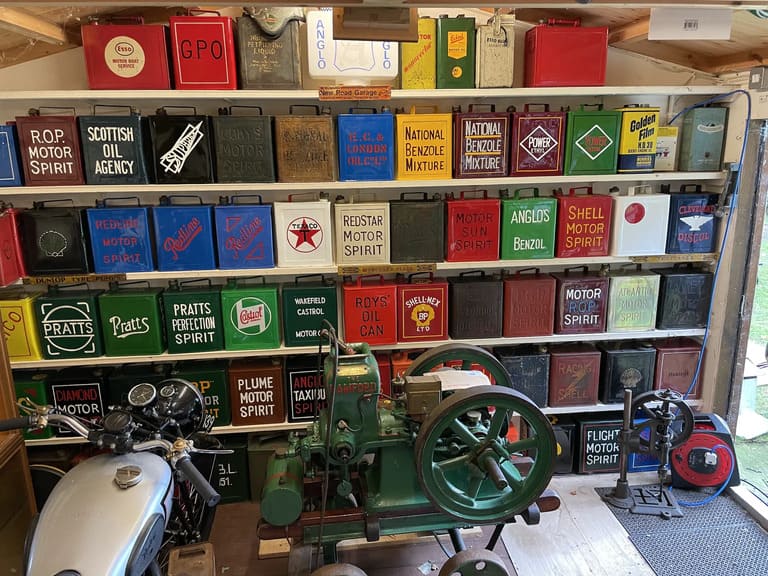 As a boy, Burleigh reveals, Alan cherished the time he spent with his grandfather, and as a man, the tools and Francis-Barnett water cycle that he inherited from him held huge nostalgic value. It's this relationship and those heirlooms—which are not for sale—that she believes sparked Alan's passion for automobilia and subsequent apprehensiveness to let any of it go. "He may have sold one or two things, but the majority stayed here," she says. "Looking at the collection it looks like we spent our whole time at boot sales and auto jumbles, but honestly, we didn't."
With so many items in need of a new home, the collection will be divided into lots and auctioned gradually so as not to flood the market. "Collectibles such as gas pumps, fuel advertisements, enamel or tin signs are continually seeing a growth in value as the market continues to gather pace," says Godsmark. "Values can be hugely varied, ranging from a few hundred pounds for a good example of an oil can right up into the tens of thousands for the best of class in petrol pumps."
Of the six vintage motorcycles found in Mr. Pooley's collection, Godsmark tips the 1937 499cc Norton Model 18 and 1966 649cc 650SS Norton as the ones likely to attract the highest bidders due to their condition, low mileage, and thorough documentation.
Making the decision to part with Mr. Pooley's collection has been incredibly difficult for his three grandsons, who were entrusted with its care upon his passing, and the family's biggest hope is that each of the items will find their way to "someone who will love it like Alan did."