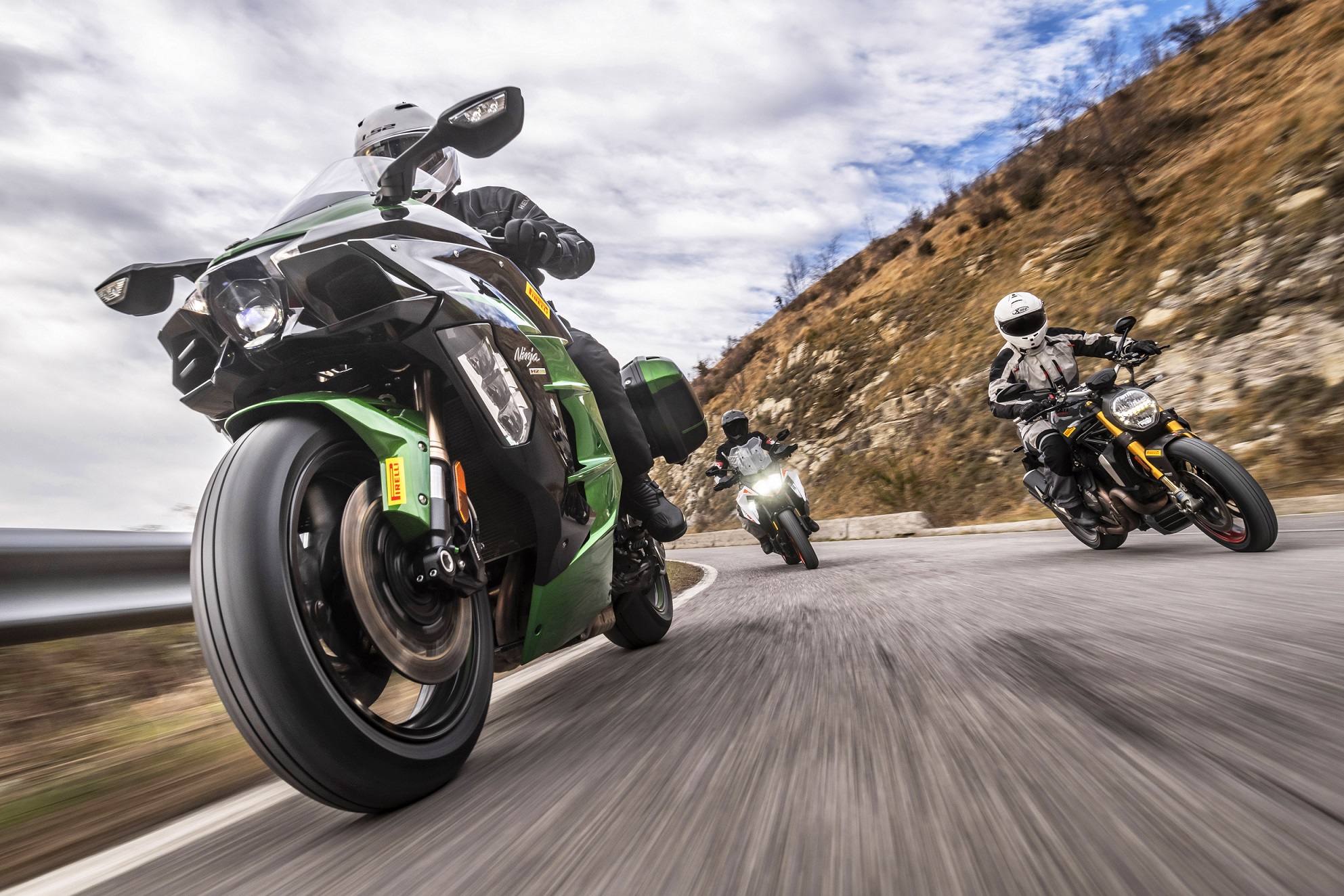 Pirelli Presents the ANGEL™ GT II, the New Tire That Rewrites the Rules of the Sport Touring Segment in Terms of Mileage, Wet Performance and Sportiness Combine with Safety
The Carcass with Innovative Variable Cord End Count and High Silica Compounds Combined with a New Tread Pattern Design – Derived from 'Intermediate' Race Tires – Set the Benchmark for Performance and Optimizes the Effect of the Electronic Ride Aids
MILAN, Italy (April 8, 2019) –ANGEL™ GT II is the new Pirelli Sport Touring tire, the successor of the highly regarded, award winning ANGEL™ GT and the evolution of the Italian brand's interpretation of the Gran Turismo concept.
Pirelli has designed ANGEL™ GT II with the aim of rewriting the rules of the Sport Touring segment thanks to key features including high mileage, sporty handling and grip combined with fantastic wet conditions behavior and great confidence and safety to the rider. The carcass with innovative variable cord end count over tire section and high-silica compounds combined with a new tread pattern design – derived from World Superbike 'intermediate' race tires – set the benchmark for performance and optimizes the effect of electronic rider aids.
The Gran Turismo designation generally refers to travelling at speed over a long distance, with safety and comfort. Most importantly GT signifies making the ride able to offer emotions and fun, in other words, giving great riding pleasure.
ANGEL™ GT II development has been focused on consolidating the former ANGEL™ GT's strengths – already a benchmark for mileage and versatility with different bikes and conditions – enhancing wet performance, riding pleasure and confidence in order to define a new reference point for the Sport Touring tire segment, in-line with Pirelli DNA and the Gran Turismo concept.
The reason why Pirelli has decided to develop a new product in this tire segment generates from its relevant and growing market volume and from the competitive scenario where products need to keep pace with the evolving need of motorcyclists' and motorcycles.
The technical development of ANGEL™ GT II in terms of profiles, structures, compounds and tread pattern targeted the following main objectives:
• To ensure maximum adherence in all road conditions, linear behavior in lean transition and consistently support line-holding;
• To couple the sportiness of Pirelli DNA to exceptional performance also in full wet conditions;
• To further raise the bar for tire lifespan in the segment where its predecessor was already a reference;
• To maximize the effect of electronic rider aids.
The new ANGEL™ GT II has been developed to meet the needs of three different motorcyclist groups:
Grand tourers
These riders extensively travel on medium-to-long distances both alone or with a passenger and luggage. They ride sport tourers, adventure bikes and the new generation of crossover machines. They demand extended mileage, great stability when heavily loaded, enhanced comfort from dampening, and great safety and confidence, even in the wet.
Smart urbans
These riders use their machines all year long to commute and for urban mobility, with occasional short or medium length free-time trips. They ride super-sport, naked/roadster bikes, sport tourers and the new generation of crossovers. They demand control and braking grip in all conditions including wet and need light handling at low speed. Sometimes they engage in a more dynamic and exciting ride.
Free timers
These riders use their bikes mainly for short weekend trips. They ride mainly super-sport, adventure bikes and the new generation of crossovers. They demand sporty handling, plenty of grip but with extended mileage, performance in the wet and versatility to loading conditions.
With ANGEL™ GT II, Pirelli aims to confirm and expand the brand's recognition in the Sport Touring tire segment by complementing the consolidated values of the brand – such as sportiness and sporty handling – with those of performance consistency, reliability and versatility.
ANGEL™ GT II is available in 17 and 19-inch front and 17-inch rear sizes as below:
(A) Heavy Weight Motorcycles version