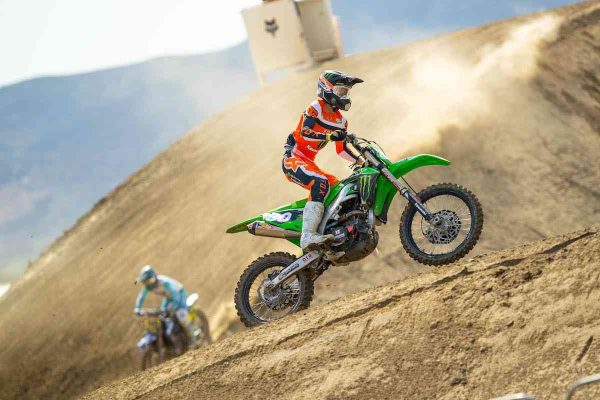 Monster Energy Kawasaki Team Green Rider Enzo Temmerman Secures Second Overall at MX Sports Scouting Moto Combine
Foothill Ranch, Calif. (September 5, 2022) – Monster Energy® Kawasaki Team Green's Enzo Temmerman earned second overall (2-2) at the final round of the invitation-only MX Sports Scouting Moto Combine at Fox Raceway. Teammate Preston Boespflug participated in both morning qualifying sessions but pulled out of competition due to a lingering injury.
The MX Sports Scouting Moto Combine hosted the top A and B Class amateur riders from across the country at Fox Raceway the Friday before the final round of the Pro Motocross Championship. Granting competitors the opportunity to receive mentorship from world-class athletes in media relations, fitness, and nutrition before taking to the track for two 15-minute plus two lap motos. The Scouting Moto Combine is the perfect opportunity for motocross' next generation of top riders to obtain the tools necessary for their transition to the professional level.
With hot temperatures shortening motos, Monster Energy Kawasaki Team Green's Enzo Temmerman brought high intensity to both qualifying sessions to earn an early gate pick as the start was sure to be a deciding factor. When the qualifying sessions concluded, Temmerman sat in fifth with a 2:33.287 lap time.
As the gate dropped for the first 15-minute plus two-lap race, Temmerman launched off the gate with his rear wheel spinning off the line resulting in a subpar start. Emerging from the first turn in 13th, Temmerman was forced to make quick work of the riders ahead to salvage a podium result. With precision execution and excellent flow around the track, Temmerman made his way into fifth by the halfway mark. The No.30 showcased his fitness and speed by clocking lap times consistent with the leader throughout the entire race and moved into third with only four laps remaining. Temmerman secured second place the following lap and attempted a run at the lead but ultimately ran out of time and finished second.
In the second moto, Temmerman launched his KX™250 race machine to a second-place start and raced close behind the leader during the opening lap. A patient Temmerman studied his opponent's line choice in the early laps before attempting to make a pass as the race reached the halfway point. The No.30 nearly secured the pass for the lead once again in the latter stages, but the energy expelled in Moto 1 charging through the pack began to set in and Temmerman crossed the line in second place to take second overall (2-2).
"In the first moto, my tire spun on the gate which hurt my start and forced me to push forward from way back in the pack. The second moto started much better, I think I was second coming out of the first turn and stayed there the entire race. I tried to make a push for the lead a few times but couldn't get close enough and finished second overall. As a racer, I'm always wanting that win but I am proud of my performance today and am happy with the knowledge I gained from this experience." – Enzo Temmerman
* * * * * * * * * * * *