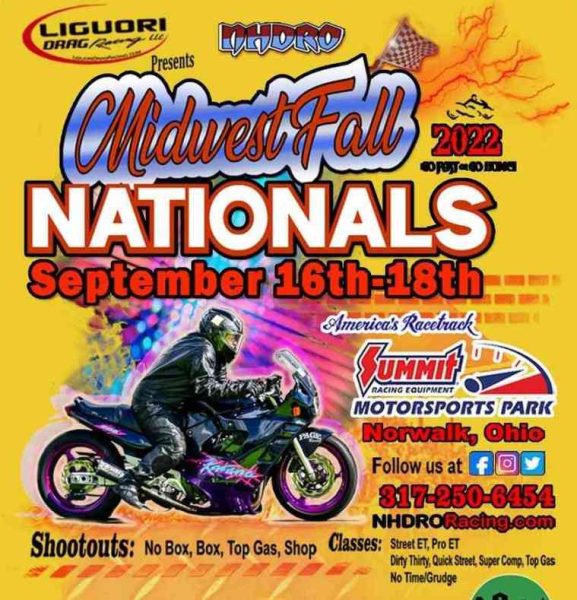 NHDRO motorcycle drag racing series pre-race advance report
event: NHDRO's Midwest Fall Nationalspresented by Liguori Drag Racing
when: September 16-18, 2022
where: Summit Motorsports Park, Norwalk, Ohio, USA
NHDRO's season of threepeats reaches its end as the Midwest's largest motorcycle drag racing series gathers on September 16-18 at Summit Motorsports Park in Norwalk, Ohio, for the Midwest Fall Nationals presented by Liguori Drag Racing.
This will be the final event of a 2022 NHDRO season that saw three race days at each and every event, maximizing racer paybacks for their travel dollar in a time of high expenses for all travellers.
That means that champions will be crowned in all classes, and with two full points races on Saturday and Sunday—anything can happen.
Defending Schnitz Racing Top Gas champ Jeremy Teasley has a 23 point lead over Jeremy England with Bradley Shellhaas another 92 back.
The defending champ is also in the lead in M2.Shocks 8.70 Quick Street, as Marty White has a commanding 76 markers on Jaden Hall, with Rashad Rowe tucked in close another 6 back.
White is also the defending Kevin Dennis Insurance Street ET champ, and is 40 points ahead of England in that class. Norwalk superstar Kevin Adams is only 10 points further back of England.
England is second in MPS Pro ET, 50 points behind Tom Klemme and 10 ahead of Tom's brother Joe. Ceslie Shellhaas is only 10 points behind Joe and 20 ahead of Greg Mallett as this class is TIGHT!
David Beshara leads the MTC Super Comp 8.90 index championship by 25 points over Joe Klemme with Rylan Rowe another 62 points back.
Drew Nearhoof has a 61 point lead over Jim "Just a Swangin'" Swanger in Advanced Sleeve Dirty 30 9.30 index with England another 38 back.
You could say that VooDoo Grudge crowns champions every 7 seconds, and grudge racers will get their chance to win their high dollar crowns in sessions on all three days.
Friday night is Shootout time, with Schnitz Racing Top Gas Shootout, Road Course Shootout, Delay Box Shootout, No-Box Shootout, and the Shop Wars Shootout with Maximum Street Performance (MSP), Jeremy Teasley Racing (JTR), Port-Tech and more.
Summit Motorsports Park is the perfect, park-like setting for the last high-horsepower, high-stakes NHDRO family reunion of 2022. Brian and Niki Welch look forward to welcoming everyone to Norwalk and you will NOT want to miss itI
NHDRO thanks M2.Shocks , Kevin Dennis Insurance , MPS Racing , Liguori Drag Racing , Schnitz Racing , Voodoo Custom Motorcycle Components , Vanson Leathers , BB Racing , MTC Engineering , Advanced Sleeve , Rock Auto, High Risk Motorsports , Page Racing and APE.
* * * * * * * * * * * * * * * *