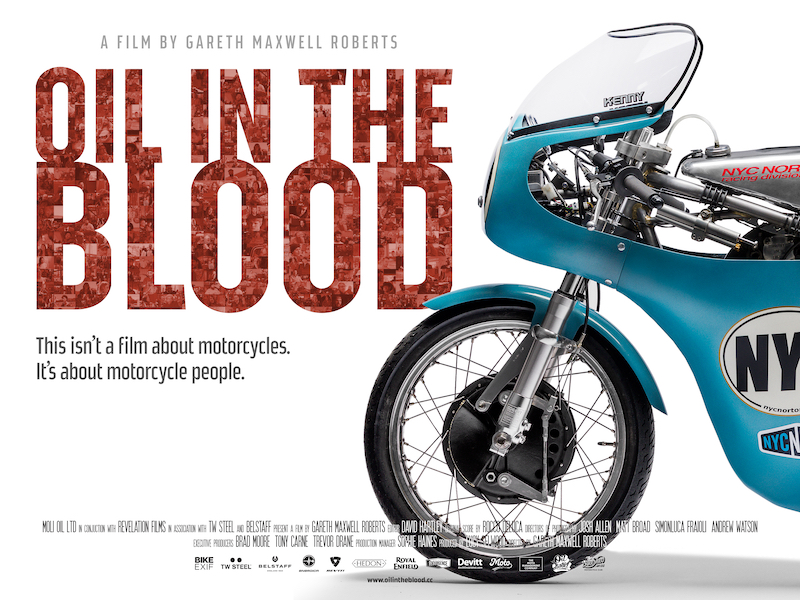 'Oil in the Blood' is a documentary feature film on the contemporary custom motorcycle culture. The film is directed by biker biker Gareth Maxwell Roberts and produced by Lucy Selwood.
This is not a film about motorcycles, it's a film about motorcycle people.
The philosophy of individualism is embedded in motorcycling. The desire to be different and unique, is at the root of the motorcyclist's imagination. Modifying, customising, and changing bikes is at the very heart of the biker. Custom motorcycle culture has experienced a renaissance in recent years, and what was once a niche subculture now bears a significant influence on the international mainstream motorcycle industry.
Over the last three years, Gareth and Lucy have interviewed nearly three hundred bike builders, riders, journalists, artists and racers; the very heartbeat of this culture. They've communed with like-minded souls in Britain, Europe, Japan, Australia, The Far East, Africa and the US. They've spoken to major manufactures Harley Davidson, Yamaha, Royal Enfield, Ducati and BMW.
Lucy and Gareth have filmed at the Petersen Automotive  Museum in Los Angeles, The Amercian Motorcycle Museum in Holland, The Malle Mile, Wheels & Waves in Biarritz, The Trip Out, The Brooklyn Invitational, The Distinguished Gentlemans Ride in London and New York, Throttle Roll in Sydney, Indian Larry's Block Party, Dirt Quake, Snowquake, The Malle Mile and The Trip Out in rural England, The One Moto Show in Portland, Mama Tried in Milwaukee, Mooneyes in Tokyo,  and The Handbuilt Show in Austin.
The film-makers filmed a collaboration between Harley Davidson and maverick bike builders El Solitario in the Sahara, flat track racing in dusty bowls and indoor arenas, ice racing in Wisconsin and in the Alps, and the American Wall of Death in the Texas sun. They've shot dozens of cool custom bikes being ridden through the urban streets, the twisting mountain roads, through the rolling green countryside and the scorched flat plains. They've filmed choppers, café-racers, flattrackers, sprint bikes, electrics, old school specials and urban brats, hundred-thousand dollar pristine beauties and five hundred buck rippers.
Gareth is  a career film maker and life-long biker, having ridden most kinds of bikes over the last thirty-five years. He's had had stints as a motorcycle courier and a wholly undistinguished but highly enjoyable racing career; been on some great adventures and crashed more times than he cares to remember. He's a repeat offending terrible mechanic, but thankfully has talented friends.
You can see more details of our exploits  at www.oilintheblood.cc and on Instagram @oilintheblood, and view trailers and teasers on our recently launched youtube channel https://www.youtube.com/channel/UCfpkn6aI9ijjQRiBZFf5akA?view_as=subscriber
"Oil In The Blood" has it's worldwide release on October 14th for sale and rental on Amazon, iTunes, and google. DVD/ Blu-ray available on pre-order now on Amazon.
Please tag @oilintheblood #oilintheblood www.oilintheblood.cc