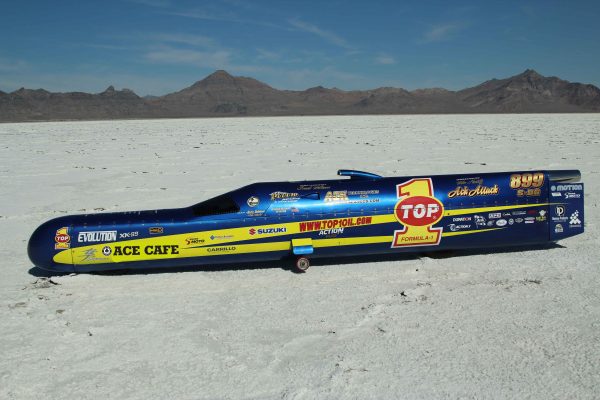 From the beginning, the Top of the World Landspeed Trial was a pioneering achievement and a logistical challenge of epic proportions. Chief Engineer Mike Akatiff and the world's fastest motorcyclist Rocky Robinson took the TOP 1 ACK ATTACK to the rarified air of Salar De Uyuni salt flats high in the Bolivian Andes with the express goal of exceeding 400 mph and breaking the team's own LSR mark of 376.363 mph set in 2010.
"No wind, perfect salt… No reason it wouldn't go over 400 mph," said Akatiff when they finally were able to unload the 20-foot, twin-engined streamliner. No reason except for Bolivian salt gremlins.
On August 5th at 1 a.m. —  three weeks later than scheduled, the trailer containing the ACK ATTACK finally arrived. "Our container arrived 3 days into the Top Of The World Land Speed Trial's very limited window so we were only able to run 2 days and simply didn't have enough time to sort out our complex machine," added Rocky Robinson. "We didn't achieve our goal, but still have a lot to be thankful about." While they didn't go 400 mph, Robinson says they did go faster than their own existing Land Speed Record.
"Our best pass we ran 378 mph before blowing off the turbo manifold a half mile before the lights," he said. "I coasted dead stick through the lights at 338 mph. Another pass we shredded a rear tire and then had another manifold blow out. I even overshot the pits one time by a 1/4 mile and stopped in the middle of the rough, unprepared salt." There was also the run where the outrigger wheels failed to engage and the ACK ATTACK tipped over as Robinson coasted into the pits.
"We went 5,000 miles to one of more remote places on the planet in an attempt to raise the bar on our own record," said Top 1 President Joe Ryan. "Unfortunately, time and logistical challenges prevented us from attaining our goal of surpassing the magical 400mph (643 kph) barrier on the last try, but we still have the record and TOP1 will forever be remembered for having the guts to make the commitment to bring attention to perhaps the next major venue for land speed racing."
At nearly 12,000 feet (3,656 meters) above sea level, the Salar de Uyuni offers prefect salt conditions, no wind and miles of run-off room that LSR teams in Bonneville can only dream about. And several records were set at the Top Of The World Landspeed Trial, including Al Lamb riding his turbocharged Honda CBR 1000 to 265.8 mph and Nick Genet piloting a naturally aspirated Aprilia RSV4 with the fairing removed to a 192.8 mph record.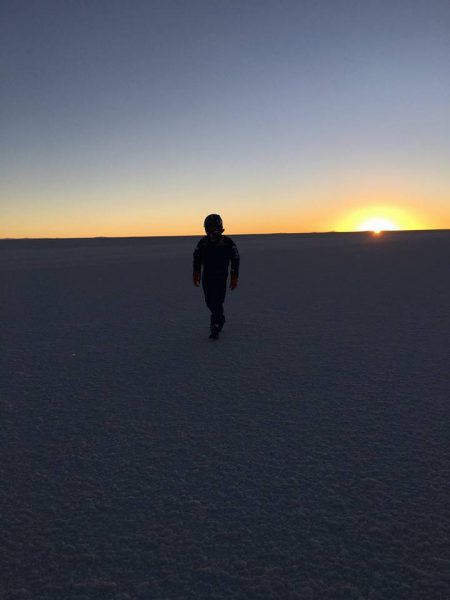 "Thank you to our general and leader Mike Akatiff," said TOP 1 President, Joe Ryan. "You are my mentor and inspiration. I cannot be more proud of the entire team. We didn't get our record but I feel very strongly we have a great story to share with the world!"
The record set by TOP 1 ACK ATTACK in 2010 still stands… for now. To be the best, you have to beat the best and Mike Akatiff's ACK ATTACK is still the best with a motorcycle land-speed record of 376.363 mph. "This is historic," said Akatiff. "Coming to Boliva is something I'll never forget!"
See more of the TOP 1 ACK ATTACK at the Top of the World Landspeed Trial at Salar de Uyuni in Episode 8 of the TOP 1 ACK ATTACK video series:
or the whole series on YouTube:
https://www.youtube.com/playlist?list=PLTDKb7dHymNBAfZ_OaCADPYeJUs_02JZx
Follow along in the quest for 400 mph at https://www.facebook.com/top1ackattack/