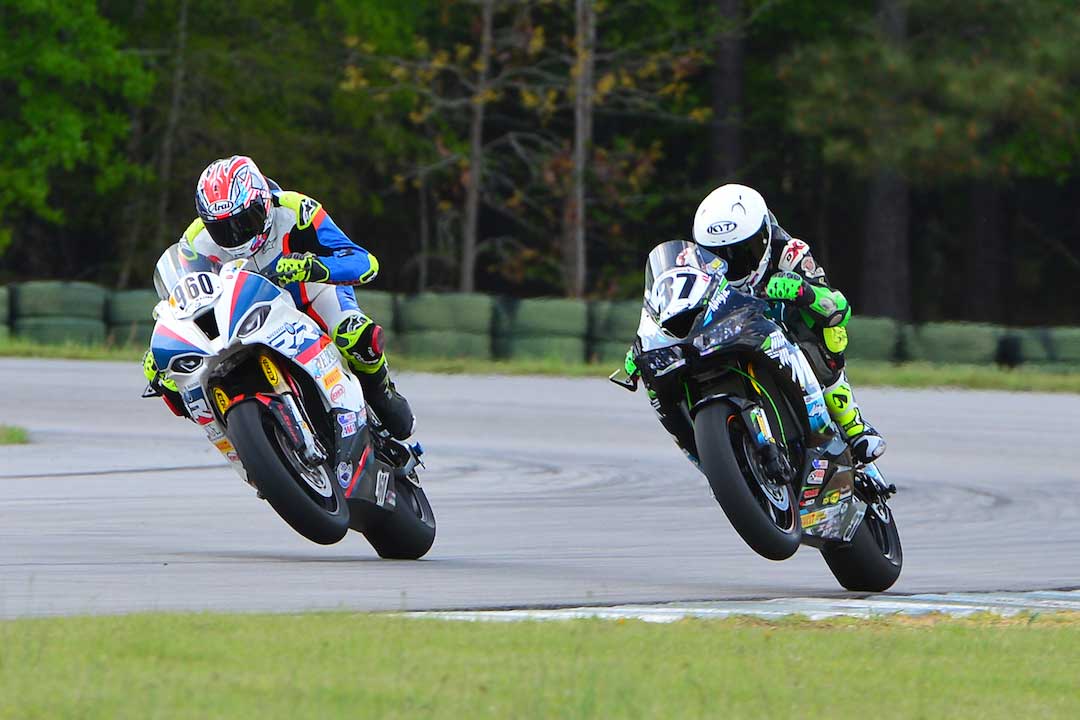 Stefano Mesa's NINJA ZX-6R relies on the performance of Pirelli's New 190/60-17 DIABLO™ Superbike Rear Tire
ROME, Ga. (April 13, 2021) – It was a weekend meant for crushing absolute motorcycle track records in Kershaw, South Carolina as Stefano Mesa and Jason Waters traded turns setting the pace at Carolina Motorsports Park (CMP). The duo relied on the performance of their Pirelli DIABLO™ Superbike slicks to set the pace in the Championship Cup Series. In the end, it was Mesa who ended the weekend at the time of the lap time sheet and gave Pirelli Tire North America the brand's third absolute motorcycle track record of the 2021 season.
"Jason [Waters] and I were pushing the pace hard all weekend," said Mesa. "It was pretty cool to see us on two different sized motorcycles and going back and forth with one another on lap times. This one is special for me in being able to set a new track record while riding my 600. The new 190/60 tires that Pirelli recently introduced worked phenomenal all weekend long for me. I'd like to give a special shout out to Oscar [Solis] at Pirelli for the technical help and working with me to find the comfort needed to get the job done."
The record, which was set three times throughout the weekend, was first set by road racing newcomer Waters who recorded a 1:30.776 on his BMW S1000RR on Saturday. Mesa, competing aboard a Kawasaki Ninja ZX-6R, upped the pace in the Unlimited GP class on Sunday with a 1:30.585 and later that day he would return to go faster once again with a 1:30.564 in the Unlimited Superbike class. Mesa's Kawasaki was equipped with a 120/70-17 DIABLO™ Superbike SC1 front tire and a DIABLO™ Superbike SC0 in the recently introduced 190/60-17 sizing on the rear.
"The riders managed to set an incredible pace this weekend," said Mike Faillace, Metric Devil Moto, Pirelli Trackside Vendor. "The new 190/60 DIABLO™ Superbike was the star of the weekend. The new size was just released and it's already helping riders go faster than they have before, which includes Stefano [Mesa]. Congratulations and a job well done to him!"
Mesa became the third different rider to earn an absolute motorcycle track record while competing on Pirelli tires in 2021. Pirelli remains dedicated to the grassroots part of the smart and continues to offer reward prizes to riders who set a new motorcycle track record while using Pirelli race compound tires.
For more information about the complete line of Pirelli motorcycle tires, please visit Pirelli.com