At a ceremony held at Las Vegas BikeFest, Pete Pearson from the United Kingdom was named the 2016 Artistry in Iron, Master Builder Champion.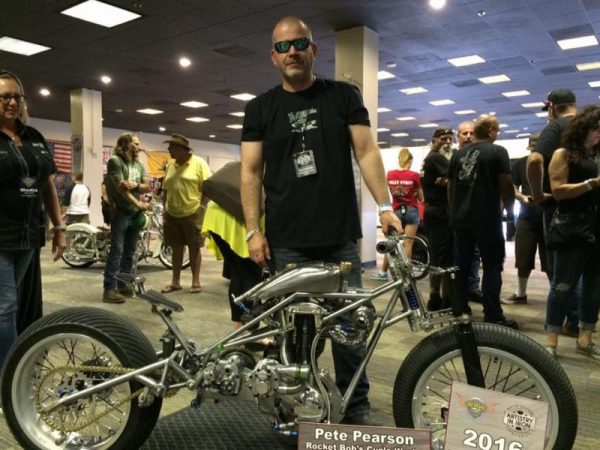 Pearson won with a Triumph-based build named "Speed Weevil". It's a salt flat racer and features a number of unique design points. "There is a lot of prestige surrounding Artistry in Iron and I was honored to have been invited to such an important event boasting a roll call of previous competitors that I have always admired. This year's list of entrants was equally impressive and everyone's bike was built to such a high standard that it was a tough job choosing between them. I was blown away by people's reaction to my bike, and since this is a peer-judged competition, coming away with the winner's trophy (or bracelet) is all the more special and really does mean the world to me", states Pearson.
The annual invitation-only competition, sponsored by Steve Soffa Enterprises and Paughco, included 16 award winning builders. The bikes were judged solely by the master builders themselves, and Pearson was presented with a check for $10,000 from Las Vegas BikeFest as well as a custom designed championship bracelet created by renowned designer and master artisan Steve Soffa. In addition, second place went to Mark Shell, Bonneville Customs who received a Paughco Custom Rigid Rolling Chassis and third place went to Steve Iacona, Iacona Custom Cycles who won a Paughco Springer Front End. People's Choice winner was Mike McFadden, M&M Customs.

"After 12 years of this competition I thought we had seen it all, but this year the builders stepped it up even more. These bikes are pure works of art and would be appreciated by even those not involved with motorcycle riding. We are very happy for Pete Pearson and all the builders involved this year for all the long hours of hard work they put into their bikes. In my eyes, they are all winners", states Mindi Cherry, Event Manager.
The selection process for who will be invited to compete against Pete for the 2017 Artistry in Iron, Master Builders Championship is already underway.
Las Vegas BikeFest 2017 will be held October 5 – 8, 2017 in the heart of downtown Las Vegas on Fremont Street East. More information regarding vendor space, event registration and official hotels can be found at www.LasVegasBikeFest.com, or by calling 1-866-BIKEFEST (1-866-245-3337).