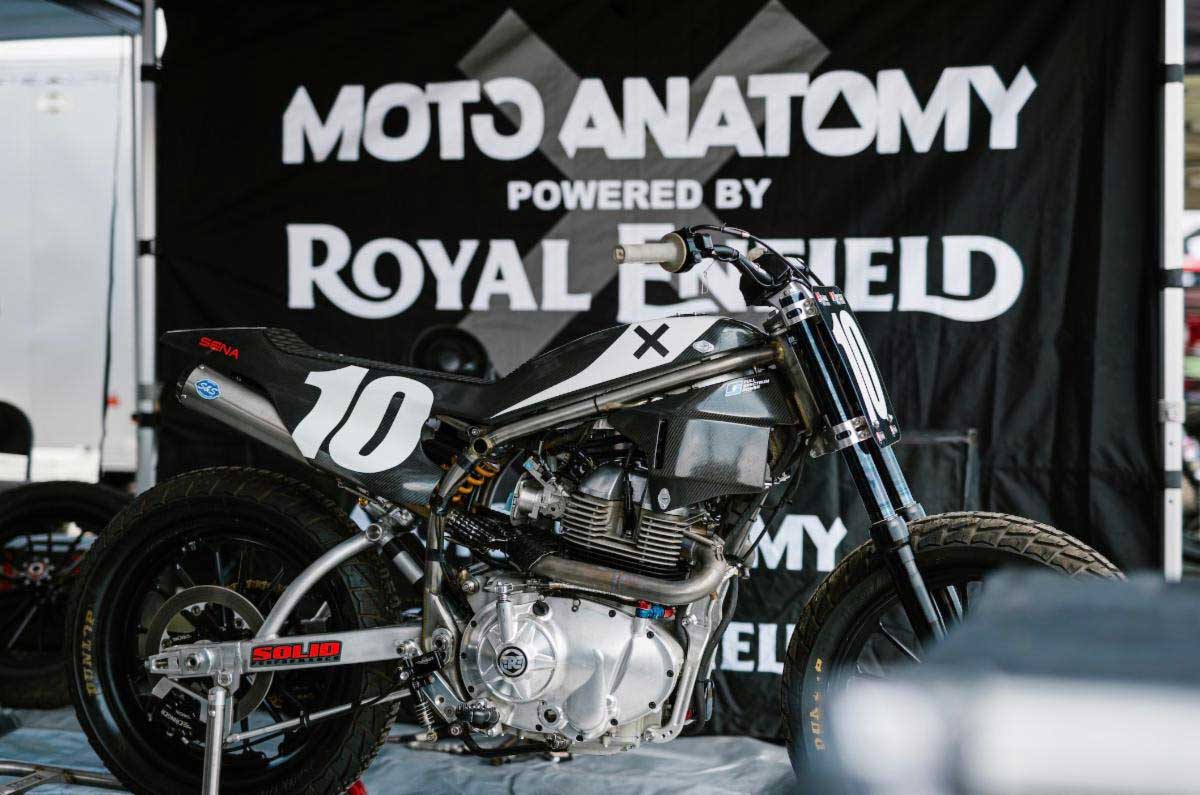 Johnny Lewis aligns with top brands for 2021 American Flat Track Season
Milwaukee, Wis March 2, 2021: Moto Anatomy x Royal Enfield rider Johnny Lewis is proud to announce his partners for the 2021 American Flat Track (AFT) season include]ing supporters from his 2020 AFT campaign, which saw Lewis capture Royal Enfield's first-ever modern-day racing victory at the season finale in Daytona.
2020 marked the first year of development for the Moto Anatomy X Royal Enfield team, Lewis is looking to build upon the success his Moto Anatomy x Royal Enfield team earned at the conclusion of the year. To aid in his 2021 season, Lewis will receive support from multiple top brands in the motorcycling category including SENA, Rekluse and Beringer Brakes. Other notable partners involved in Lewis' AFT program include Saddlemen, ODI, Lightshoe, Team Lawant and Cometic Gaskets.
"It has been a busy off-season for the team testing and planning for the year ahead," said Johnny Lewis, Moto Anatomy x Royal Enfield racer. "We have continued the development of the Twins FT and have also aligned ourselves with a handful of world-class brands who are backing our 2021 efforts. On behalf of myself and Royal Enfield, we're thrilled to have them on board and excited for the upcoming season."
Lewis will continue working on several programs for Royal Enfield such as Slide School presented by Moto Anatomy and the BUILD TRAIN RACE flat track program as a mentor. SENA, Rekluse and Beringer Brakes will support Lewis' AFT program while Saddlemen, ODI, Lightshoe, Team Lawant and Cometic Gaskets will support the Lewis across all Royal Enfield programs.
The 2021 Progressive American Flat Track season kicks off on March 12 for the Volusia Half-Mile in Barberville, Fla. Lewis will return to competition with the Royal Enfield Twins FT after extensive testing throughout the offseason. Lewis' last race in Florida yielded a victory and second place at Daytona AFT finale, and he looks to carry that momentum into the 2021 season opener at Volusia.
Be sure to follow @MotoAnatomyxRoyalEnfield on Instagram to stay up to date on the latest results and insights from the track. The team will continue to release short films documenting each round, which can be seen on Royal Enfield North America's YouTube channel throughout the season.