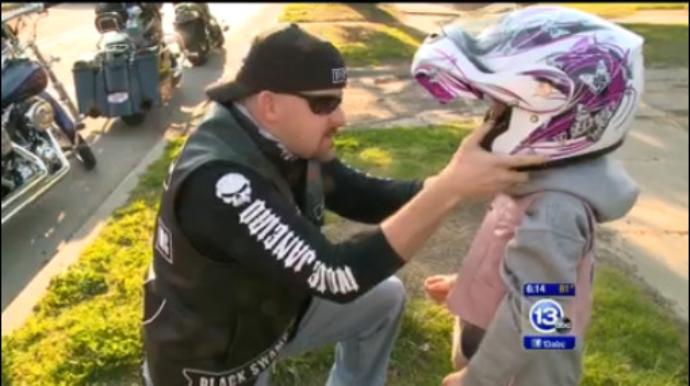 In Toledo, Ohio, a little girl who allegedly is being bullied in school is getting help from some members of a biker club. Alexandria Reynolds says her daughter, 7-year-old Audrianna is having a hard time in school. The first grader at Marshall Elementary has allegedly been bullied for over a year. Alexandria tells 13abc, "It could be part of it that she is a tomboy, but who knows." One of Audiranna's favorite things to do is ride her dirt bike.
It's her daughters love for motorcycles that inspired Alexandria to enlist the help of "The Punishers", a law enforcement motorcycle club in Toledo. And while they may look dark and dangerous, they're far from it. Daniel Bushey, president of The Punishers recalls, "The first thing we thought of was trying to help her in any way we could."
The group says once they met Audrianna they formed a special bond. Bushey explains, "We got her a vest and told her to think of us like her uncles and she is part of our family now and if she needs anything let us know."
On Wednesday, the group made up of service members and first responders banded together to help this little girl by surprising her with a ride to school on a motorcycle. "We were just trying to uplift her spirits and let her know that not everybody is mean and there are plenty of nice people in the world," said Reynolds. "The guys have really done a wonderful job at helping us." Bushey says, "any chance we get we help kids out, we do in a heartbeat."
The original story, along with video can be viewed here.