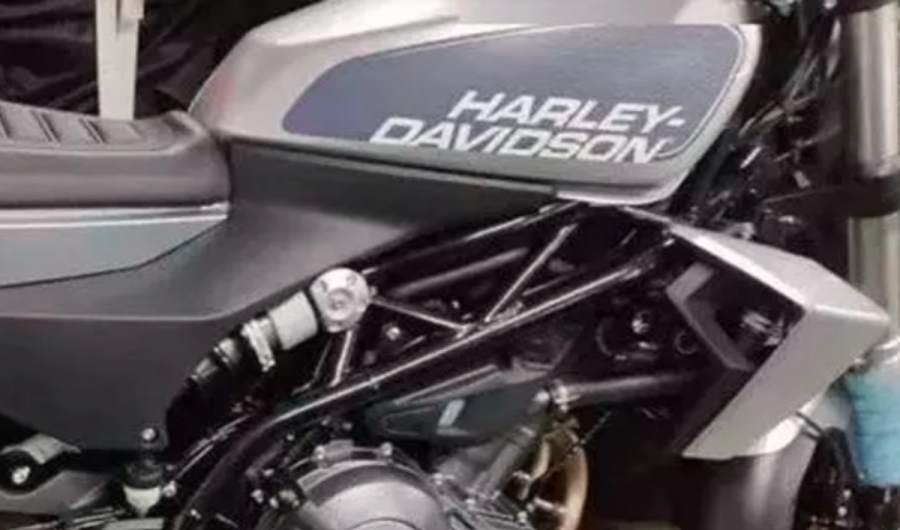 by Ollie Barstow from https://www.visordown.com
The new Benelli-based Harley-Davidson 338R budget motorcycle is spied for the first time in images leaked on Chinese social media
The first images of the new Harley-Davidson 338R have leaked giving a glimpse of how the small, affordable Asian-built 'baby' Harley will look when it makes its debut later this year.
There was much talk about the new machine, which is a collaboration between Harley-Davidson and Chinese-firm Qianjang Motor, earlier this year but until now the model, codenamed HD350, had only been viewed in renders.
As such, this is the first time it has been seen in the metal after images emerged of a cropped side-view across Chinese social media.
The machine has been developed on the platform of recently-launched Benelli 302S (Qianjiang is the parent company for the Italian Benelli brand) and this view shows the main frame, wheels, suspension and brakes have been retained from the source.
Though we can't see the front-end, which will likely feature a more familiar family face in-keeping with the Harley-Davidson signature style, the rather ostentatious badging should also help differentiate it from its Italian cousin.
The appearance of the Harley-Davidson 338R appears to be a step in the direction to confirming the machine's existence, which was originally conceived under the American company's erstwhile management structure.
Under the dubbed 'More Roads to Harley' strategy, the Harley-Davidson 338R was set to become an entry-level model target specifically at the Asian market and built locally.
However, new ownership and the so-called 'Hardwire' strategy that is set to focus Harley-Davidson's attention on its core premium business and move the brand out of unprofitable markets – including India – suggests the 338R is rather at odds with this new approach.
Even so, Harley-Davidson could in theory maintain a separate range of badge-engineered models in specific markets, much like other manufacturers do with models that are designed, manufactured and sold in specific countries.
In short, don't expect to see the Harley-Davidson 338R on sale in Europe or the United States any time soon if it indeed goes ahead to production.