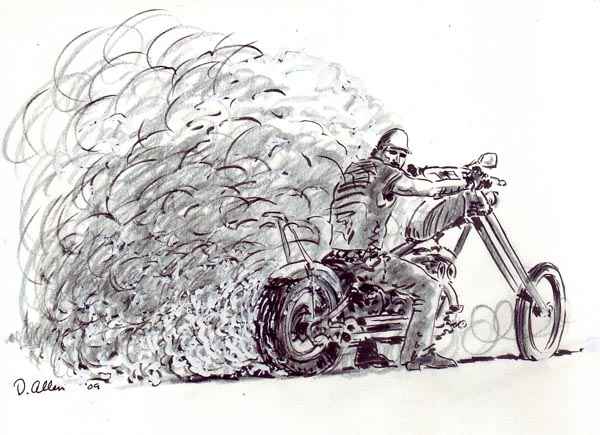 100 word fiction contest continues…. #100WFC
Running Late
by Rhys
Got a late start for a 2 plus hour ride to the rally. We hit it pushing the old FL and my ridding partner on a borrowed FX since his old Sportster was down. We were flying down the interstate and coming up on the off ramp. I leaned into the curve and stopped at the stop sign. Looked around no one behind. Pulled over for a few minutes before deciding to backtrack down the grade on the grass and discovered the FX on its side and several feet away my partner and his passenger brushing themselves off. Neither was hurt thanks to the grassy space between ramps but the bike was a little worse for wear. Must've hit the shifter thinking it was the brake, old Sporty's on opposite side. Compression rubber made him lose it.
Since we were only an hour out I raced home and traded my FL for the El Camino and flew back to pick up the broken bike and riders.
Guess I know what we'll be doing tomorrow.
* * * * * * * *
Yup, its a weekly contest open to all. Just sign up for the free weekly newsletter by clicking here.
Then email us your 100 word limit fiction to the editor wayfarer@bikernet.com