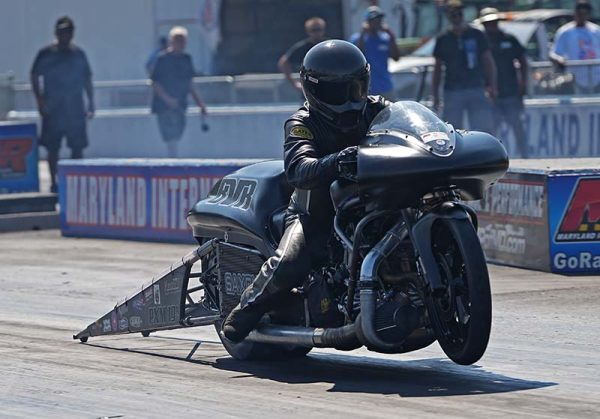 XDA Competitors Laser Focused on the Championship Title
On September 23-25, the XDA concludes its 2022 motorcycle drag racing season at Maryland International Raceway with the 30th annual DME Racing Fall Nationals.
The sixth and final battle of the 2022 XDA season will feature 6-second, 230+mph Pro Street Motorcycles, 7-second, 190mph Real Street bikes, 3-second 1/8 mile Pro Xtreme class, lethal clutch hand Super Stock, the "Running of the Bulls" Grudge Shootouts, and 700+ Sportsman motorcycle racers competing for over the final $500,000 in season cash purse and $130,000 in season contingency!
Orient Express Racing Pro Street
Points Leader – Rodney Williford
Next weekend the Orient Express Pro Street class will turn up the heat with the country's quickest and fastest 650+ horsepower Pro Street motorcycles. For the second year in a row, Rodney Williford locked up the championship before the season finale. He currently holds 176 points lead over #2 Jason Dunigan. Justin Shakir, Greg Wallace, and Darion Payne round out the top five in points and have all locked in spots for the 26th annual Haltech World Cup Finals presented by Wiseco on November 2-6, 2022.
Next weekend the battle will rage on as Pro Street racers will be fighting for the last 5 spots to compete in front of 52,000+ fans in the crisp November air. The exclusive Platinum General Services Pro Street Shootout at WCF offers a $5,000 to win purse. Make plans to come out and watch these gladiators dominate the quarter mile at speeds that can't be seen anywhere else.
DME Racing Real Street
Points Leader – David Stewart
DME Racing Real Street will be serving up 7-second, 190mph passes as the battle for the championship comes down the wire. David Stewart leads the points chase with forty-six points over Rickey Gadson, and 111 points over class champion Mark Hylton. All three riders have the potential to take the crown, and every point will make the difference.
MaxxECU Pro Xtreme
Points Leader – Ronald Procopio
The eighth-mile heads-up class of MaxxECU Pro Xtreme features Turbocharged, Supercharged, and Nitrous Injected wheelie-bar monsters. Ronald Procopio only holds a five-point lead over #2 John Collins and sixty-seven points over #3 Chris Cutsinger. These three-second riders are the only ones in contention for the championship title next weekend.
MaxxECU Pro Xtreme is presented by Billy Vose Racing, Fast by Gast, Dunigan Racing, DME Racing, Grothus Dragbikes, Harley Haul, Rob Bush Motorsports, Robinson Industries, Schnitz Racing, Timblin Chassis, and Worldwide Bearings.
HTP Performance Super Stock
Points Leader – Curtis McDougald
The stock wheelbase HTP Performance Super Stock class will see a new champion crowned this season. Curtis McDougald holds eight points over Darion Payne, and Mike Davis trails right behind. These are the only two riders that could knock McDougald off the throne and claim the title next weekend. You won't want to miss the action on Sunday!
HTP Performance Afterdark
Saturday night, the starting line will be the place to be with the HTP Performance Afterdark Underground Grudge Program. Going into the season final, the Bulls still have a lot of action to show us if they want those championship titles. Malcolm Phillips leads Boosted Bulls, Desmond Spalding leads APE Nitrous Bulls, Spencer Claycomb leads 3 Sixty 5 Monster Bulls and Aubrey Vantine leads Tommie's Motorsports DMV Bulls. The #KillerMillerSpiller will have the track on point next weekend, eliminating traction from the 'Rider's Excuse' handbook.
Vance & Hines 4.60
Points Leader – Ronald Procopio
The Vance & Hines 4.60 eighth-mile class showcases the fiercest Sportsman around. And in a rarity, the championship title has already been clinched by Ronald Procopio heading into next weekend's event. This will be three straight championships in a row for Procopio, and fourth overall. Over thirty riders will give the fans a spectacular show round after round as they battle for the $5,000 cash prize to the winner.
The XDA will also hold competition in six additional sportsman classes where the championship titles are still up for grabs. 1 Stop Speed 5.60 Index, Mickey Thompson Tires Top Sportsman, MPS Racing Pro ET, and Brock's Performance Street ET, VooDoo Bracket Bash, and the Hard Times Parts & Service Gambler's classes will award $28,000 in cash payouts for our sportsman classes.
It may be the end of the XDA season, but there is still time to start a drag racing career with the best motorcycle drag racing sanction on the east coast. Come out next weekend, and for only $65 you could be racing down the track!
For an exciting weekend of two-wheel racing action, head to Maryland International Raceway next weekend, September 23-25, for the 30th annual DME Racing Fall Nationals because XDA is always the place to be!
Visit xdaracing.com for event information, class rules, payouts, entry fees, schedule, and more.
About XDA Racing: The Xtreme Dragbike Association (XDA) is an east coast motorcycle drag racing series with 700+ motorcycle racers competing at each event. Every XDA event hosts professional classes, sportsman classes, grudge racing and a vendor midway. Lifestyle activities such as bike shows, bikini contests, DJ and live bands are also held at select events.
For more information on the XDA, please visit xdaracing.com or connect with us on Facebook, Instagram, Twitter and YouTube @xdaracing
* * * * * * * * * * * * * * * * * * * *