Legendary custom motorcycle builder Paul Yaffe will celebrate his through the years exhibition and birthday bash as well as over 25 years in the bike building and custom parts business on Friday, December 16, at the Morongo Casino Resort in Cabazon, CA.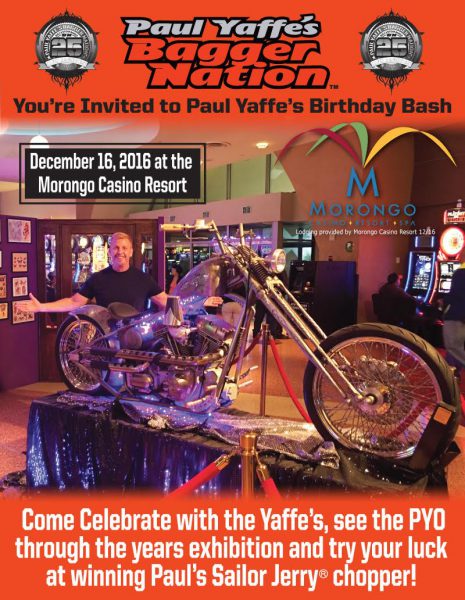 "It all started with a love of motorcycles and a curiosity and desire to see what could be made of them," says Paul. "I never would have guessed, when I first started experimenting in the mid eighties, that it would lead to where we are today."
Fans and motorcycle enthusiasts are encouraged to join Paul for his Birthday Bash and Custom Bike Display at the Morongo Casino Resort on Friday Dec. 16th. Not only will attendees get to meet Paul and enjoy libations with him, but Paul will give away his newly created Sailor Jerry Chopper to one lucky partygoer. This is the perfect opportunity for fans to hang out with Paul and a bunch of his bikes, ask him questions, and see firsthand and up close some of his custom bikes.
Fifteen motorcycles will be displayed, including both Discovery bikes (Phantom and Suzy-Q), the Copper Chopper, Prodigy, and, of course, the one slated for giveaway: the Sailor Jerry Chopper. All the bikes will be on display Friday and Saturday.
Anyone can attend, but you have to be present to win the Sailor Jerry Chopper, so register at the casino and get ready to party.