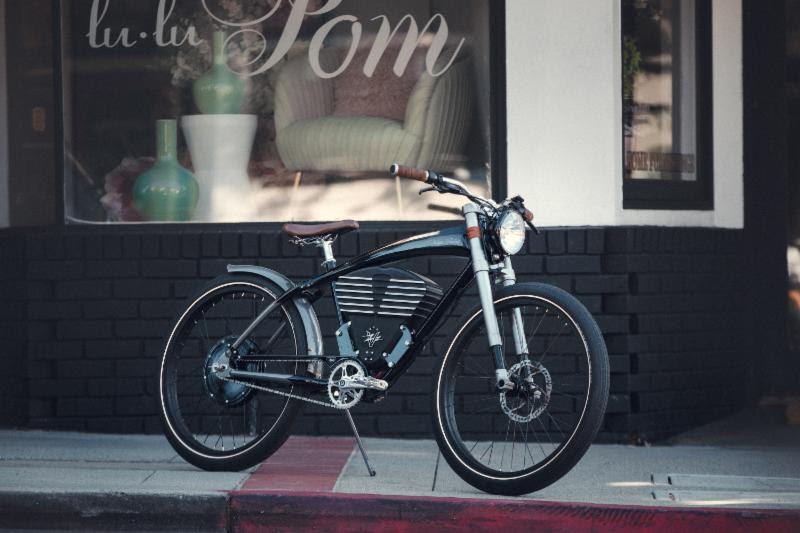 Classic Roadster Aesthetic Blends Innovative Design with Comfortable Ride Position, and Best-in-Class EV Technology
SANTA CLARA, CA – Vintage Electric crafts powerful electric bikes that artfully blend the vintage-inspired design of classic board track racers with the best in EV technology. Vintage Electric is proud to present the all-new 2020 Roadster model for riders looking for a high-performance EV ride paired with a unique cafe racer aesthetic. Designed in the grand tradition of open-air sportscars, the brand new Vintage Electric Roadster presents riders with an impressively fast 36-mph throttle bike that offers top-shelf performance with styling sure to turn heads.
"The new Vintage Electric Roadster is our take on applying the thrill of a canyon-carving convertible sports car to our respective EV bike segment," says Vintage Electric Founder/Lead Designer Andrew Davidge. "We set out to combine best-in-industry performance with a grand aesthetic inspired by the simple, yet powerful, European and American sports cars from the 1950s and 1960s eras."
Optimized for performance and comfort, the new Vintage Electric Roadster design starts with a hydroformed aluminum frame for the optimal blend of lightweight strength. Front suspension is standard: an MRP inverted-fork system supplies 60mm of front wheel travel to absorb road irregularities. The Roadster's attached polished alloy seat-post features a saddle constructed with sable leather that matches the leather-wrapped handlebars to give riders a classic automotive feel. To compliment the high-quality leather accents throughout, the Roadster also features a classic two-tone color wave where black and silver further accent the aerodynamic design. Also, the Roadster's LED headlamp not only lights the road, it captures an elegant moto spirit of yesteryear and transports it to today.
The new Vintage Electric Roadster bike is outfitted with the best in modern EV technology. The electronic interface on the handlebar is clear and intuitive; on-demand acceleration comes directly to the rider. Alternately, the thumb-throttle provides easy, convenient access to five incredibly smooth power modes. Speed ranges from a nice steady ramp to a powerful launch for riders. Another helpful feature on the Vintage Electric bike is the rear regenerative disc brake, which provides incredible stopping power while recharging battery power.
At the center of the Vintage Electric Roadster design is a powerful 1,123-watt battery in a stunning cast-aluminum housing that charges in a very fast 4½ hours. After a full charge, the Vintage Electric Roadster has up to a 75-mile range. In another nod to classic open-air sportscars, the Roadster is capable of speeds up to 36 mph in the optional private-property/closed-course "race" mode.
For more information on the $6,995 Roadster or other Vintage Electric models, please visit vintageelectricbikes.com or call (408) 969-0836.