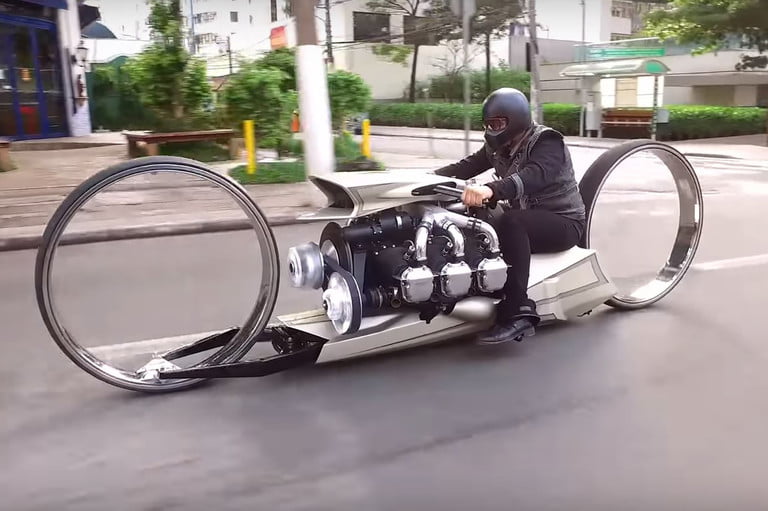 by Jahla Seppanen from https://www.themanual.com
When you're a retired Formula One driver, what else can you do in your free time except build mind-bending concept motorcycles? In the case of Tarso Marques of Brazil, that's exactly what he's doing with the insane TMC Dumont motorcycle.
Yes, it's still a concept so, no, you can't drive it yet. In fact, you might be wondering how it even works because the construction shouldn't make sense in real life.
This hub-less bike swaps a traditional car engine for a 1960s Rolls-Royce aircraft engine, creating an absolutely sick design with a body aesthetic that is futuristic, svelt, and should definitely be in the next 007 movie.
Anatomically, the aircraft engine is positioned where a standard motorcycle engine and fuel tank would be, but takes up an enormous amount of space. Basically, as much as a full frame, radiator —the works. The massive 36-inch wheels are essentially spoke-less and completely open in the center, so with the 300-horsepower engine, we're hoping the brake disk and caliper have something to hold on to … because we can't see it.
Based on the low-riding profile of the seat and engine, it's questionable how the bike could sit above the ground, but it does. At least, the concept does. Just pray for a road without speed bumps.
Some motorcycle enthusiasts have questioned the safety and turning abilities that would result from having the back "wheel" so close to the rider — hello, wedgie or mega backside tire burn — and have called the bike "impractical." That being said, TMC Dumont drove away with the "Best of Show" award at the 2018 Daytona Bike Week.
This isn't the first time a motorcycle fanatic has strapped an airplane engine to their hog. Back in 2013, the Red Baron bike featured the 150-horsepower, nine-cylinder Rotec Radial engine used in WWI-era planes. However, in terms of pure looks, we've never seen anything like TMC Dumont. The motorcycle has been compared to everything from a piece of art to a Tron bike — ultra-sleek, and record-breaking.
Previewing the other passion projects Marques is developing with his brand Tarso Marques Concepts makes us mildly jealous, somewhat shook, and overall excited to finally get back out on a bike.