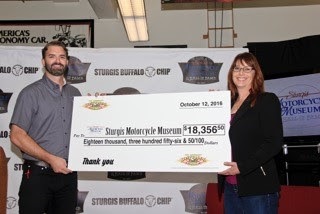 From the motorcycles to the industry's pioneers and innovators, the Sturgis Motorcycle Museum and Hall of Fame recognizes every aspect of what makes motorcycling great. The Museum was chartered in 2001 to recognize individuals or groups who have made a long term positive impact on the motorcycle community, and plans call for improvements that will make it possible to create world-class exhibits. However this progress would not be possible without the commitment and dedication of the board of directors, the local community and most importantly the sponsors..
"It was time to Honor the Ride and Build the Legacy," says Executive Director Myrick Robbins. "The mission for the Sturgis Motorcycle Museum remains unchanged, however the means to achieving its lofty goals are certainly advancing courtesy of our sponsors and supporters of the Museum." A record number of visitors over the course of 2016 and a complete sell-out of the annual Hall Of Fame Induction Ceremonies breakfast highlighted a record year for the Sturgis landmark.
The support of the community and the amazing efforts of Rod Woodruff, founder and President of the Sturgis Buffalo Chip, will make it possible for the Museum to expand on its mission to honor those who have made a positive and significant impact on the sport and lifestyle," says Robbins. This year alone the Chip donated $18,356 toward expansion, part of a total $228,000 contributed over the past nine years to help build a world-class Museum in Sturgis showcasing motorcycling's history.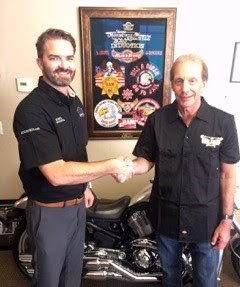 Night At Museum1
Also making a major contribution to the Museum was Russ Brown Motorcycle Accident & Injury Attorneys. The original attorneys who ride contributed $2,500. "We know the challenges, danger and bias that riders face on the road as we were riders long before we became lawyers," says managing partner Chuck Koro. "We are proud to support the museum's efforts to honor the men and women who have dedicated much of their lives to improving, promoting and advancing motorcycling."
Strider Bikes stepped up as the presenting sponsorship for the Hall of Fame. Based in nearby Rapid City, Strider Balance Bikes are putting the next generation of Hall of Famers in the saddle today! "Next year marks the 100th anniversary of bicycles in the Black Hills and we are happy to welcome Strider to the party," notes Robbins. "This is an ideal match… Just as Strider is a resource for future generations of riders, the Sturgis Motorcycle Museum & Hall of Fame stands out because of the fact that we not only document the history of the machines, we document the history of the people who have shaped and changed the sport and lifestyle."
Call the Museum at 605.347.2001 or online at http://www.sturgismuseum.com