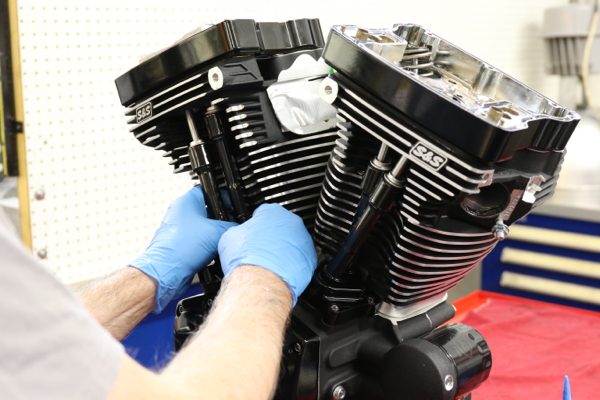 In honor of the 10th Anniversary of the Buffalo Chip's Legends Ride S&S Cycle, Inc. is debuting a 165-170 horsepower performance-styled Harley-Davidson Dyna Low Rider custom to be auctioned in support of the milestone event that kicks off in Deadwood, SD on Aug. 7. The fully customized Low Rider, designed to look and feel every bit a "muscle bike," will be unveiled on Saturday, March 25 at 12:15 p.m. at the Donnie Smith Bike & Car Show in the St. Paul RiverCentre, St. Paul, Minn.
As the uncontested aftermarket leader in V-Twin performance parts for almost six decades, S&S Cycle transformed the 2017 club-style chopper into a sleek and stylish beast powered by a T143 Black Edition engine packing 143 cubic inches and 165 horsepower to the wheel. Harnessing that extra horsepower required S&S to upgrade the transmission, clutch and primary work. To clothe the powerful machine, S&S added a Russ Wernimont FXRT style fairing some Dyna Defender bags. The piece de resistance is the hot rod inspired striped paint job, which recalls the wildly popular classic muscle car, the Shelby Cobra.
"This incredibly beautiful and powerful bike created by the masters at S&S Cycle will be going up on the auction block at the Legends Ride this August," said Rod Woodruff, President of the Sturgis Buffalo Chip. "It's not only a real prize, but its sale will support the Ride, which has so far raised nearly half a million dollars for local charities including South Dakota Special Olympics and the Sturgis Motorcycle Museum. The top bidder is going to ride off on one incredible and unique motorcycle while feeling like a hero for supporting very worthy causes."
To be one of the first to get a look at the 10th Anniversary Legends Ride bike, attend the official unveiling at the Donnie Smith Show on March 25. Information and photos will be posted at BuffaloChip.com after the event. The bike will be featured this summer in American Iron Magazine issue #351.