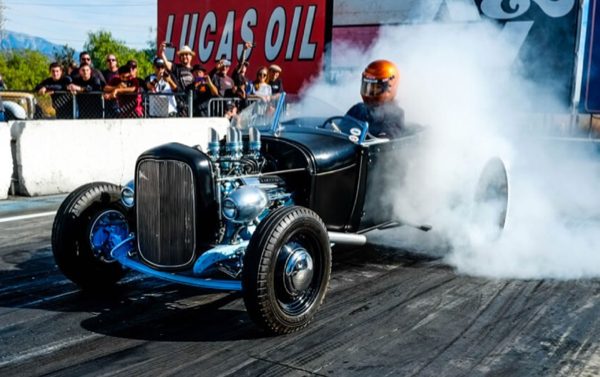 Fresh from last weekend's wildly successful Hot Rod Custom Show in Yokohama, Japan, our friends at Mooneyes are gearing up for another Mooneyes Xmas Party this Saturday, December 8th at Irwindale Speedway. And we'll be broadcasting the party on Facebook Live all day long! We've included a few photos from this year's Moon Yokohama show and last year's Xmas Party at Irwindale—and you can click the red box at the bottom of this email to see even more.
To watch our live videos, hosted by veteran journalist and designer Thom Taylor, just visitwww.facebook.com/roddersjournal on Saturday. Thom will be interviewing participants and covering the action, from nostalgia drags and a Cacklefest to live music, a pinup contest, and rods, customs, choppers and lowriders as far as the eye can see. Irwindale is the place to be this Saturday if you're in Southern California. And if you aren't, our live video stream will make you feel like you are!
Bandit will be there with a couple of the local riders too!