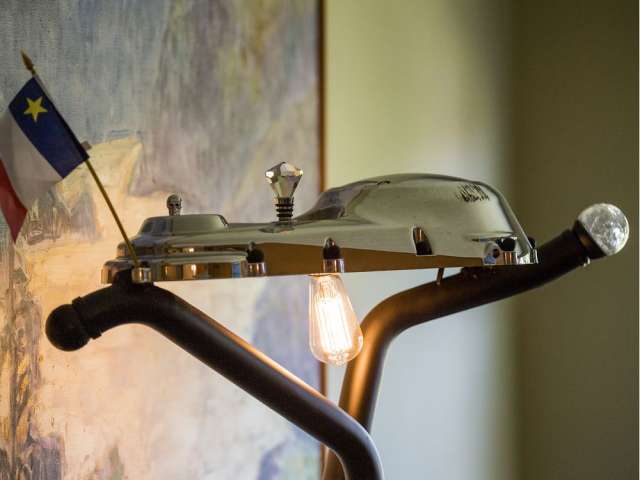 by Thia James from https://thestarphoenix.com
Saskatoon's Rik Albert speaks about his unique art and his 10-year quest to bring an ergonomic bike handle bar to market.
"You build that?" asks a man walking along the residential street where Rik Albert rides his bike, equipped with a Toon bar, a raised handle bar of his invention.
Albert explains that the handle bar is for people with carpal tunnel syndrome — since it's intended to relieve some of the pressure put on the rider's wrists — and people with spinal injuries, since the rider remains in an upright position.
"Holy smokes," the man replies. Both continue on their way.
The Toon bar has been a 10-year passion for Albert. It's still at the prototype stage, but he's been an unfailing advocate for his invention. He created a video, wrote a letter to talk show host Ellen DeGeneres, and has appeared on local television to spread the word about his creation. He reached out to DeGeneres, who is originally from Louisiana, because they share Acadian roots, he says. He's originally from New Brunswick.
Albert's father was from New Brunswick and his mom was from Western Canada; they met in Ontario and moved to New Brunswick, then to Montreal, where he became bilingual by learning English. When his parents divorced, he moved to Esterhazy, Sask. when he was about 10 years old.
"(When I) got off the train, I could see the Atlantic and I could see the Pacific, and went 'Wow, this is flat,' " he jokes.
Albert went on to work for General Motors and Harley-Davidson, which speaks to both of his passions, cars and motorcycles.
The idea for the raised handle bar came almost out of necessity. As he puts it, he's already used seven of his nine lives.
When he was 27 in 1989, while riding his Harley-Davidson motorcycle from Davidson to the Alberta border, he attempted to pass a truck near Gull Lake and ended up underneath it. The truck sucked him under its front wheel and dragged him for a distance, crushing his right ankle and breaking his right hand and collarbone.
He spent time in three different hospitals, he says.
While rehabilitating over the course of three to four years, he found the best thing for him was to be on a bicycle to move his right leg and hand.
One day, while at work unloading Harleys, he came close to suffering another injury when a three-ton truck backed up, nearly missing him. After that, he designed the raised handlebars.
Albert can't bend over traditional handlebars, putting his weight on his right wrist, so he made a version of what would come to be known as the Toon Bar for himself. Almost 10 years ago, he had a friend weld a piece of pipe to his bike's existing handlebars, then added a crossbar. He wants to make telescopic handles and functional hand brakes for it, he says.
He's been approached by many people while out riding his bike with the raised handles who have asked him to bring it to market, he adds.
"I wish I had a log and a camera on the bars to show their expressions, because you'd think I was riding a bike on Jupiter or on Mars."
While he works to move his invention past the prototype stage, sales of his art are what "buys the mac and cheese," as he puts it. Albert repurposes unused motorcycle parts, such as exhaust pipes stripped off at the retail level for new owners who want custom pipes. He's used them to create and sell custom-built lamps.
He's had vehicle parts in his hands since he was a General Motors parts manager in his 20s, he says, and became familiar with cars at a young age when his dad raced cars in Montreal.
He fondly remembers his time working for Harley-Davidson.
"It's a shame when a customer buys a brand new Harley that the pipes are $500 each and they take them off brand-new and throw them in a corner and nobody uses them again. So I figure, why not repurpose them and make all kinds of stuff with them?"
After his accident and rehabilitation, he learned how to work with glass. Over the last 10 years, he's created commissioned glass works, including tables and mirrors, for customers in Vancouver, Calgary, New Brunswick and Montreal. To generate sales, he relies on word of mouth, online classified ads and appearances at craft, art and car shows — anywhere he can exhibit his work for free.
One piece he keeps for himself is dedicated to his Acadian roots. It took 20 hours of airbrushing and etching behind the glass, he says.
Louis Paquette, the owner of Saskatoon Truck Centre, met Albert at a Cruise Night event earlier this year and bought a lamp, which led Albert to show him photos of his other custom furniture pieces. Paquette saw a coffee table he liked and asked Albert to build him one. The lamp and table are now at Paquette's business. When clients ask where he got it from, he says "It's an old family secret."
Paquette, a past director of the Saskatchewan Craft Council, said he isn't a motorcycle enthusiast, but he does collect cars. Albert's work is unique, he says.
"He uses his imagination when it comes to motorbike parts. Who the hell would think that you'd take some mufflers and make a coffee table out of it?"
What drew him to Albert's display at Cruise Night was his custom-built Corvette — the combination of the back end of a 1976 model and the front end of a 1981 model.
One child dubbed the vehicle The Batmobile, Albert says. He attributes his interest in rebuilding cars to his father's own interest in hot rods, and going to car shows.
"Everything I have, I pretty much make it to my own liking and make it custom made so it's not a cookie-cutter item," he says.