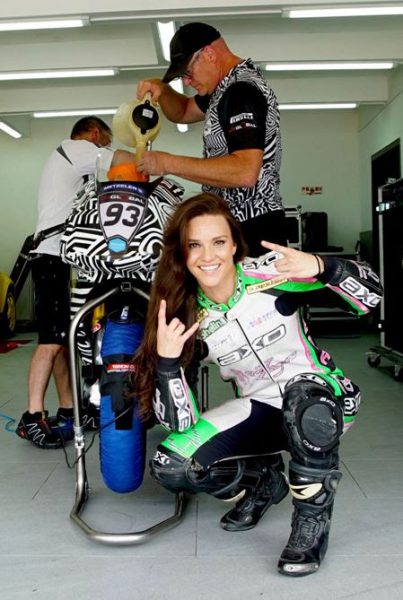 Splitlath Motorsport, the factory racing team of EBR Motorcycles, has exciting news for the huge and highly competitive Chinese Pan Delta series. Having won nearly every round in the series in 2015, and the first two races of 2016, they are taking a dramatic new step. Shelina Moreda, the charismatic female Californian rider, has joined the team of the "Mighty Winged Horse" to compete in the series, which to date has not seen a female competitor.
Splitlath team principal, John Dimbylow said, "Shelina was a natural choice for us to move forward after winning every race so far that we have competed in out here. We have proven the EBR American Superbike is able to take the measure of other brands every time with an experienced Superbike rider in the saddle. Now we want to expand on our American story, and think the massive 70,000 plus fans will love to see a 'California girl' on the EBR, as motorsports here have been male dominated until now. We have known Shelina for some time and have spoken about working with her previously, but finally this has materialized. We hope she will be an inspiration for women in China and demonstrate that women can succeed in anything that they put their mind to."
While the testing period is much shorter than the team and Shelina would have hoped for, as this is the first time for her on an EBR 1190, she is working with chief mechanic Tony Pogue, a long term friend, and the garage is buzzing.
"I am absolutely stoked to have the opportunity to race a Splitlath EBR race bike in China," said Shelina. "It's my first time on a liter class Superbike, and my first time ever in China. It will be fun to raise some eyebrows among the all-male racers here at Zuhai, aside from the awesome 4-wheel girl, Chloee Wong, China's premier female race car driver, whose garage and workshop the Splitlath team work from. They are not used to seeing pigtails on the track! This team is extremely supportive, always smiling, and I get to work with my good friend Tony Pogue as my chief mechanic."