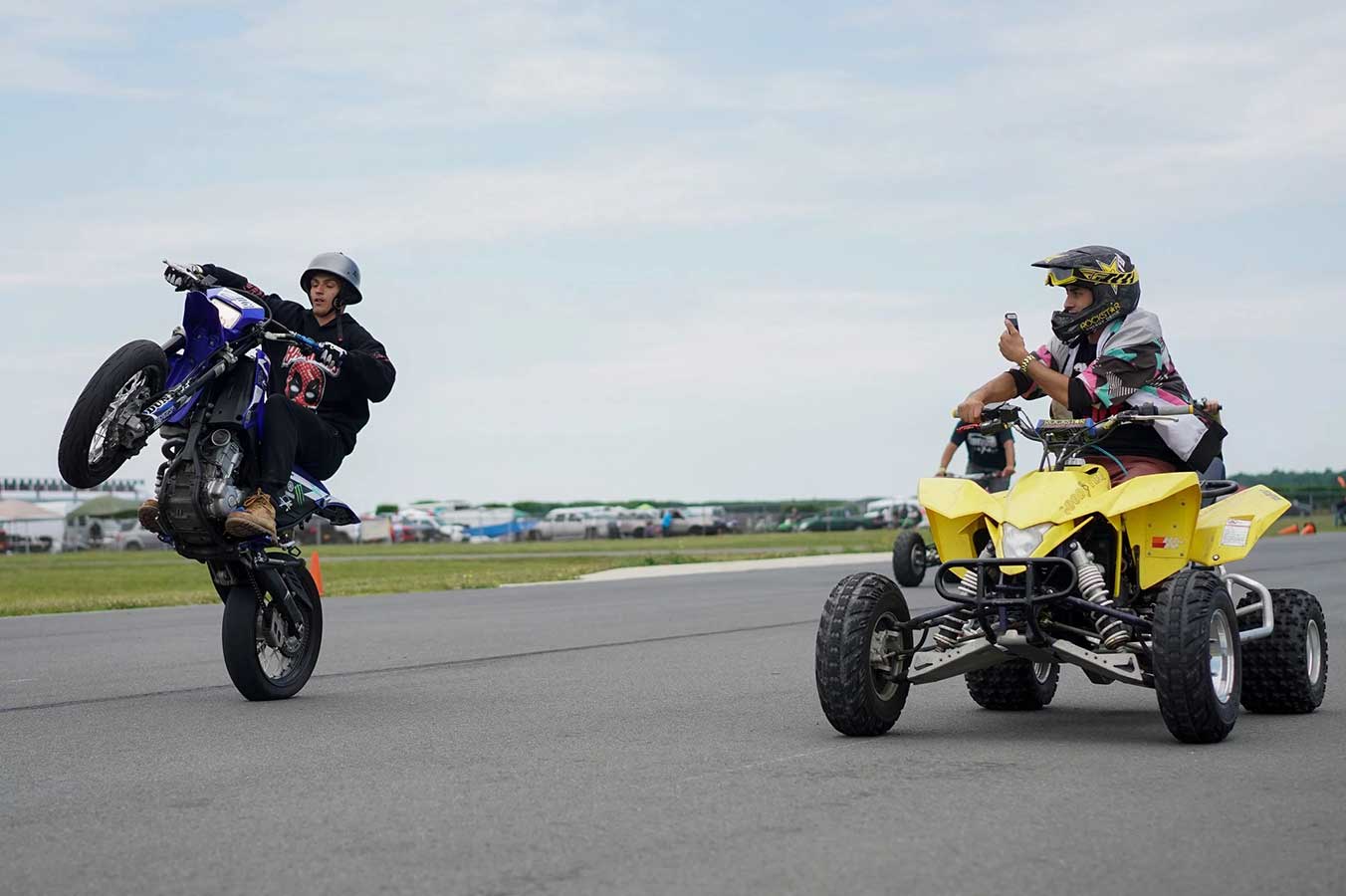 by Carolyn Noel from https://www.thereminder.com
CHICOPEE – A Public Safety meeting took place to discuss illegal dirt bikes, motorcycles, speeding and excessive noise in the City of Chicopee on May 19.
City Councilor William Courchesne, Ward 7, has been an active participant in the fight against this issue. At the City Council meeting on May 4, Courchesne spoke on the many phone calls he has received from upset residents in his ward. He also helped with updating the Code of the City of Chicopee to strengthen and modernize many noise ordinances.
During the Public Safety meeting, residents were given the chance to voice their concerns on illegal dirt bikes, motorcycles, speeding and noise. Members of the Chicopee Police Department were also in attendance to respond and answer questions.
One resident spoke on the danger of dirt bikes speeding along public streets.
"They're turning our public streets into their playgrounds," she said.
Attendee Gerald Lavoie agreed on the danger of dirt bikes speeding on streets, but also proposed that the city give them a safe space to ride.
"The kids need a place to ride," he said.
Lavoie suggested opening up land for people to ride their dirt bikes safely by Westover Air Reserve Base, near Szot Park or anywhere else that could be accommodated.
Resident David Perault spoke on his motorcycle-related concerns at the meeting. He said that from April through November the noise is "crazy." He even compared the area he lives in to a speed race.
"My apartment unfortunately faces the Chicopee River and what I like to call the Indianapolis 500," said Perault. "These guys are flying."
He spoke on the excessive motorcycle noise that he had to deal with during the COVID-19 lockdown when he was home. He said that a lot of the motorcycles backfire, which can sound like fireworks or even gunshots.
Despite the complaints, Perault did show understanding to the Chicopee Police force. He spoke on the lack of police staff in recent months, especially in the Traffic Enforcement Department.
"I understand that there's not a lot you can do about it because you don't have the manpower to do it," he said. "Whatever you can do to address it, I would be eternally grateful."
Two residents spoke on the issue of dirt bikes and motorcycles on Moreau Drive. They both emphasized the amount of kids who live there and how dangerous this could be to them, those at nearby Litwin School and those at the nearby Chicopee Country Club.
"We need to do something about this. We need to do better. Any assistance would be great," said resident Jen Santere.
According to both, Moreau Drive has had three hit and runs within the last year. They brought forth a petition of over 100 neighbors demanding the excessive speeding to stop and asking the Police Department to restore safety to small neighborhood streets.
Many city councilors also attended the meeting to listen to concerns and voice their support. Courchesne said that he wants to see a task force of police officers who cover strictly traffic issues. This would ensure an instant response to these types of situations.
Councilor Gary Labrie agreed, as did Councilor Derek Dobosz. Councilor James Tillotson said that this needs to become a priority among the Police Department, especially now with nice weather approaching.
"I really think we have to make it a priority this summer and try to put an end to it. It's only going to get worse once the weather gets warmer and the kids are out there more," said Tillotson.
To finish the discussion, members of the Chicopee Police Department were given time to speak. According to the Captain of the Traffic Bureau, the department is having trouble making these issues their main focus due to a lack of overtime positions being filled.
"Our guys are burnt out with working hours," he said.
The Chicopee Police Department is also having issues hiring new officers, he said.
Chicopee Police Capt. Jeff Gawron also spoke on the issue.
Gawron said that the Chicopee Police Department is working with other communities to help combat this issue.
"There's issues all over the place. We are doing everything possible," said Gawron.
He spoke on the fact that there might be a delay in response to traffic issues, but officers will always show up. There is a need to prioritize calls and, for example, a shots fired call will always take precedence over a traffic call.
"We're doing the best that we can. The officers on the street are doing the best that they can. They're working long hours, but, like I said, they can't be everywhere," said Gawron.