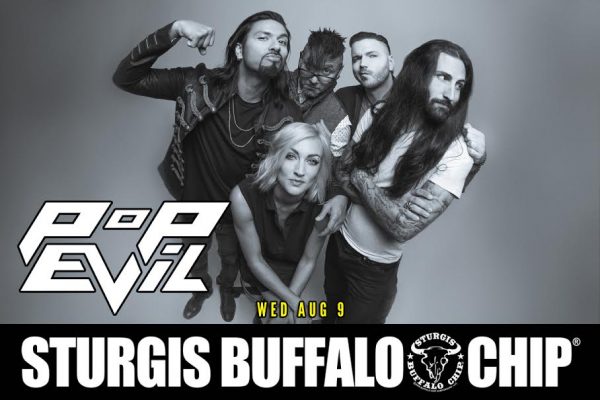 Festivities at the Sturgis Buffalo Chip promise to be epic at this year's rally. The Buffalo Chip has secured chart-topping hard rock band Pop Evil to open for Ozzy Osbourne on its main stage Aug. 9. This addition rounds out a jam-packed day of entertainment that begins in the afternoon with the thunder of hopped-up machines in the Street Drag Invitational with Crazy John followed by the adrenaline of Roland Sands Design's Super Hooligan Races presented by Indian Motorcycle. More info at www.BuffaloChip.com/PopEvil
Pop Evil has been pounding its way up the charts and into the hearts of fans ever since the band strapped on guitars and started writing songs in 2001. Billboard named them the no. 4 Mainstream Rock Artist of 2014, a result of three consecutive no. 1 Rock Radio Singles from their last album, and a fourth that cracked the Top 10. Touring with some of the biggest names in music, their songs such as Footsteps, Trenches and Deal with the Devil have been heard around the world and on TV in association with events such as NFL, NHL and NASCAR.
"Pairing Pop Evil with Ozzy Osbourne, the street drags and the Super Hooligan Races on Wednesday is packaging a perfect day at the rally," said Rod Woodruff, President of the Sturgis Buffalo Chip. "Nobody should miss this rare opportunity for a day filled with non-stop racing action, stunts and events, and these incredible, world-class, megastar musicians all for one pass."
As the largest and most easily accessed concert and camping venue east of Sturgis, concert attendees not already camping at the Buffalo Chip will be able to access the free parking area at the east gate, about 5 miles from exit 37 on I-90.