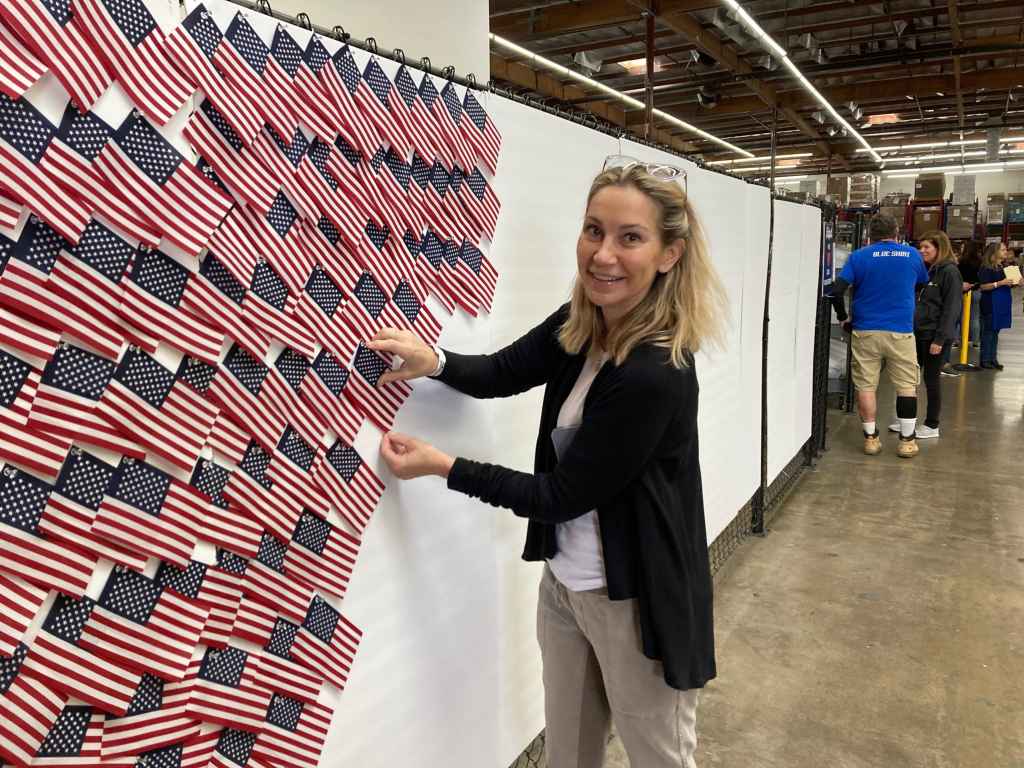 Dear Friend,
Today, we pause to honor the service and sacrifice of our nation's Veterans. We are so grateful to them because they were called or volunteered to be part of something bigger than themselves. And at Operation Gratitude, we are honored to lift them up today and every day with Care Packages created especially for them, filled with useful items we know they will enjoy.
This holiday season, with the help of thousands of grateful Americans, we will send over 30,000 Care Packages to Veterans across the country to remind them that a thankful nation remembers their sacrifice and appreciates what they did for this country.
Of course, our Care Package program is just one of many opportunities we offer to Volunteers and supporters who want to thank those who have served.
Here are some opportunities to show appreciation this month in honor of Veterans Day:
Flag the FOB
​​Today is the last day to help us Flag the FOB to honor our Veterans! Just $5 sponsors a flag. Each donation will cover the costs to fill, assemble, and ship Care Packages to Veterans across the nation. With your help, we can fill an entire wall at our headquarters (The FOB, aka Forward Operating Base) with flags in a beautiful display of support, respect, and gratitude to honor these brave men and women.
CLICK & Visit FLAG THE FOB – Operation Gratitude today to take part!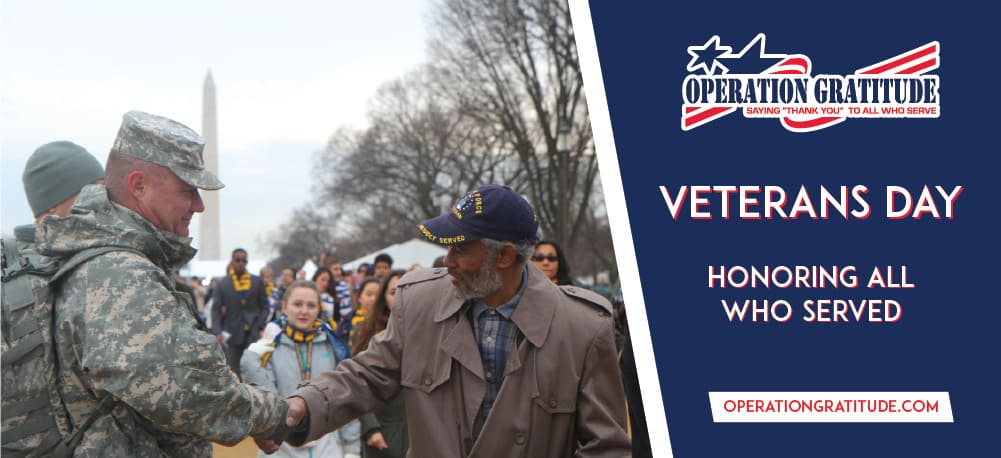 Make Paracord Lanyards
We are excited to launch our new paracord lanyard design! The new and easier design is a zipper stitch and only uses 5 feet of cord which means you will be able to make a lot of lanyards in a shorter period of time! No jig required!
Not only are paracord items full of meaning, but they are also useful for our recipients. From a young soldier in Afghanistan who unraveled his paracord bracelet and used it as a temporary sling for his M4 rifle to the three Marines who strapped fuel cans back to the side of their 7-ton truck in order to keep up with their convoy in the deserts of Iraq, our paracords have been utilized in numerous emergency situations.
12 Days of Gratitude
'Tis the season for thanks and giving! From November 11-22, we will be highlighting unique giving opportunities and easy ways to express your gratitude to our service members and their families, Veterans and first responders. Your contributions are so important to our mission and will add holiday cheer to everyone who opens our Care Packages.
Give Back Box
Good news! Operation Gratitude is now partnering with Give Back Box to offer discounted shipping to our Handmade with Love and collection drive donors! All boxes up to 50 pounds qualify for $20 shipping throughout the U.S. The steps are simple. Click the button below to learn how to add your label to your cart. Pay for the postage, print your label, put it on your box, and drop it off! It's that easy! Please note, this label will print with Operation Gratitude's address, and this postage can ONLY be used to ship your donation to our organization.
Giving Tuesday
Mark your calendars! Giving Tuesday is on November 29th and is a powerful day of giving, raising funds, and generating awareness after Black Friday and Cyber Monday. Our goal is to raise $50,000 to lift the spirits of 2,000 Deployed Troops. Stay tuned for more details!
https://www.operationgratitude.com/honor-their-service/
With Gratitude,
Your Friends at Operation Gratitude
* * * * * * * * * * * * * * * * * * * * * * * * * * * *
BIKERNET.COM WISHES YOU ALL TO RIDE WITH FREEDOM FOREVER !!!