We recently ran across an FXRP wiring issue and needed a wire loom replacement. Wire Plus is gone, but the boss of Deadwood Custom Cycles said that NAMZ had what we needed for FXRs, complete replacement wiring systems. This just came in from American Motorcycle Design and DealerWorld.–Bandit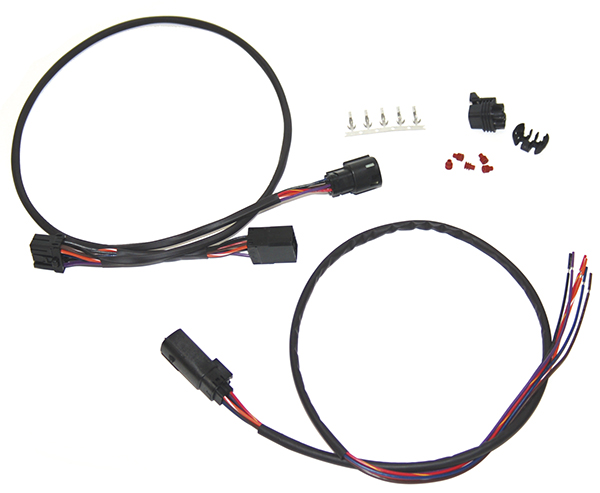 Oreland, Pennsylvania based NAMZ Custom Cycle Products has two new plug-n-play wiring harness solutions for OEM or aftermarket Tour Packs.
Made in-house by NAMZ, the new harness designs eliminate the need to take the seat off the bike just to disconnect the harness from the Tour Pack. NAMZ uses OEM color matching wiring and factory connectors for a perfect fit, every time.
The complete Tour Pack wiring installation kit for retrofitting a 2014-up Tour Pack to all FL 1999-2013 models (except '09-'13 CVO/SE and '10-'13 Street and Road Glides) comes with everything needed to connect the wiring on the OEM or aftermarket Tour Pack light – converting the stock install into a genuine plug-n-play solution with quick-disconnect feature for easy removal. A kit is also available for retrofitting a 2014-up Tour Pack to '10-'13 Street and Road Glide models.
Celebrating its 20th anniversary this year, check out the new 2020 NAMZ catalog – "a veritable cornucopia of all things electrical – all the must-haves and all the items you didn't know you needed!"
Dealers can order NAMZ/Badlands products through Drag Specialties, Parts Unlimited, Tucker (Tucker is the exclusive distributor for the NAMZ made Letric Lighting Co. product line), Mid-USA, J&P Cycles, V-Twin, Parts Canada, Motovan, Les Importations Thibault, Parts Europe, Custom Chrome Europe, Motorcycle Storehouse, W&W, Zodiac, Rollies Speed Shop, Wildrider International Pty Ltd, or directly from the company's website.
NAMZ CUSTOM CYCLE PRODUCTS
www.namzccp.com