By Spitfire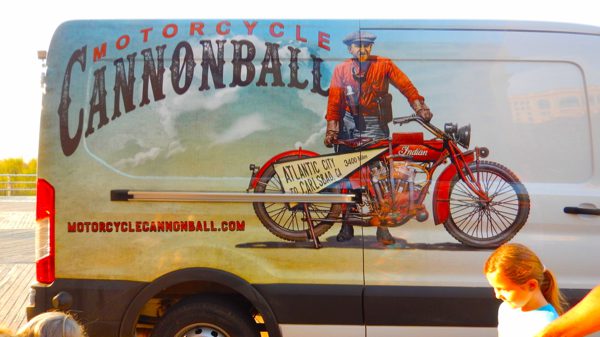 Today's route would take us across Missouri starting in Cape Girardeau and ending in Springfield. Elevations were 300 to 1700 feet. 66 motorcycles lined up this morning to attempt another day. We had started with 91 but one never made it out of the parking lot so it was disqualified. The official number of starting bikes was 90. 7 have dropped out of the race and 17 are still working on the bikes or waiting for parts. This morning one of them did not make it from the parking lot to the road. One of his fork springs popped out and he and his bike went down. Unhurt, many rushed to his aid to bring him back to the lot for another day of working on the bike.
At mile marker 3, #34, Peter Reeves was struggling with his magneto. Mile marker 8 we found #16, Chris Knoop working on his shifter…again. We saw many more along side the road helping each other or with Cannonball crew. We watched for a thumbs-up letting us know we could continue on. Just this one day my husband, Tony Pan from Milwaukee came to spend the day with everyone. I typically leave after everyone is out of the parking lot. I ride faster than the antique bikes on my 2008 H-D Street Glide so I pass riders to get up further in the pack knowing that I will need to stop and check on someone. I also try to get up a ways to hear what is happening at gas stops and check my phone. At the first gas stop, everyone seemed to be in a great mood. We laughed as Cris Sommer Simmons explained that she was the only one left from her team so she had teamed up with two other guys. They said that since she was only ½ of the Honeymooners they just called her Honey. She teased right back calling them the odd couple. I snapped a picture with the two guys bent over and decided to call them Honey and the Mooners!
Hwy 34 was beautiful with many curves and new blacktop. Eventually we turned on to Hwy 60, a 4 lane 65 mph Hwy and traveled for 150 miles on that Hwy, all the way to Springfield. The afternoon brought many varying experiences with rain from 2 hours of deluge to a few sprinkles. Pan and I decided to ride through the downpour to see if anyone needed help. We found #103, Steve Alexander fixing his belt that was slipping. Pan and I help a garbage bag over him to make it easier to work. Another mile and we found #78, Clint Funderberg hanging out under some trees with a fried magneto and a cell phone that didn't work due to the rain. We called for help and continued on.
Everyone made it in safely. 17 bikes came in on the trailers today. I got my first glimpse of the inside of the short bus. We are all at the same hotel for a change with a parking lot large enough to accommodate all of the support vehicles and crew. As one day ends for the riders another day begins for the crews. Of course most riders stay with their bikes, working on them most of the night. The parking lot is alive with activity under a full moon tonight and I am grateful that I got to spend another day with these wonderful human beings. For more information, including scores, visit www.motorcyclecannonball.com.