By Spitfire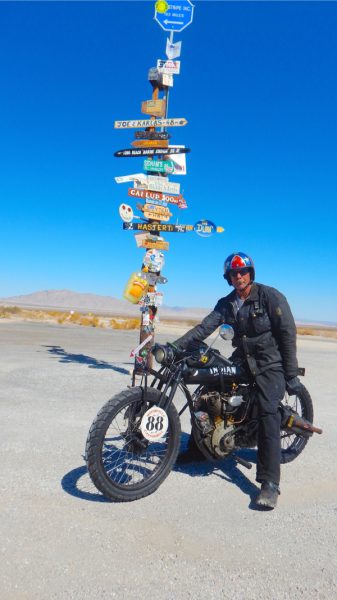 Only two more days. Feeling are mixed and I see more hugs this morning. Will it really all be over soon? Tired, battered, worn out and happy. People are talking about looking forward to going home to their families while others, like #20, Dennis Sharon said "When we get to Carlsbad, can we just turn around and head back to New Jersey doing the route backward"? Today we are prepared for a scorching hot day as we continue to cross the Mohave Desert from Lake Havasu City, AZ to Palm Desert, CA – just 100 miles from our ending location. 241 miles of hot dry desert meant I was going to bring lots of water and preach electrolytes. #49, Frank Westfall from New York is still in 1st Place with his 1912 4 cylinder Henderson. Byrne Bramwell from Canada is in 2nd Place with will points and no penalties but is riding a newer, 1913 Henderson. At this point 18 contestants can brag about the 2979 miles they have ridden penalty free. 4 Hendersons, 4 Indians and 10 Harley Davidsons have proven to be most reliable.
64 people started the day following the Colorado River through rugged terrain with little in the way of vegetation to be seen. At mile marker 31 I found #81, Ziggy (who is riding Sharon Jacobs motorcycle while she is with he husband who crashed day two) along side the road. Spark issues. New plugs and he was off for about a mile then pulled over again. I figured he was continuing to have spark issues but no, he came out of the ditch holding his headlight which had broken off the bike! "Here, can you carry this for me"? The next over 100 miles was relatively without incident. You could see for many miles and the terrain was virtually flat. The temperatures were starting to climb and there were no clouds or shade to be seen. Riders wove in and out while photographers enjoyed the opportunity to take pictures of riders. Michael Lichter and Felicia Morgan are the two official photographers for the Cannonball. Michael has ridden backward for all 4 Cannonball's making him the only person who has crossed the United States 4 times backward. Wowsa!
At Mile Marker 106 we had been climbing a steady grade when I saw #109, Alex Trepanier from California on his 1912 single speed Indian riding the opposite direction. I finished the climb to the top of the hill and pulled over to wait for him and notified the chase vehicles. 20 minutes later he rode past me. I cheered and clapped as he chugged by. Victories on the Cannonball are not always being the front place winner – often they are multiple victories and I rejoice when I see people overcome disappointment with tenacity. We arrived at our hosted lunch stop to an enthusiastic crowd. Twentynine Palms hosted a bike/car show and lunch. Just getting out of the sun for a bit was good for me. I stocked up on more water and took off again.
Only a couple miles down the road I found #66, Ben Brown from Pennsylvania working frantically to figure out why he was running on one cylinder. He is a first time Cannonballer and is so pleased to be in 7th place with his 1915 Harley Davidson. He and his team had replaced the valve seat two nights ago and the heat had loosened it. He managed to get things realigned and was off again with the motor sounding strong. We rode through the Joshua Tree National Park for miles, ending in Mecca, a little town with only one gas station. It was over 100 degrees and riders were hot and exhausted. Only 25 hot miles to go but the end of the day is in sight. Tonight was special as we walked the parking lots watching people work on bikes and chat about their adventures. This was the last night of camaraderie before the 100 mile trek to the end celebration and banquet tomorrow. Who will win the Cannonball? Stay tuned…… To learn more about the motorcycle cannonball and check standings go to www.motorcyclecannonball.com.