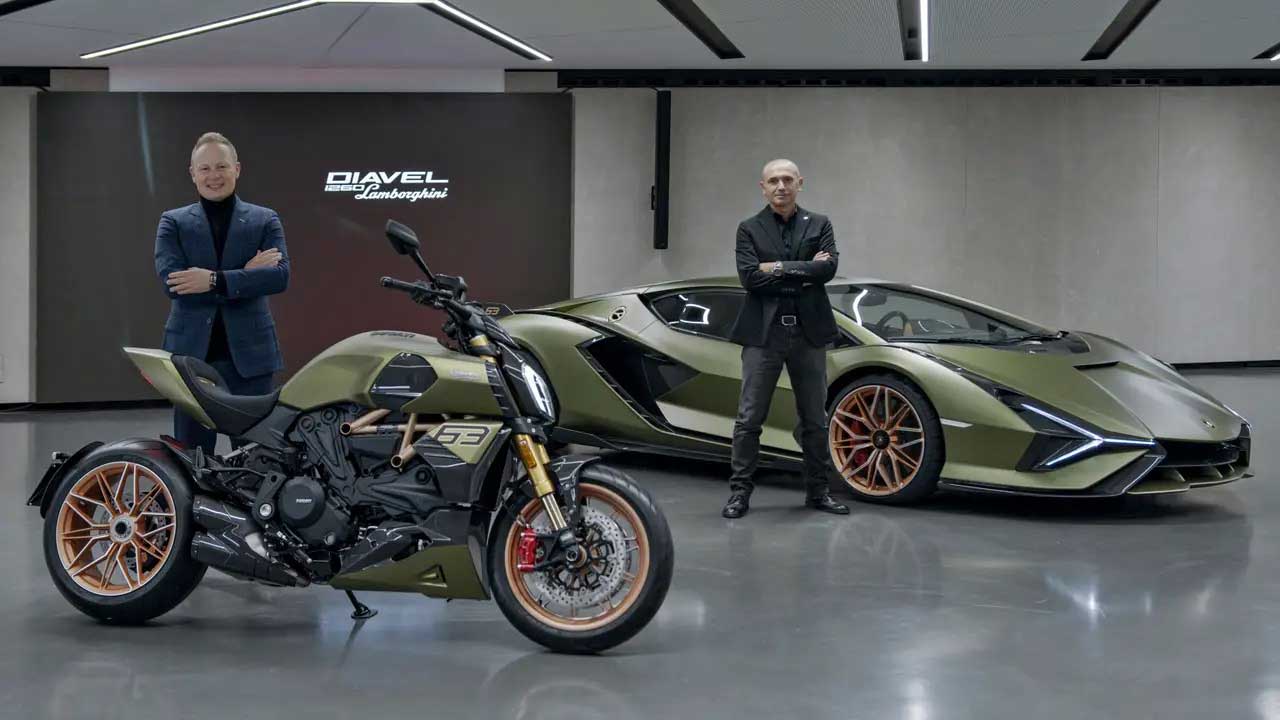 from https://www.expressandstar.com
The Ducati Diavel 1260 Lamborghini is limited to just 630 units.
Ducati and Lamborghini have collaborated on a limited-edition motorcycle inspired by the Sián supercar.
The Ducati Diavel 1260 Lamborghini combines design features from the two Italian brands' line-ups, using a Diavel 1260 S as a base but with angular body panels and performance upgrades similar to those found on the Sián.
For example, there are lightweight forged alloy wheels, while the air intakes and radiator covers are made from carbon-fibre.
This material is used extensively throughout the bike, appearing on the silencer cover, spoiler, central tank cover, seat cover, front and rear mudguards, dashboard and headlight frame.
The body panels are painted in Verde Gea, the muted green used on the Sián show car, but Ducati's signature red is used for the brake calipers.
Mitja Borkert, head of design of Automobili Lamborghini, said: "We are convinced that our design is strong and one of the most recognisable in the automotive sector.
"The unique silhouette, clean but extremely distinguished, defines the base of our design language. Our visionary design approach allows us to transfer our DNA to other products: this was achieved through strong teamwork, sharing our style and the advantage of being two brands inspired by the same values and a commitment of being 'fun to drive'.
Andrea Ferraresi, director of Ducati Centro Stile, added: "The Ducati Diavel inspired by the Lamborghini Sián celebrates our shared values: we are both Italian, we are inherently sporty and our design always distinguishes our creations.
"The Diavel 1260 Lamborghini has been created by using the same design language that distinguishes the Sián FKP 37."
The Diavel 1260 Lamborghini wears the number 63, a nod to the supercar maker's founding year of 1963. Just 630 examples of this motorcycle will be built.