Ever wonder what it takes to make a great tig weld, build a frame for a custom motorcycle, or bend your own set of custom handlebars? This year at the Sturgis Motorcycle Rally, the Iron Horse Saloon, in concert with some of the top builders and craftsmen intend to give you up close and personal answers at the Grease & Gears Garage.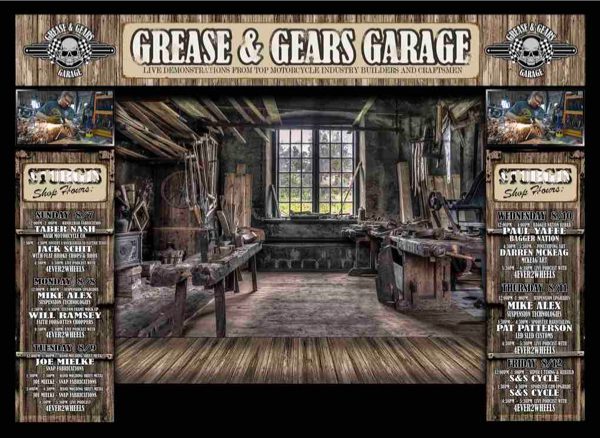 Periodically throughout the week rally goers will have an opportunity to see the likes of Pat Patterson of Led Sled Customs hardtailing a Sportster, Will Ramsey of Faith Forgotten Choppers jig up a custom frame, Taber Nash of Nash Motorcycles bend handlebars manually and using an automated machine, Joe Mielke of Snap Fab hand form sheetmetal and Darren McKeag of McKeag Art custom pinstripe Biltwell helmets live on stage. These one to three hour demonstrations will be scheduled daily through out the week beginning Sunday, August 7 through Friday August 12. Each performance will be interactive and allow for Q&A from the audience and will be broadcast via FaceBook Live via Cycle Source Magazine's page. Additionally, there will be demonstrations from companies such as S&S Cycle who will be swapping out cams on a Sportster and teaching you how to rebuild your Super E Carb. Suspension Technologies will be upgrading a motorcycle suspension while providing and educational seminar about suspension technology. There won't be a bad seat in the house as monitors located on both sides of the stage will carry a live video feed and capture the up close action.
There are more seminars and names being added to the line up daily, once they and the schedule are finalized all information will be available at www.cyclesource.com or www.ihsturgis.com. If you or your company would like to participate in a demonstrations please contact Heather at cyclesourcemain@comcast.net.
Sunday 8/7
12:00pm -2 :00pm – Handlebar Fabrication
Taber Nash – Nash Motorcycle Co.
2:30pm – 4:30PM Convert a Knucklehead to Electric Start
Jack Schit – With Flat Broke Chops & Rods
4:30pm – 5:30PM Live Podcast with
4Ever2Wheels
Monday 8/8
12:00pm -1 :00pm – Suspension Upgrades
Mike Alex – Suspension Technologies
1:30pm – 4:30PM Custom Frame Mock Up
Will Ramsey – Faith Forgotten Choppers
4:30pm – 5:30PM Live Podcast with
4Ever2Wheels
Tuesday 8/9
12:00pm -1 :00pm – Hand Molding Sheet Metal
Joe Mielke – Snap Fabrications
1:30pm – 2:30PM – Hand Molding Sheet Metal
Joe Mielke – Snap Fabrications
3:00pm – 4:30PM – Hand Molding Sheet Metal
Joe Mielke – Snap Fabrications
4:30pm – 5:30PM Live Podcast
4Ever2Wheels
Wednesday 8/10
12:00pm – 4:00PM – Bagger Nation Rehab
Paul Yaffe – Bagger Nation
4:30pm – 5:30pm – Pinstriping & Helmet Art
Darren McKeag – McKeag art
5:30pm – 6:30PM Live Podcast with
4Ever2Wheels
Thursday 8/11
12:00pm -1 :00pm – suspension upgrades
Mike Alex – Suspension Technologies
1:30pm – 4:30PM – Sporster Hardtailing
Pat Patterson – Led Sled Customs
4:30pm – 5:30PM Live Podcast with
4Ever2Wheels
Friday 8/12
12:00pm -1 :00pm – Super E Tuning & Rebuild
S&S Cycle
1:30pm – 4:30PM – Sportster Cam Upgrade
S&S Cycle
4:30pm – 5:30PM Live Podcast with
4Ever2Wheels