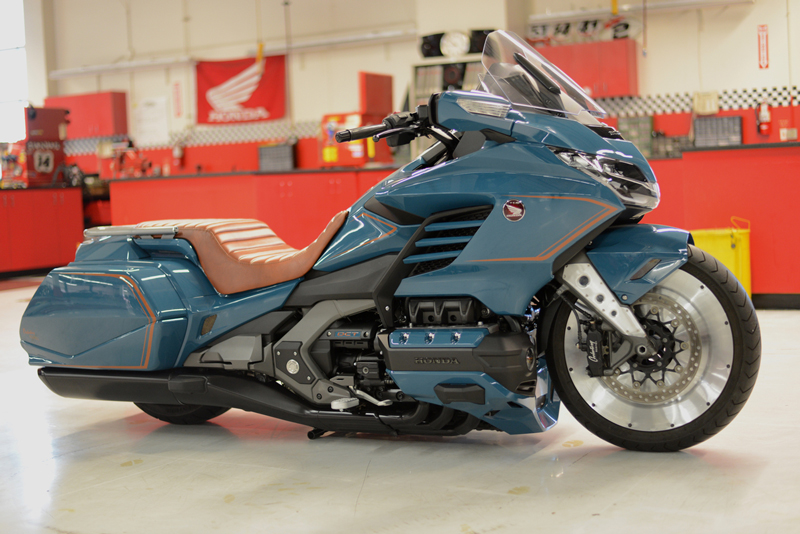 RiderMagazine.com Reports – Honda unveiled a custom Gold Wing at Daytona Bike Week, dubbed "Cool Wing" built by Kevin Dunn, Duy Nguyen, Jimmy Chen and Ray Tong, of Southern California's Steady Garage.
The design challenge was to create something that was stylish but without straying too far from functionality. Following an extensive draft process, designer Francis Clemente came up with a design that could stimulate both customizers and purists.
Air suspension and batique-style mufflers were examples of elements that were key to creating the build's silhouette, but a handcrafted leather saddle, bare metal details and scallops in the paint brought the Cool Wing to life.
Mooneyes built a mold specifically for the project in order to make the disc covers for the Gold Wing front rim, while Platinum Air Suspension provided air shocks to help achieve the slammed stance without sacrificing the ride height.
The onboard air is stored on two Dirty Work stainless steel air tanks, with air supplied by a single Viair 380c air compressor. Maxima Imagen painted over 33 individual parts and Electrical Connection provided dress-up components. Cub Group supplied the industry's first motorcycle blind-spot monitoring system (BSM), and Rogelio's Auto Upholstery did a fantastic job with the seat.
The custom Gold Wing would be appreciated by riders of all ages, interests and backgrounds.
The Cool Wing will be on display at multiple events this year including the Grand Prix of the Americas in Austin, Texas, and the Americade Rally.