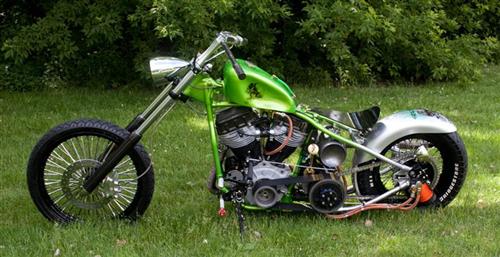 This '49 Panhead built by Kenny D. the owner of Hazardous Cycles, started out as a purchased basket case from Mississippi. Kenny hauled it back to Taylor, Michigan, stripped it down, cut and raked the neck and the project started.
"I wanted to build an old school chopper," Kenny said. "It's the original wishbone frame and original '49 motor, even the production belly numbers match."
Kenny makes his living as a Harley mechanic and currently the owner of Hazardous Cycles in Taylor, Michigan. He's been into bikes for 35 years, after he got hooked by some wild long choppers from the '70s.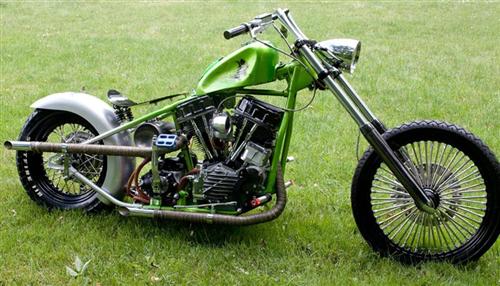 He built the custom oil tank and mounted it tight to the top of the frame and wanted to build a rear fender strong enough to ride without struts. "I welded steel bungs to support it," Kenny said, "so it would look like it floated without struts above the rear tire, for the cleanest look with the classic frame."
Over his history in the biz, he's owned a '69 Shovelhead, '72 Sporty, '73 FLH, and now he also owns a '99 Road King. "I made it into a sweet bagger."
Read the whole article here.