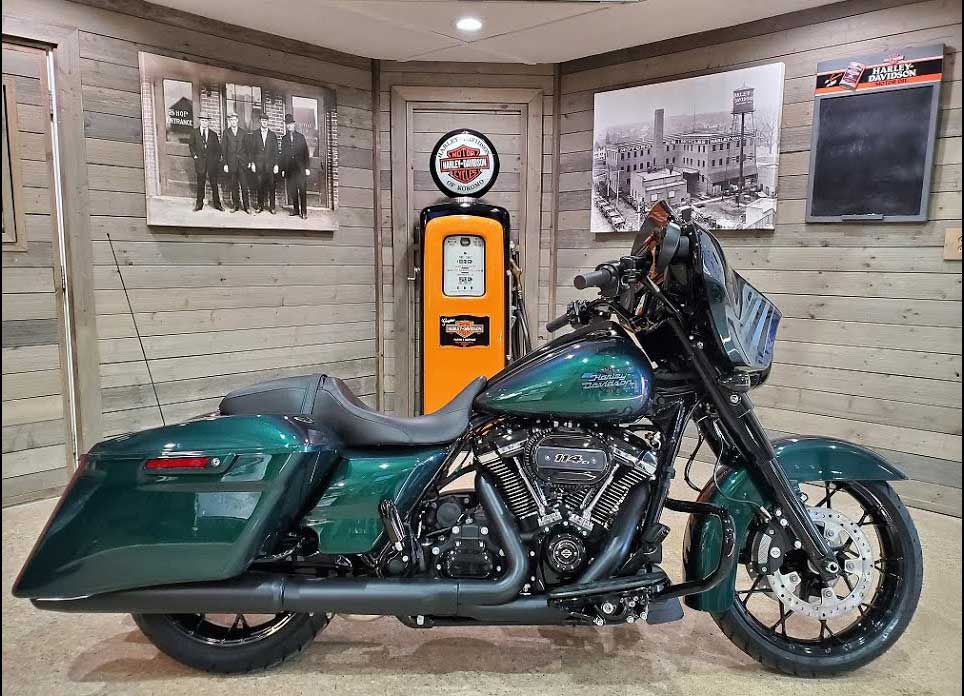 by Allison Tunstall from https://valpo.life
Harley-Davidson of Valparaiso and Michigan City debut 2021 bikes, exciting new features
With the start of summer finally here, bikers are strapping on their gear, throwing on their sunglasses, and riding off with the sun high in the sky. At Harley-Davidson of Valparaiso and the Harley-Davidson Shop of Michigan City, the team of motorcycle experts and enthusiasts are helping riders in the Region to get ready for these summer adventures with the new line of 2021 bikes. From innovative paint jobs to an exciting, one-of-a-kind bike, the 2021 Harley-Davidson catalog is sure to wow.
General Manager of Harley-Davidson of Valparaiso and the Harley-Davidson Shop of Michigan City, Jeff Haggerty, remarked how 2021 has already been a banner year for the dealerships.
"Bikes are selling as quickly as we are getting them," Haggerty said. "People are getting out, they want to be outside enjoying the summer and fresh air, so it's been a busy time for our dealerships."
Both locations began receiving their shipments of bikes back in May, and already, customers have taken notice of the new features that make this line of bikes stand out.
The pièce de résistance of Harley-Davidson's 2021 line is the new Pan America 1250 Adventure Touring Motorcycle, the dealership's first step into the adventure touring vehicle industry.
"Harley is getting into this new market and has created this new bike perfect for adventure seekers," Haggerty said. "It can be ridden on and off-road, so it can be taken on all kinds of new terrain. It's a new market for the dealership, which we are incredibly excited for."
The Pan America 1250's multi-tool capabilities are designed to endure rough terrains, explore new horizons, and is a perfect vehicle for bikers looking for a new kind of adventure from their bike. The bike features an upright riding position, mid-mount foot controls, a passenger seat, and frame-mounted fairing. It is specifically designed with power and comfort in mind.
"So far, Harley-Davidson's introduction into this new market has been well-received by the public," Haggerty said. "People who have had the opportunity to ride it are very pleased with how the Pan America performs compared to other competition. They've really done their homework, so Harley is going to make a strong stand in this new market."
Other bikes featured in Harley-Davidson's newest rollout are the 2021 FLTRXS Road Glide Special—a unique model that features a Milwaukee-Eight 114 engine, chrome finishes that complement the custom style and saddlebags, Reflex Defensive Rider Systems, a Daymaker LED headlamp—and the FLTRXSE CVO Road Glide, complete with new rider and passenger seat covers and stitching, new paint and graphic options, a Milwaukee-Eight 117 engine, and a special Boom! Box GTS. Both models, now available at Harley-Davidson of Valparaiso, are perfect for riders seeking that classic touring design or those looking to discover new places.
For bikers looking for a Neo-classic design, the FLHR Road King's streamlined finish is complemented by the Hiawatha headlamp and nacelle. Featuring Slicer II Cast Aluminum wheels, a King size H-D detachable windshield, and one-touch opening saddlebags, Harley-Davidson has made this bike with long-haul riders in mind.
The heated handgrips and Tour-Pak luggage carrier of the FLHTK Ultra Limited adds a touch of luxury to this touring bike. Its bold styling with its vented batwing fairing makes this motorcycle a comfortable experience when on the road.
The FLHXS Street Glide is a unique addition to the 2021 line with the never before offered two-tone paint schemes, while the FXFBS Fat Bob 114's denim black, structure cast aluminum wheels are laser-etched with graphics. The sleek FLSB Sport Glide offers a new color match Quick-detach, lockable, weather-resistant, hard saddlebags and quick-detach mini fairing.
Another innovative feature in Harley's 2021 line is a new paint color called Snake Venom. A beautiful, deep green that turns into a dark purple depending on the angle, the new paint job is another addition to Harley-Davidson's stock of unique and famous paint jobs.
"It's got a couple watermarked Harley-Davidson number ones in it, depending on the angle you look at it," Haggerty said. "We're really excited about this new paint job and look forward to seeing our customers get excited about it, too."
For a complete stock of the new 2021 bikes that Harley-Davidson of Valparaiso and Michigan City have to offer, visit the stores and talk with an expert on all things Harley. For more information about the dealerships, visit their websites at www.hdvalpo.com and www.hdmichigancity.com.