EBR Motorcycles (Erik Buell Racing) announces the release of their 2017 model year American Sportbikes and progress with the rebuilding of the iconic motorcycle brand.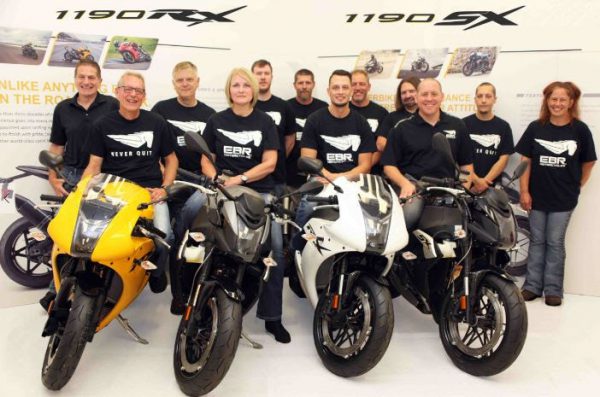 "It has been an amazing summer since the new EBR was launched. You can imagine the challenges restructuring the new company, but we have made really nice progress building our base for 2017 to launch this week," said Bill Melvin, owner of EBR. "Our dealers have had nice success selling bikes this summer and we have many new ones coming on. Our quality is continuously improving, our supplier relationships established, and now we are looking towards the future. This fall we have something 'Quick, Dark, and Low' in the works that should be exciting for urban street riders, and we are making real progress on expanding the range of models of the 1190 platform, as well as developing and delivering accessories that our EBR riders want. There is a bright future for EBR, and as part of that work is proceeding on a sub-$10k platform for 2018."
The 2017 models hit the showrooms this week, and EBR plans to attend the International Motorcycle Shows in Long Beach, California; New York, New York; Dallas, Texas; and Chicago, Illinois. Show visitors will get to see and learn more about the 2017 models. EBR also will show off selected upcoming 2017 ½ & 2018 model prototypes at different shows. EBR Apparel will launch within weeks with clothing celebrating the brand, and the team continues international racing as EBR Splitlath with Shelina Moreda at the helm. Along with new products, EBR is reviewing applications for their new Global Sales Director to support and grow EBR's dealer base organically and through strategic partnerships.
"It's a great time to ride the only American Sportbike, designed by Erik Buell, and we encourage patriotic Americans to meet these new EBR dealers for a test ride," said Steve Smith, CEO of EBR. "Of course we had some bumps over the last year, but the road is looking pretty smooth now. It's exciting to see growth into our next steps and exciting that we can help support the Buell Nation of enthusiasts and riders."
More info at www.EBR.com or on Facebook.