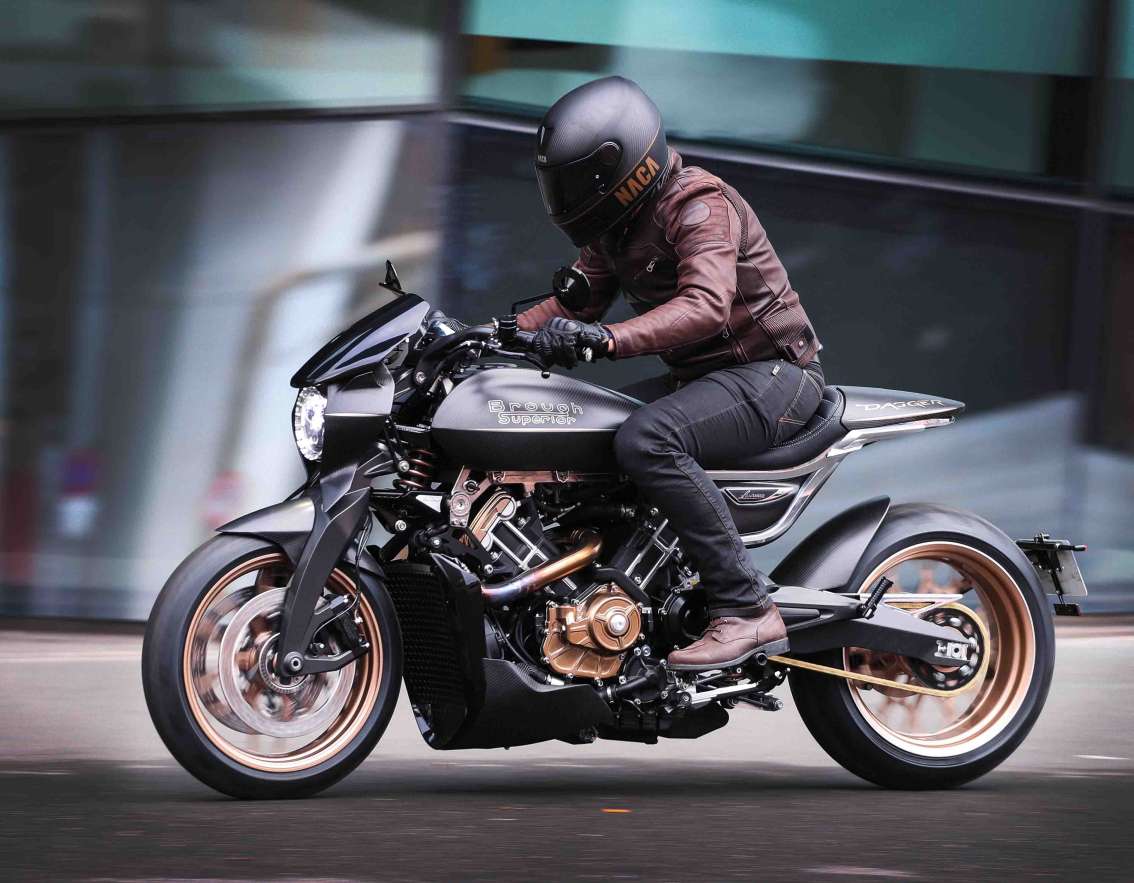 It's exactly ten years on since the born-again Brough Superior brand's first all-new model, a modern take on the legendary SS100 launched 100 years ago this year as the world's first street-legal Superbike, was unveiled at the 2013 EICMA Milan Show.
The new Brough Superior motorcycle models build upon the brand's legendary heritage and craftsmanship to transcend to a level of quality that is unmatched in the world of luxury machines.
Brough is revolutionizing the luxury motorcycle industry by combining timeless design and an exclusive patented engine with state-of-the-art technology.
The current Brough Superior motorcycle models – SS100, Pendine, Anniversary and Lawrence -are 100% French-made collectors' motorcycles that combine luxury, passion and performance. Made by the most skilled craftsmen, each Brough Superior motorcycle is created with expertise, authenticity and innovation to offer its rider best-in-class power and maximum handling.
Brough Superior motorcycles: the price of excellence
No wonder they've been dubbed the "Rolls-Royce of motorcycles." Brough Superior has been continually raising the bar for sophistication, luxury and an unparalleled riding experience since its inception!
As early as the 1920s, the SS100 broke records for the world's fastest motorcycle at 191.59 km/h (approx. 119 mph), which a century ago was extraordinary. At the time, Brough Superior motorcycles were renowned for their excellent custom details and performance.
The brand has continued to uphold its standards and its prestige; to this day, each Brough Superior receives full-on custom treatment from fender to fender to meet the needs and desires of its future rider.
The high-end price is proof, if any were needed, that this is, indeed, an elite luxury machine. Brough Superior's workshops produce limited numbers of meticulously handcrafted models – just over 3,000 machines have been produced in 20 years – making each model even more iconic.
French-based company has established an enviable reputation for excellence of design and leading edge engineering coupled with quality of manufacture, which has latterly resulted in its successful joint venture with the equally historic four-wheeled British brand, Aston Martin. This has seen all 100 examples of the turbocharged AMB 001 styled by Aston Martin and both engineered and built by Brough Superior sold out in a matter of weeks despite a €108,000 (US$119,000) price tag, while Brough's own products have meantime acquired a healthy clientele of discerning owners across the globe, reportedly with a waiting list to join them.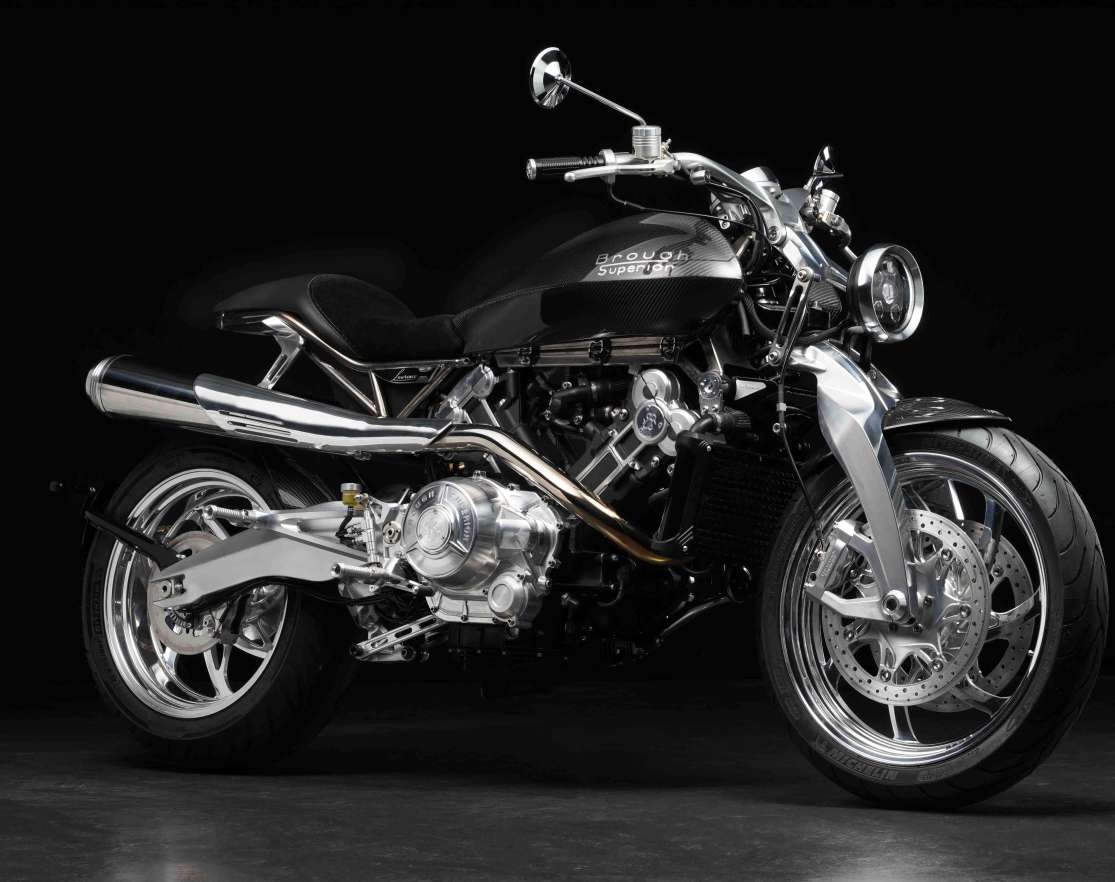 Brough Superior Lawrence / Original Pillion Motorcycle
Price starting : contact Brough Superior.
The latest addition to Brough Superior's French workshop, Lawrence is the ultimate 21st century pillion motorcycle. Its luxurious aesthetics were inspired by the sleek, flowing curve of the traditional Bedouin dagger used by Lawrence of Arabia – the man who helped bring this brand its legendary status and who also inspired this eponymous motorcycle.
This revolutionary, hand-crafted, custom two-seater features a revamped retro design that is an ode to the brand's past. Designed for two riders who want to share in their passion, primmed to hit the road with their adventurous partner.
This motorcycle exhibits superior quality, down to the last screw, thanks to the exceptional knowledge and skill used for its traditional artisanal production. This new model represents a major milestone for Brough Superior. It is handcrafted by the finest French artisans and incorporates state-of-the-art engineering and innovative materials.
Lawrence is a customizable, high-end pillion motorcycle that can be tailored to its future owner's specifications.
A new Brough model is named after the An Nefud desert in what is today northern Saudi Arabia, which was the springboard for the 1917 capture by the Arabs of the Red Sea port of Aqaba, nowadays in Jordan. This was the greatest victory in the Arab Revolt of WW1 against the Turkish Ottoman Empire, and it was masterminded by Brough Superior fanatic (he owned seven such bikes in succession!)
T.E. Lawrence – better known to movie fans the world over as Lawrence of Arabia, in whose memory Henriette conceived the Lawrence model two years ago.
FIND OUT MORE IN DETAILED ARTICLE AT:
https://www.motorcycle.com/bikes/manufacturer/brough-superior-manufacturer/2023-brough-superior-nefud-review-44583682
VISIT OFFICIAL WEBSITE OF THE LEGENDARY BRAND: https://www.brough-superior-motorcycles.com/
* * * *